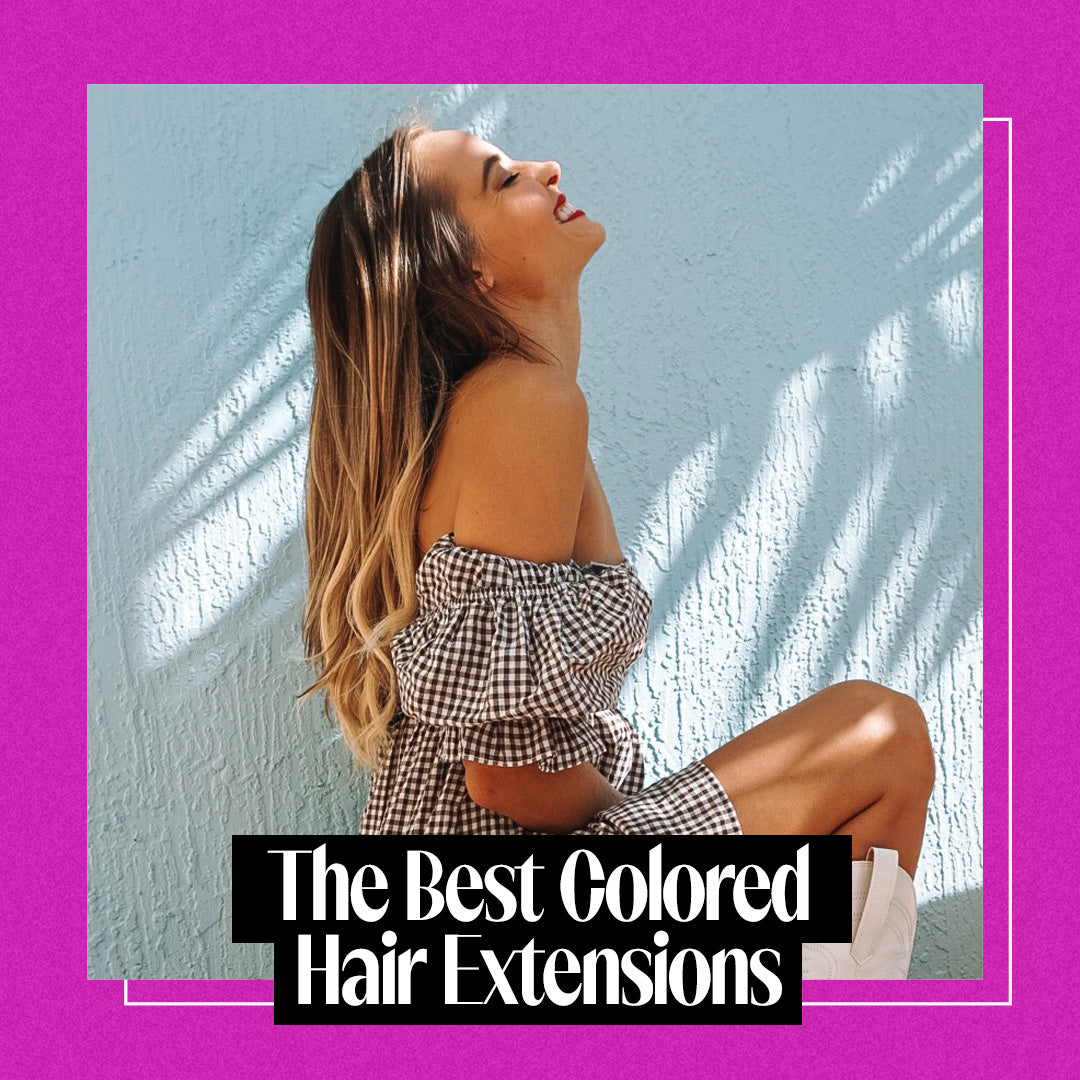 //wickedrootshair.com/cdn/shop/users/avatar_250x250_crop_center_f0ad1dc6-4182-4412-8f45-052bf7447aa9_200x200.png?v=1685998438
March 21st 2022
The Best Colored Hair Extensions
You've probably got lots of questions about adding a pop of color via hair extensions, and we've got answers.  Read on to get all of your questions answered... and then some!
If you want to add some color to your hair, colorful hair clips and colored hair extensions are 100 percent the way to go. Why? Because they're fun, vibrant, and easy to add to any look. 
But how exactly do you find the perfect hair extensions? How do you choose the right shade? And aren't there multiple kinds of hair extensions – how are you supposed to pick the right kind? What ARE the different kinds?! 
Deep breath, friend. We hear you. You've probably got lots of questions about adding a pop of color via hair extensions, and we've got answers.  Read on to get all of your questions answered... and then some!
Should I Use Hair Extensions?
Let's start with the basics, a real easy one. Do you want long, voluminous locks? Do you want to add some color without a super long-term commitment? Then you should definitely use hair extensions!
We're absolutely obsessed with the hair-extension trend. Here's why: 
Hair extensions let you switch up your look on a whim. Want long hair for a friend's birthday party? Long hair just for fun? A pop of color for a weekend away? Clip-in hair extensions and – voila! – you're good to go. Hair extensions are the perfect solution for anyone who doesn't want the responsibility of maintaining long hair all year round. 
Hair extensions are completely safe to wear and don't damage your hair. They're lightweight and super comfortable to wear. Love that!

Hair extensions add length, depth, and lots of volume. They elevate your entire look and make dull hair vibrant, flat hair voluminous, and short hair long! Basically? A killer triple threat. 

You can style your human hair extensions the same way you style your normal hair. So, if you want to curl or straighten your hair extensions, you totally can. (Want to learn how to curl your hair in perfect loose waves? Check out our how-to guide

here

!)

With clip-in extensions, you can easily apply them from the convenience of your home. No prior experience or trip to the salon needed! 
Since Remy hair extensions are made from real hair, you can wear them to tropical destinations (destination wedding? lavish honeymoon?!) and it doesn't matter if they get wet! 
Whether your style is casual or classy, the hair-extension trend is one you'll wanna try because it really does elevate every look! 
How to Pick Out the Best Hairdo Extension Colors
When it comes to choosing the right shade, first thing's first: Do you want a color that adds dimension to your natural hair color OR do you want to simply match your natural shade? 
Either way, hair extensions come in a variety of shades – from platinum ombre to fiery red head –and a mixture of hues, just like your natural hair. Trying to find your perfect match? We've broken it down for you here. We always recommend ordering a few different swatches before you actually purchase your extensions, so you can see what shade works best for you. We suggest testing out three different swatches to find your best shade. 
The best colored clip-in extensions will perfectly blend in with your natural hair, whether you're rocking ombre or highlights.
PSA: You Can Mix and Match Your Colored Clip-In Extensions
If you want to create a multidimensional look, you can mix and match different shades and extension types as well. 
For example, if you have dark brown hair, you might want to mix dark brown and dark chocolate clip-in extensions to create the perfect amount of depth. Remember: Try out different swatches to see what shades blend well together – and with your natural coloring. 
If you're looking to really turn up the volume, you may want to combine your Band It with a set of Clip It's or get extra flow by combining  Tape It and Band It hair extensions. 
Not sure if you should get clip-in or tape-in hair extensions? Read more about your options here. 
Ready To Invest In High-Quality Hair Extensions? Start Here. 
We're so excited you've decided to invest in some high-quality hair extensions to level up the look. (And maybe even some colorful hair clips to accessorize and style them once they arrive).
Personally, we *love* our Wicked Roots hair extensions. We know we're a little biased, BUT they come in 42 shades and are premium, salon-quality human hair extensions! There's literally nothing better on the market. You just have to see for yourself. 
Click here to shop our extensions collection now.