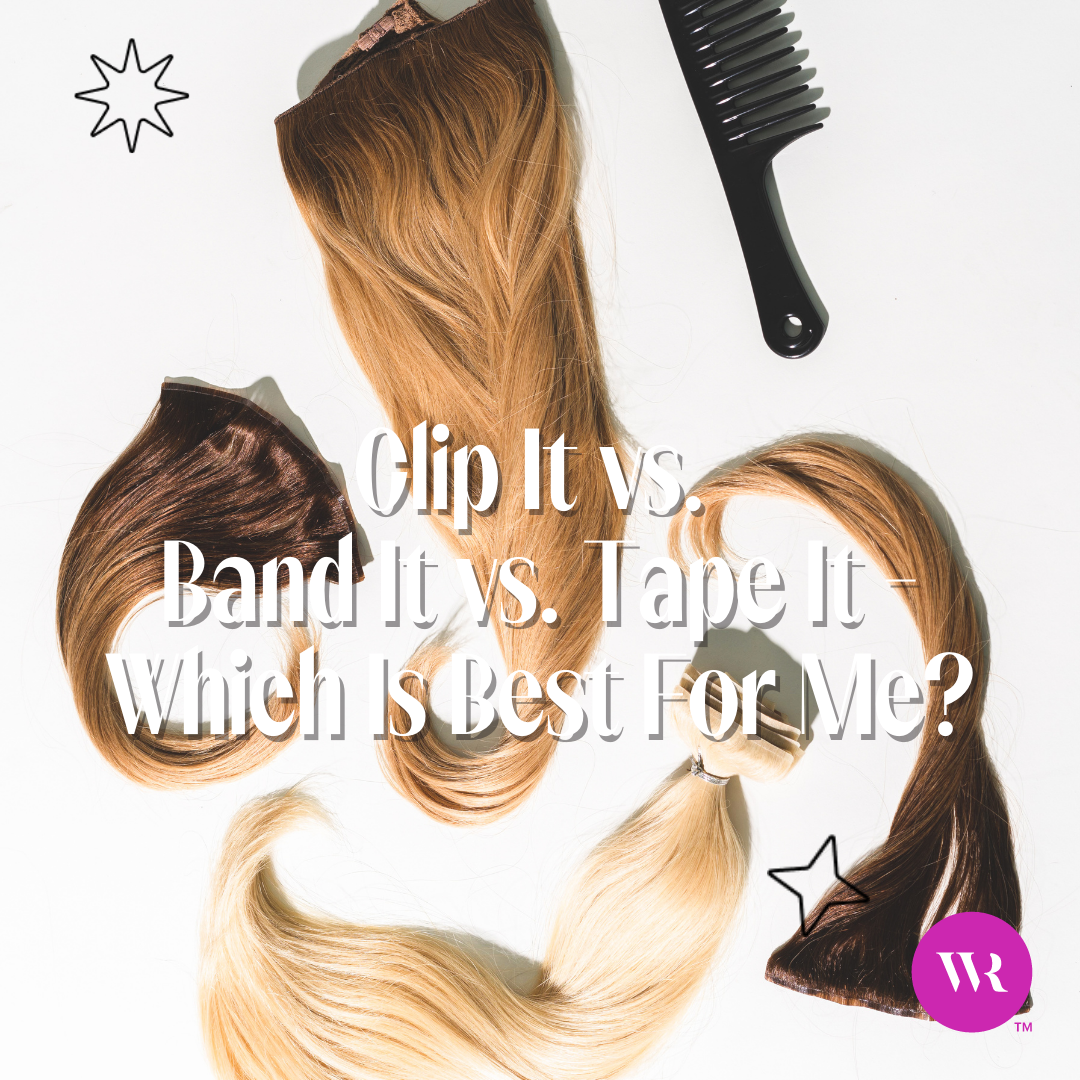 //wickedrootshair.com/cdn/shop/users/avatar_250x250_crop_center_f0ad1dc6-4182-4412-8f45-052bf7447aa9_200x200.png?v=1685998438
October 28th 2022
Clip It vs. Band It vs. Tape It—Which Is Best for Me?
Hey, Wicked Roots baddies! We're thrilled you're here and interested in our hair extensions!
We pride ourselves on offering the best hair extensions on the market and continually strive to be the best hair extension brand. Want to experience the highest quality 100% real Remy human hair? Meet our entire collection of hair extensions! We make all our extensions with multidimensional color and a natural body wave. And, with 42 different shades, including rooted and ombré varieties, you can easily match your natural hair color.
New around here? Let us introduce you to the #WickedRootsFam! We offer three hair extension types—Clip It, Band It, and Tape It. Don't ask us to pick the best hair extension type—we love them all! Each type has its own unique qualities and brings something different to lifestyle and look. But no matter what you choose, you'll always get the best hair extensions.
Okay, let's get to the fun part: Which hair extension will you choose? Keep reading for the deets on our hair extensions and get ready for your hair upgrade, baddie!
Clip It: Our Clip-In Extension Set
Want a versatile clip-and-go option? Our Clip It hair extensions require zero commitment! You can easily clip them into your natural hair and switch up your look in minutes! Clip-in extensions are safe for everyday wear, special occasions, or a slightly elevated look.
Clip It comes in two lengths: 16-inch and 20-inch. (Make sure you choose the right length for your locks!) Each pack contains seven pieces of various widths, to get a natural layered look.
The lightweight wefts feature three layers of our salon-quality Remy hair. We designed our Clip Its to permit more hair on fewer wefts, for quicker application. After styling your new hair extensions, you'll be out the door in record time!  
We also built our Clip It extensions to last. That's why they come with a durable and flexible weft sealed at the root and securely attached to a mesh base. The clips have a silicone matte coating, so you always get a secure fit. And to keep the integrity of the hair extensions intact, the clips are hand sewn to the weft––NOT the hair. These extensions will last you one to two years, depending on how often you wear them and your extension care routine.
Band It: Our Hair Band Extensions
Our Band It extensions are a one-step, quick, at-home fix. The result? Mega volume, lengthy locks, and a flawless blend. Dance the night away or spend a day with friends without worrying about your styled hair: It'll stay in place and look fabulous around the clock!
Band It comes in two lengths: 16-inch and 20-inch. Applying your Band It is easy peasy, too: just one piece per pack ready to go with two clips coated in silicone for a secure attachment.
What makes these so special? Oh, just five layers of salon-quality Remy human hair hand-tied to a super comfortable stretchy lace weft. Enjoy serious breathability, thanks to the elastic lace mesh attached to the hair wefts. And the hidden band stretches for even more durability and maneuverability—you won't find a better band extension set out there! (Go ahead. Try us.)
You can customize your Band It, too. We offer adjustable elastic connectors that ensure a secure fit without any weird side bulkiness. (Some other hair extensions, well, we can't say the same.) Our patented design lets the hair extensions lie flat on your head, so you get a natural look every single time. If you keep your hair extensions healthy with a proper haircare routine, you can wear Band It extensions for one to two years.
Tape It: Our Tape-In Extensions
If you're looking for semi-permanent extensions, Tape It is the best hair extensions tape-in option. When it comes to semi-permanent extensions, they're great hair extensions for fine hair because they're lightweight and don't weigh down delicate strands. 
Each Tape It pack comes with ten pieces (five double-sided tape extensions or ten single-sided tape extensions with our Staying Single Tape). Rest assured, baddie, our tape is hypoallergenic, latex-free, and leaves no residue behind. Depending on your natural hair, we recommend using four to six packs on average to cover your entire head of hair. Or mix and match shades for added dimension and create a unique blend of colors that's all you.
You can wear your Tape It extensions for up to eight weeks if they're professionally applied by a stylist and properly maintained. 
When you're ready to remove and reapply your extensions (they can be reapplied up to three times, for a total wear time of six to eight months), head back to your stylist for the best results.
Rock our Wicked Roots Style
Decided on the right hair extension type for you? We're pretty confident that, no matter what you choose, Wicked Roots Hair offers you the best hair extensions.
The next step now that you've landed on your style? To fall in love with your perfect shade, of course! Our color match quiz will pair you with your three closest shades, guaranteeing the ideal blend. 
If you have any questions about our extensions, let us know! And tag us on Instagram with #WickedRootsFam to show off your new looks.