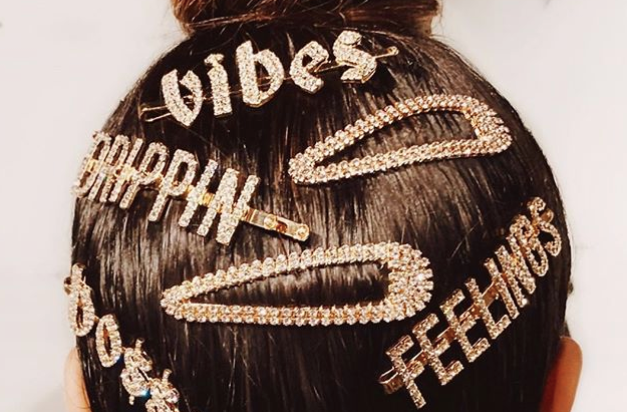 March 17th 2020
Top 5 Hair Accessories You Need This Spring.
Hair Accessories have been so HOT lately. The right hair accessory can take a boring braid or top-knot to a whole new level. Here are the top 5 hair accessories that you need this Spring!
Hair Accessories have been so HOT lately. The right hair accessory can take a boring braid or top-knot to a whole new level. We're talking lust worthy! Total game-changers. With the temperatures rising and Spring right around the corner, we've been keeping our eyes open for the must-haves on the scene. 
Statement Pins
With celebrities such as Kylie Jenner, Ariana Grande, & more supporting statement hair pins, we don't believe brands such as Kitsch are going anywhere. We love how Kitsch is so outspoken with hair clips such as "Vibes" "Feelings" and even "Vote". We'll take a chance to make a power statement with our hair any day of the week. 
Pearls
After watching Lucy Boyton at the Oscars, we became obsessed with how cool these pearls looked on her side-part. It added a very chic, Chanel elegance to her look. Sometimes we have to get fancy babes! We can picture ourselves dressing up our hair with these pearls this Spring for dinner parties and fancy outings.
Big Bows
We adore a good hair bow. The bigger the better. They're classy but still loud in their own right. Why not style your precious locks and top it off with a bow? They can add a touch of femininity and sophistication. We've been seeing these all over instagram lately and we look forward to seeing them styled with Spring outfits.
Oversized Scrunchies
Scrunchies have been in and out of style since before the 80s. We're glad to see them make a comeback yet again and we're def not hating it. You can find huge scrunchies in all sorts of materials such as velour or sheer fabrics at places like Free People or Etsy. Layering them is a lot of fun.
Hair Scarves
Hair Scarves are such an easy accessory to get your hands on that you can get so creative with. Make sure to stock up on fun colors and prints. You can wrap them all around your ponytail, intertwine them in your braids, cover your whole head with them, or simply tie them as a headband. This trend is totes fun for festivals or your everyday outing. You can rock both a classy look or turn it super edgy. 
Check out Wicked Roots Hair's Accessories for hair and hair extensions, such as our ever cute Black Silk Scrunchie.
Have you been obsessing over any hair accessory trends? Which of these is your favorite?  Share your look with us @wickedrootshair to be featured. If you're loving something you didn't see on this post, let us know in the comment box below.