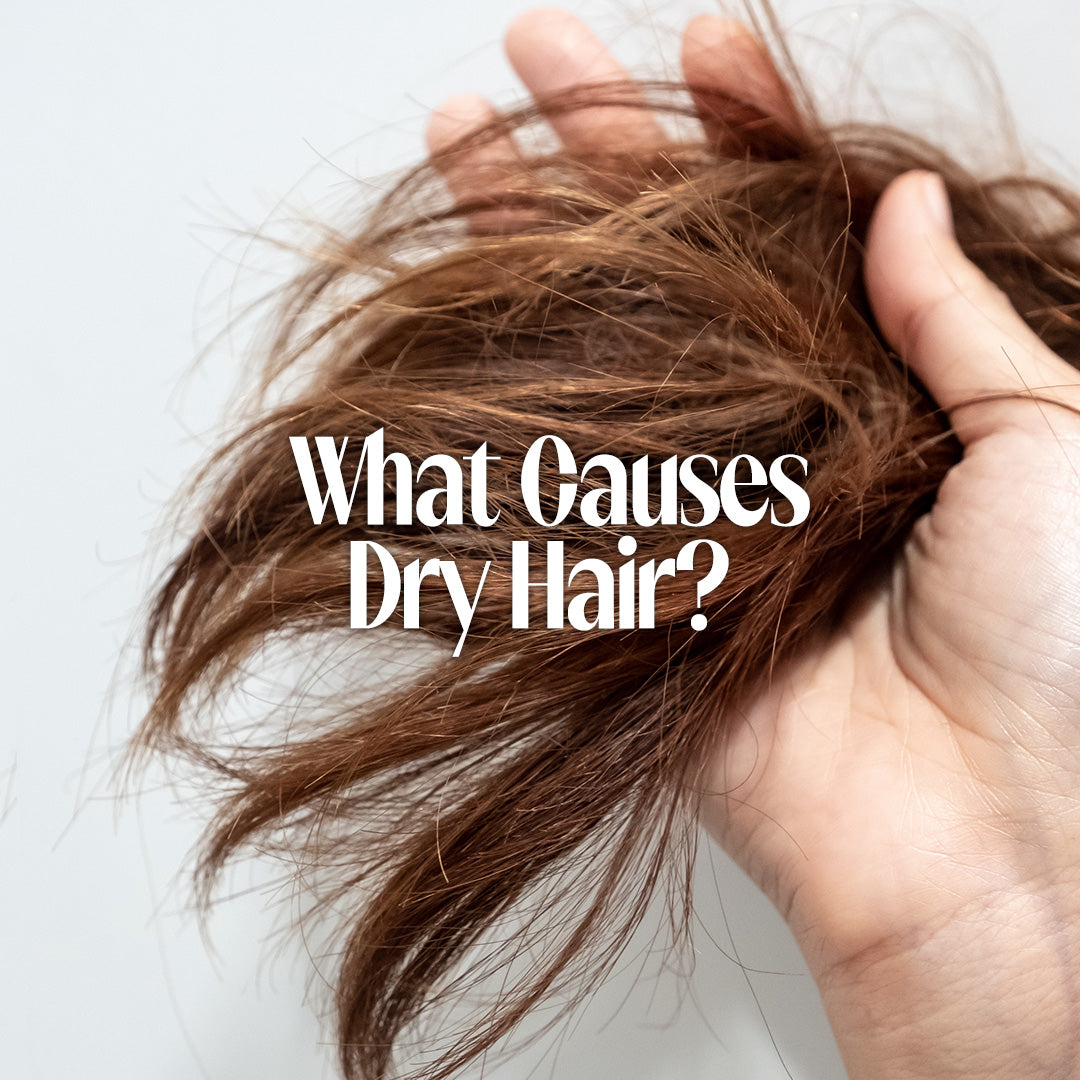 August 26th 2022
What Causes Dry Hair and How Can I Fix It?
Do you know
how to moisturize dry hair
? If not, no worries! We'll help you fix that
brittle hair. Let's get hydrated, baddies!
Dry and brittle hair is one of the most common hair issues, but most of us battling dry, brittle hair aren't sure what to do for dry hair. All we know is we need to get those locks from drab to fab ASAP!
Do you know how to moisturize dry hair? If not, no worries! We'll help you fix that brittle hair. But first, let's get into dry hair causes and how to treat dry hair. Let's get hydrated, baddies!
Why Is My Hair So Dry?
Dealing with dry and brittle hair is a major buzzkill. If you're combatting brittle hair on the regular, you're probably wondering, "Why is my hair so dry ALL the time?" Well, we're here to get to the root of your brittle hair problem!
Here are some of the most common dry hair causes. Is one of them wreaking havoc on your strands?!
Excessive Heat Styling
Using heated tools to style your hair takes a toll on your delicate strands. Excessive heat styling can cause brittle hair, leading to breakage and split ends. Sure, using a heat protectant spray helps, but there's still no way to 100% protect your hair from damaging heat tools. (Besides using them less!) 
Over-Washing Your Hair
Do you wash your hair every day? You might think washing and conditioning daily is good for your hair, but nope. It actually does the opposite of moisturizing your strands! Over-washing your locks strips your hair of its natural oils, causing dry, brittle hair and an itchy scalp. 
Chemically Treated Hair
If you're rocking color-treated or chemically straightened hair, you might notice brittle hair is a bit of an issue. If you chemically treat your hair too often, your hair's texture will get drier and drier. And that could cause dullness or frizz. (Friendly PSA: Bleaching your hair is one of the quickest ways to dry out your strands, so avoid the harsh bleach if you're struggling with dry, brittle hair.)
Cold Weather Seasons
Avoiding cold weather in the fall and winter is hard for anyone who doesn't happen to live in a tropical climate year-round. Cold temperatures can make the air dry, zapping the moisture from your locks and causing brittle hair (as well as static and frizz).
How to Fix Dry Hair
Your dry, brittle hair could be a combination of any or all of the above. But now that you know the likely culprit behind your brittle hair, we can get into how to fix dry hair so you can be fierce and flawless again!
Take a Break from Heat Styling
Giving your hair a break from heat styling is essential. A little time away from the heat tools will help reduce your dry hair problem and increase your strands' overall health. We know it hurts, but try to style your locks without using heat as much as possible. Let your hair air dry when you can!
Wash Your Hair Less Often 
Once you've cut your hair washing routine down to 2 or 3 times a week, you'll start noticing the benefits. Trust us! Washing less often promotes a healthy scalp and balanced, clean, moisturized hair. When you do wash, reach for a sulfate-free shampoo and conditioner to avoid further dryness and damage.
Pro Tip: You can freshen your hair without washing it! Try using dry shampoo in between washes. 
Space Out Your Hair Appointments 
Schedule more time between your hair color or treatment hair appointments to help fix brittle hair caused by chemicals. You can also look for an organic or natural salon that uses less harsh colorants and treatments. Honestly? If you're struggling with dry, brittle hair, limiting these treatments altogether will be a huge help. 
Pro Tip: If you want to play around with color dimension without hair dye, our Tape It extensions are a great option!
Use Moisturizing Hair Products
The best dry hair remedy might be the most obvious: Regularly conditioning your hair! Especially during colder months. So reach for the leave-in conditioners, hair masks, and hair oils – these treatments can lock in moisture and leave you with hydrated and healthy strands year-round.
No
Brittle Hair
Here!
Once you learn how to moisturize dry hair, we only see smooth, hydrated locks in your future, baddie!
And good news: If you have
Wicked Roots Hair extensions,
these tips still apply! That's because our extensions are made with
high-quality Remy human hair
. Keep them hydrated just like your natural hair if you want to keep your extensions looking healthy and strong!