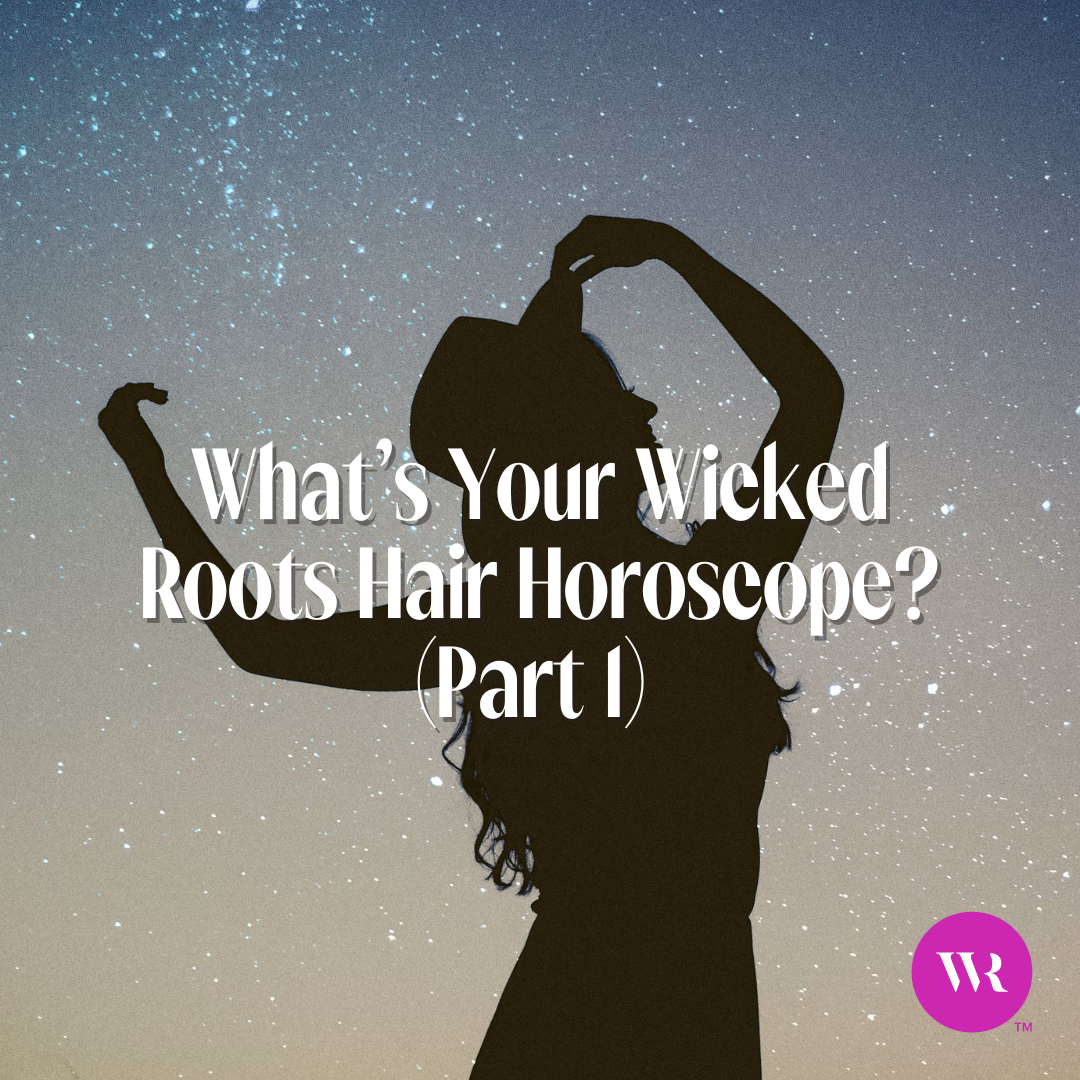 May 3rd 2023
What's Your Wicked Roots Hair Horoscope? (Part 1)
If you're having trouble deciding which of our hair extension types to choose, why don't you let the stars decide? Instead of searching for zodiac signs as hairstyles or zodiac signs hair color, it's time to change up your hair horoscope with Wicked Roots Hair™ extensions. Turn to your celestial personality traits for answers! 
Astrology allows us to take a fun approach to getting to know ourselves with zodiac signs. This includes our good and bad traits, what we like and dislike, with everything in between. So, what's your sign? Find out which of our hair extensions will work best for you based on your zodiac sign.  

Zodiac Hairstyles
with Hair Extensions 
Your hair horoscope is written in the stars. Each zodiac sign is a part of 12 constellations that the sun passes through. Your zodiac sign is determined by where the sun was when you were born, which gives you the date range for each sign. In astrology, a person's personality is said to be predicted using their zodiac sign. So why not add zodiac hairstyles with hair extensions to the mix? 
Which Wicked Roots Hair™ extension style best suits your star sign? We're covering six zodiac signs in part one–stay tuned for part two coming soon! 
 We see the hair of your celestial dreams in your future:  
Aquarius (January 20 – February 18) 
Social 

Creative 

Unique 

Innovative 

Independent 

 
Your Hair Horoscope Match: Tape It™ 
 As an Aquarius, you like to live life on your own terms and go with the flow as a water sign. You're constantly gaining new interests and being creative in all aspects of your life. You love to stay original and stand out from the crowd. Tape It™ extensions will allow you to mix and match zodiac signs hair colors to add dimension to your strands.   
Pisces (February 19 – March 20) 
Sensitive 

Imaginative 

Charming 

Romantic 

Adaptable 

 
Your Hair Horoscope Match: Clip It™ 
 If you're a Pisces, your effortlessly elegant style is charming and romantic. Your symbol is two fish swimming in opposite directions, showing your inner struggle to decide what zodiac hairstyles you want to try! The best happy medium? Clip It™ give you the versatility to clip them in when you're looking for a new look and take them out just as easily.  
Aries (March 21 – April 19) 
Adventurous 

Charismatic 

Confident 

Optimistic 

Energetic 
Your Hair Horoscope Match: Tape It™ 
At your core, Aries is bursting with an energetic and adventurous spirit. You're always extra organized and prepared. You love to go out and be social but equally value your alone time. Zodiac signs as hairstyles should be fun and original—match that with extra-long Tape It™ hair extensions with boosted volume.  
Taurus (April 20 – May 20) 
Patient 

Determined 

Generous 

Loyal 

Dependable 
Your Hair Horoscope Match: Band It™ 
As a Taurus, you appreciate the finer things in life. You're determined to reach your goals and are fiercely loyal to your friends, family, and loved ones. You're very practical and prefer things to be uncomplicated. Band It™ hair extensions are a one-piece set that'll be your reliable go-to—just how you want your zodiac hairstyles to be!  
Gemini (May 21 – June 20) 
Playful 

Sociable 

Expressive 

Versatile 

Inventive 
Your Hair Horoscope Match: Clip It™ 
Geminis are definitely the most misunderstood sign of the zodiac. Your sign is represented by the twins, which gives you two sides to your playful personality. You love being a social butterfly and the life of the party. Clip It™ gives you the type of versatility you crave with your zodiac hairstyles. Once you clip them in for a night out, expect them to keep up with you all night long!  
Cancer (June 21 – July 22) 
Caring 

Reliable 

Affectionate 

Intuitive 

Empathetic 
Your Hair Horoscope Match: Band It™ 
If you're a Cancer sign, you wear your heart on your sleeve with an intuitive and empathetic nature. You love creating your own personal sanctuary in your home, which also allows you to be a wonderful host to spend time with your loved ones. Since you want to spend less time doing your hair and more time with them, the quick, no-fuss application of Band It™ is your best bet! 
Didn't see your star sign listed? Look out for part two coming soon!