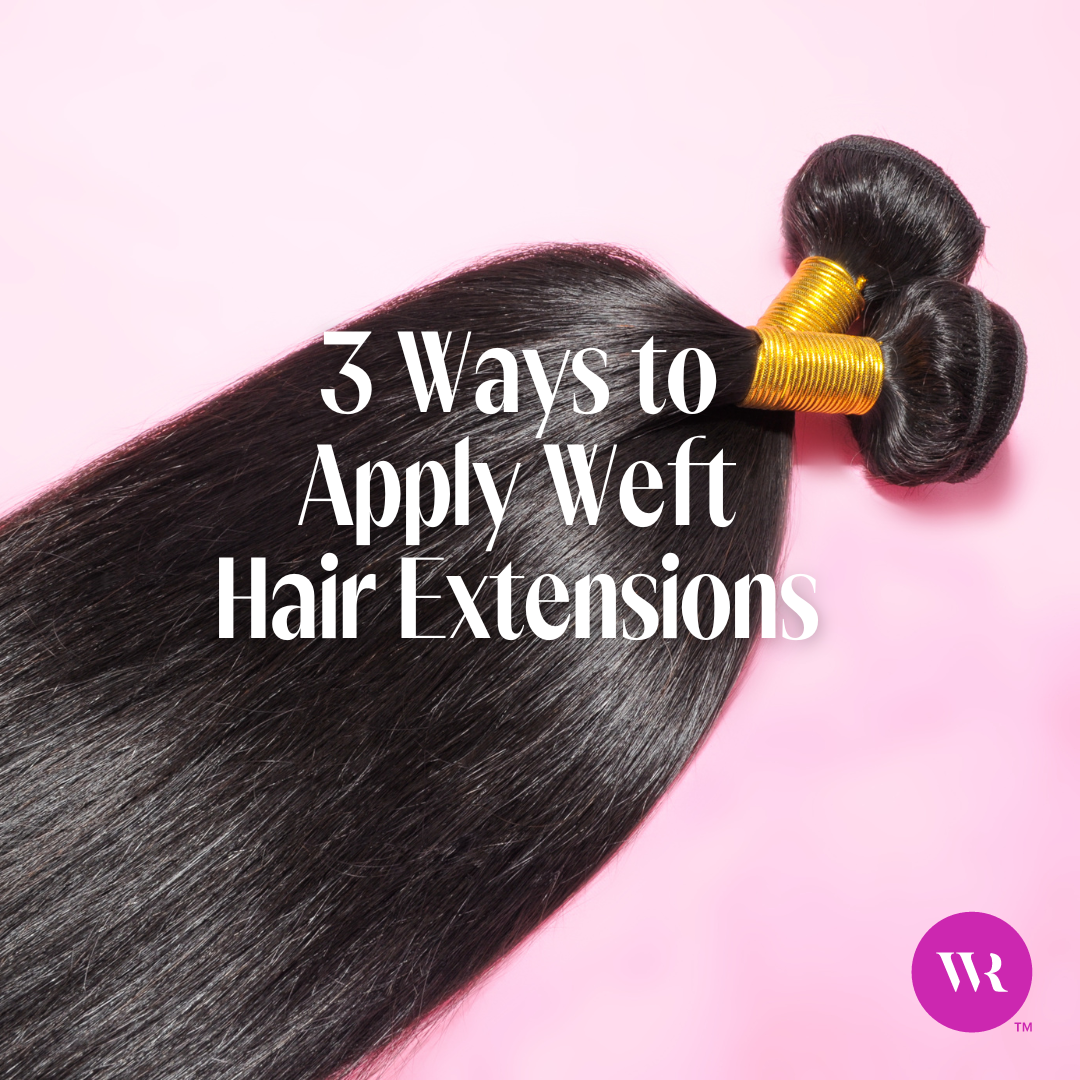 July 17th 2023
3 Ways to Apply Weft Hair Extensions
With all the different terms and techniques, it can get confusing to figure out the

 
best weft extensions methods. Read this blog to find out the best ways to apply weft hair extensions! 
If you've decided to get weft hair extensions (great choice!), you might not be sure what method to use to have them applied. Unless you're familiar with hair extensions (like our Wicked Roots Hair experts!), you might not know much about weft extensions or how to apply weft hair extensions. 
With all the different terms and techniques, it can get confusing to figure out the best weft extensions methods. You want the best possible application method for your weft extensions. You might also wonder what the best weft extensions are and ask yourself, "how many rows of weft extensions do I need?" 
If this sounds like you, we're ready to go over all you need to know about weft hair extensions!
What are
Weft Hair Extensions
?
When researching hair extensions, you've probably come across the term weft hair extensions quite a few times. Weft extensions differ from our Tape It, Clip It, or Band It extensions as they don't come with any clips or tape. Weft hair extensions are applied with alternative methods (that we'll explain later, don't fret!) by a professional stylist. 
It's important to note that there are two types of weft extensions:
Hand-Tied Wefts
Hand-tied wefts are exactly as they sound! These weft hair extensions are woven by hand (yes, by an actual human), which creates a very thin weft—this is ideal for those with fine hair. One of the downsides of these wefts is that since they're hand-tied, they cannot be cut to your desired length (if you do, they'll unravel!)
Machine-Tied Wefts
Machine-tied wefts (our preferred weft type!) are fed through a machine and weaved tightly into the seam. These wefts are denser than hand-tied wefts with more grams per inch—best suited for baddies with medium to thick hair. With these machine-tied weft hair extensions, you can cut them as you please, and they won't unravel!
How to Apply Weft Hair Extensions 
If you're not sure how to apply weft extensions, it's essential that a stylist apply weft hair extensions for proper application. The methods for application of weft extensions vary based on stylists' expertise and preference. We've outlined the top three methods hair salons use most often to apply weft hair extensions. 
Bonded
Weft Extensions
Application Method
These bonded weft hair extensions may also be called pre-bonded, keratin bond, or glue-in. The attachment method fuses keratin bonds at the top of the extensions to your natural hair with a hot tool. Since this method requires heat for application, you'll have to visit the salon more often to maintain these weft extensions. If you choose this method, you should avoid using hot styling tools, oils or conditioners with your weft hair extensions, as they can weaken the bonds and cause your extensions to detach. 
Micro-bead Weft Extensions Application Method
The beaded weft hair extensions method is also known as micro-ring, micro-bead, micro-link, natural beaded row (NBR), invisible bead extensions (IBE), or loop hair extensions. The weft extensions are attached to a row of beads by hand-tying the wefts in with string, then looping each single-strand micro-bead extension through your natural hair and attaching a metal bead to secure. This process is continued across your head in rows (the number of rows depends on hair density, length, and volume.) If you're still asking yourself, "how many rows of weft extensions do I need?" the average amount people opt for is two rows.
Sewn-in
Weft Extensions
Application Method
This method is usually referred to as sewn-in weft hair extensions or weave weft extensions. Sewn-in weft hair extensions work best with coarse, thick, or naturally curly hair. These weft extensions are applied by braiding your natural hair into corn rows throughout your entire head. Then the weft hair extensions are attached using a needle and thread to sew into your hair. This method is not recommended for those with thin hair, as tight braids can strain your delicate strands. It's also a bit more difficult to wash your hair when they're in tight braids, so keep this in mind when deciding which method suits your needs.  
Weft Hair Extensions
for All Hair Types
Finding the right weft hair extensions comes down to personal preference, whether you choose hand-tied or machine-tied wefts (this is our choice!). We always recommend consulting a hairstylist to figure out the best route for choosing the appropriate weft extensions and 
application method that best suits your lifestyle and hair type. 
Still have questions about weft hair extensions or on any of the application methods? Leave a comment below or contact us at info@wickedrootshair.com for answers. Think of us as your hair extension besties!