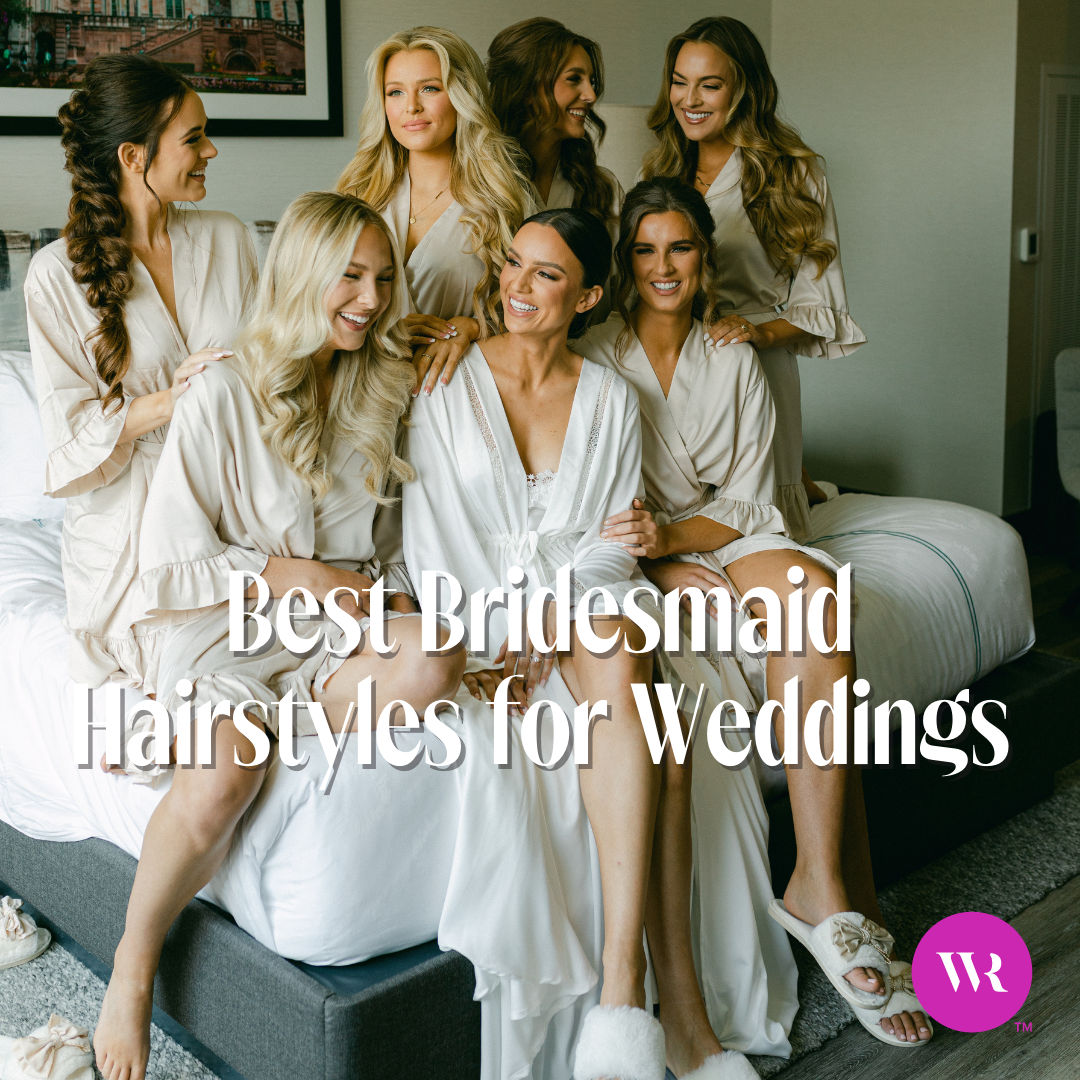 //wickedrootshair.com/cdn/shop/users/avatar_250x250_crop_center_f0ad1dc6-4182-4412-8f45-052bf7447aa9_200x200.png?v=1685998438
February 13th 2023
Best Bridesmaid Hairstyles for Weddings
As you get ready to be a part of your loved one's special day, check out these 
hair styles for bridesmaids
 to rock as you make priceless memories.
You've got the invite, the dress, and the color schemes on point. Now it's time to find the perfect bridesmaid hairstyles! It can be daunting searching for bridesmaid hair ideas. There are so many styles and methods to choose from. Are you going to use hair extensions to glam up your wedding style? Do you want to wear your bridesmaid hair up with a chic and refined updo, or are you going for a more laid-back, simple bridesmaid hairdo?  
This is the time to enjoy every single moment with the girls! You need wedding bridesmaid hair that'll last from the ceremony to the reception. Plus, not to mention the professional photos—we all want our bridesmaid hairstyles to look flawless! As you get ready to be a part of your loved one's special day, check out these hair styles for bridesmaids to rock as you make priceless memories. 
Bridesmaid Hair Ideas
Before you narrow down your options for bridesmaid hairstyles, ask the bride if she has a vision for what she wants her bridal party look to be. Does she want everyone to have the same wedding bridesmaid hair, or is ok that everyone mixes up their bridesmaid hairstyles? Keep in mind the venue as well before deciding. Is it a fancy upscale affair that requires an elegant bridesmaid hairstyle, or will it be on the beach with low-key hair styles for bridesmaids?  
Try one of these easy bridesmaid hairstyles at the upcoming nuptials: 
Sleek Ponytail
If you're headed to a big city wedding, maybe at a high-rise hotel or rooftop setting, this pulled-together look is simple yet polished. There's something powerful and sophisticated about this bridesmaid hair up style. 
Get the Look: 
Part your hair however you like—this style looks just as stunning with a middle or side part or completely slicked back. 

 



Gather all of your hair into a ponytail at the back of your head. If you have longer hair, go for the high ponytail. If you're rocking shorter strands, go for middle or low. 

 



Smooth out flyways and add shine with hairspray or hair serum for that finishing touch. 

 
Loose Bun Updo
For the brides who are having a rustic barn wedding or a small backyard affair, go for the loose bun for boho hair styles for bridesmaids. This DIY updo looks flattering on everyone and is simply stunning!  
Get the Look: 
Pull your hair back into a low ponytail and keep it slightly loose. 

 



Take small strands of hair from the ponytail and loop each at the base and add a bobby pin to keep it in place.

 



Continue the previous step until you've achieved that perfect loose bun look.

 



Frame your face with a couple of strands of hair to complete this style. 

 
Simple Waves
As far as easy bridesmaid hairstyles go, it doesn't get easier than this (and it's a classic go-to look for long-flowing hair!) This versatile style is both elegant and effortless at the same time, so it goes with all types of themed weddings.  
Get the Look: 
Spray your hair with a heat protectant spray and allow it to dry.

 



Section your hair into four sections (top, bottom, left, and right.)

 



Use a curling iron (never exceed 350

°F

when curling hair extensions) to curl 1 to 2-inch sections at a time and hold for 3 to 4 sections before releasing the curl.

 



Spritz your curls with a light hairspray and gently run your fingers through them to break them up a bit. 

 
Textured Ponytail
If you're looking for more casual bridesmaid hair ideas, a textured ponytail will give you a fun and edgy look. Bust out your moves on the dance floor without worrying about your hair getting in the way! 
Get the Look:  
If you have day-old waves from the night before, this look is ready to style! If not, give a spritz of texturizing spray to add a bit more grit to your strands.

 



Pull your hair into a high-ponytail (don't worry if it's a bit bumpy or wavy on top, it's meant to be more of a messy look)

 



Take a piece of your ponytail hair and wrap it around your hair elastic to take this style up a notch. Then spray with hairspray to finish this look!

 
Upgrade
Bridesmaid Hair
 with Extensions 
If you're looking for that extra special boost of length and volume, Wicked Roots Hair extensions will glam up your wedding bridesmaid hair! We have three styles to choose from (Tape It, Clip It, and Band It) and 42 shades, so you're sure to find your perfect matrimony hair match (take our color match quiz to blend seamlessly with your natural hair!) 
Once you've fallen in love with your bridesmaid hair extensions, let the bride know she can get hair too by joining our Wicked Weddings program, which will give her and ALL of her bridesmaids a 20% discount on Wicked Roots Hair extensions. Get more information and apply now here!