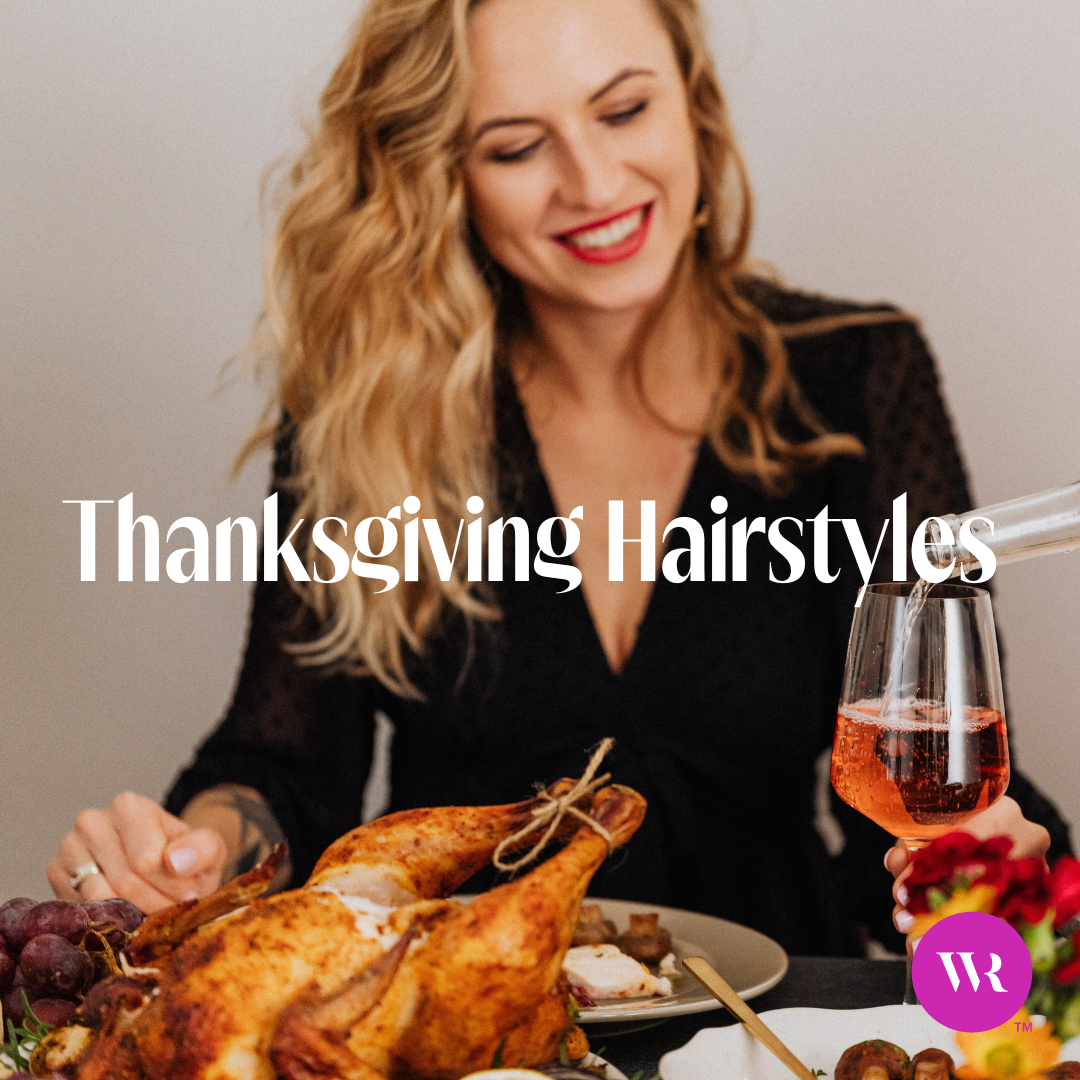 //wickedrootshair.com/cdn/shop/users/avatar_250x250_crop_center_f0ad1dc6-4182-4412-8f45-052bf7447aa9_200x200.png?v=1685998438
November 1st 2022
Cute and Simple Thanksgiving Hairstyles
Whether you're celebrating with family or headed to Friendsgiving, spend less time on your hair and more time feasting with these

 
simple thanksgiving hairstyles

 
that are easy to style.
The leaves have fallen, and the air is crisp. This can only mean one thing—we're gearing up for the start of the holiday season! As you plan your road trips, book your plane tickets or start to buy supplies for hosting your own Thanksgiving, there's one last thing you should add to your list: hairstyles for thanksgiving dinner!
Thankful For These
Thanksgiving Hair Styles 
Whether you're celebrating with family or headed to Friendsgiving, spend less time on your hair and more time feasting with these simple thanksgiving hairstyles that are easy to style. After you've found the perfect autumnal outfit, add cute thanksgiving hairstyles to dress up your look. 
We're feeling grateful and gorgeous with these thanksgiving hairstyles:
Low Messy Bun 
It's all about being laid back with this relaxed yet refined look. The idea here is to master that "undone done" style. If you're the one hosting or doing the cooking, the best part about a low messy bun is that a few stray pieces will go completely unnoticed!
Get the look:
Begin by pulling your hair into a low, loose ponytail and securing it with a hair tie.
Grab a small section of the ponytail and add extra volume by back-combing it (note: don't do this to your hair extension wefts to avoid damaging them!)
Pull out and twist a strand of hair from the ponytail and loop it at the base. Use bobby pins to secure in place. 
Repeat this process for the rest of the bun until you're happy with how it looks. 
Add volume at the crown of your head by gently pulling a few strands slightly out of the ponytail (not all the way out.) Then frame your face with a couple of loose strands for the final touch.
Twisted Half Updo
This style is soft, sweet, and ideal for fall festivities. Adding a slight wave to your strands complements this style with gorgeous flowing locks. It also really shows off your volume and length if you have hair extensions in!
Get the look:
Start by adding

loose waves

to your hair using a curling iron or

heatless waves

method.
Separate two sections of hair on either side of your face and gather a small piece of hair from each front section. 
Twist and join these small pieces of hair together at the back of your head with a hair elastic. 
Take each side of the front sections and wrap them around the hair at the back of your head.
Keep wrapping until all of the hair from the two sections are in the twist and secure with bobby pins. 
Vintage Roll 
This retro-inspired updo is a classic look for your Thanksgiving celebration. Feel elegant and chic with a style that grandma (or great-grandma?) will definitely approve of at dinner. And the best part? It's super simple to pull off! 
Get the look:
For the most authentic look, give your hair a slight wave to it using your curling iron (or perhaps rollers to get into character)
Place an elastic headband over your hair about two inches back from your hairline and just above your ears.
Start at the front with 1–2-inch sections and wrap your hair over and around the headband as you work towards the back of your head (the hair will completely cover the band) 
Take the loose hair at the back of your head and under the headband. Split it in half and wrap it over the headband at the back, pulling it through as you go. 
Tuck your ends under the headband (they'll be hidden by the hair roll you've made) and secure with bobby pins. 
Enhance Your
Thanksgiving Hairstyles
with Extensions
If you really want to impress the relatives with your stunning strands, use hair extensions to add length and volume to these cute thanksgiving hairstyles! 
If you want a semi-permanent option that will last you beyond hairstyles for thanksgiving dinner, go for Tape It extensions. If you're looking for a more temporary style, you'll love our Band It extensions which are a breeze to apply with a stretchy and comfortable weft. Another temporary option is our Clip It, which allows you to clip in and out quickly and easily whenever you're ready to switch up your look. 
Which of these simple thanksgiving hairstyles will you try out this year? Let us know in the comments! And don't forget to tag us in your thanksgiving hair styles with the hashtag #WickedRootsFam.