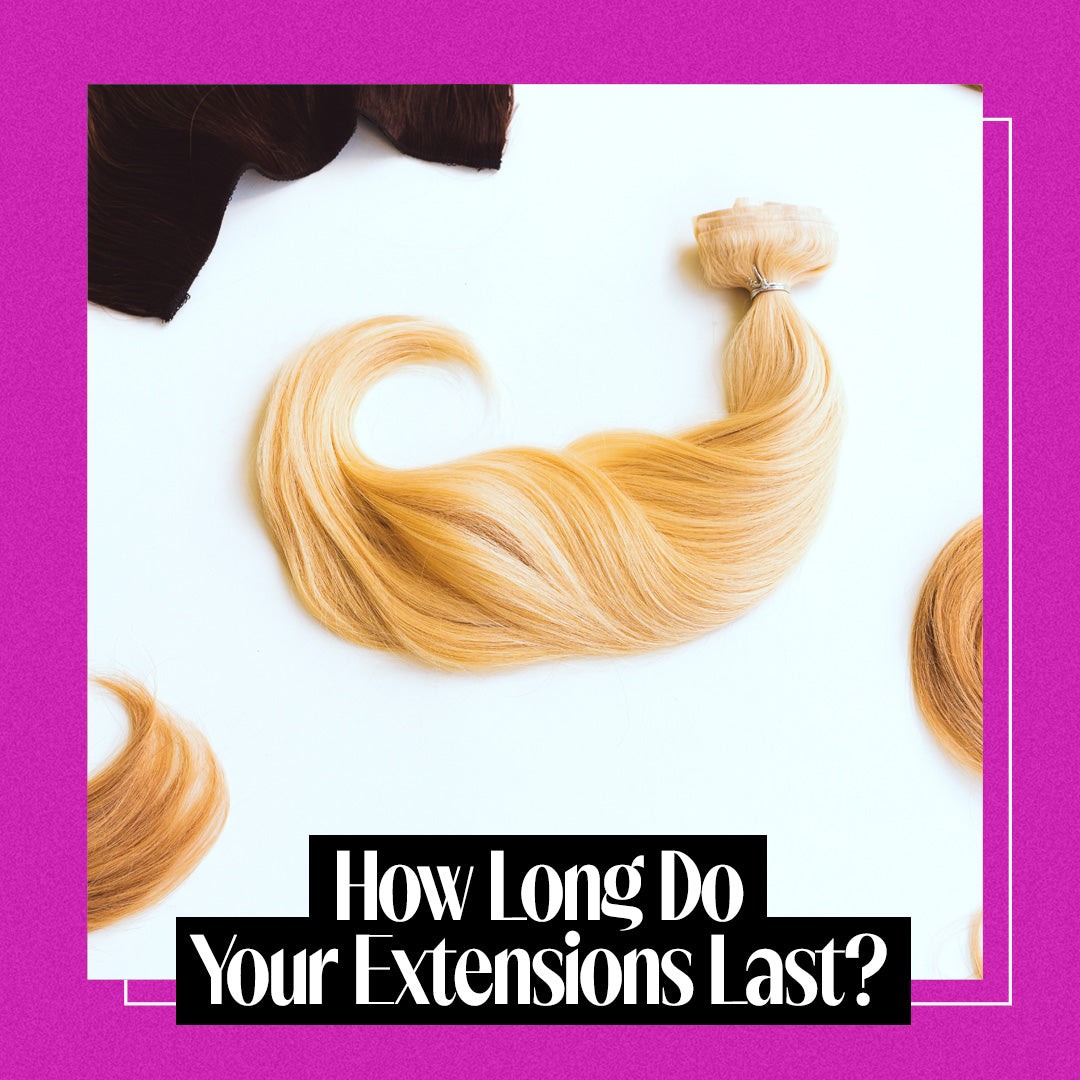 July 21st 2022
How Long Do Your Extensions Last?
Want to know how long your extensions will actually last you all while 
achieving ultimate volume
and length?!  Keep reading to find out ;) 
How long do hair extensions last? Hey, that's a valid question when you're staring down all the different types of hair extensions. You want to get your money's worth, right? Well, the answer is: It depends. (Of course, it does!) How long your extensions last totally depends on whether you go with human hair or synthetic hair.
We only carry the highest quality real human hair extensions at Wicked Roots. Why? Because we believe it's the best option if you want a long-lasting and natural look for your hair. (And who doesn't?!)
Want to achieve ultimate volume and length? Go for our 100% cuticle-on Remy human hair extensions—you'll be glad you did!
How Long Do Human Hair Extensions Last? 
With proper hair extension care, our 100% Remy human hair extensions will last one to two years, depending on how often you wear them and your haircare routine (you're using sulfate-free products right?!).
Now, synthetic hair extensions only last one to three months on average. Sure, you can probably extend their life by wearing them infrequently, but the best bet if you want long-lasting extensions? Investing in high-quality human hair extensions. We promise it'll make a difference in the look, feel, and your wallet.
Why Does Human Hair Last Longer Than Synthetic? 
Synthetic hair extensions are made of artificial fibers like nylon or acrylic. They're chemically treated to look as close as possible to human hair. However, these fibers don't take well to heat styling, which can dramatically reduce the number of times you can wear them. 
Ultimately, it comes down to quality. Fake hair can't compete with the quality of real hair, which is why it's cheaper. Like with anything you buy, you want to go with the highest quality you can afford if you want it to last. 
What Are the Benefits of Remy Human Hair?
There are two main components to this specific class of natural human hair: cuticle on and all cuticles in the same direction. (Huh? I know. Let us explain!) True Remy hair strands, like those in our Wicked Roots Extensions have their cuticles intact and flowing in the same direction, mimicking natural hair for the longest-lasting quality extensions.
Many companies strip human hair extensions of their natural cuticle and coat them with a silicone lining. This is easier and less expensive for the brands to do so. But with this process, the quality of the hair is now diminished. The treated hair seems shiny when it's brand new, but after a few washes, the façade of healthy hair is gone and traded for dull and brittle locks. (No thank you!) 
When the cuticles in the hair shafts remain in the same direction in which they initially grew, it makes it easier to extend the life of the hair. When the cuticle is not facing the same direction, it can cause friction leading to tangling or matting of the hair. 
Another benefit to Remy hair is you can treat it as your own, which makes all the difference. You can wash, brush, heat-style, and even cut or color these hair extensions. And most importantly, with proper care, these extensions will last! Keep in mind that all of this is affected by the origin of the hair, how often you use the extensions, and your care routine (which we'll cover next!)
Proper Maintenance Routine for Hair Extensions
If you want your gorgeous Wicked Roots extensions to last, you'll have to take care of your new hair investment properly! Banish breakage, matting, fizziness, dryness, and dullness with a haircare routine that keeps your extensions healthy and hydrated. 
Extend the life of your extensions with our essential haircare tips:
Brushing
Use a detangling brush specifically for extensions (like our sectioning comb!) Ensure your extensions are fully dry before brushing to avoid breakage; just like you would your natural hair! Move along the hair as you detangle from mid-shaft to your ends. 
Styling 
Do not exceed 350°F when applying heat to your extensions. Use sulfate-free styling products on your extensions. Only use styling products that are sulfate AND alcohol-free to  keep them looking fresh even longer.
Washing
When washing your hair extensions, use cold water to maintain softness and shine. Be sure to use shampoo and conditioners that are sulfate-free (see our haircare bundle for everything you'll need!) Make sure to fully get all product out of the hair extensions before drying.
Storing 
Our Band It and Clip It hair extensions should be removed before sleeping. After removal, brush the extensions to keep the strands in the same direction. Store in the included reusable tote to ensure they stay protected until your next wear.
Keep your locks looking fab for the long haul with Wicked Roots hair extensions. Our quick and easy color match quiz will help you find your perfect match...and have you and your new hair ready to shine. It's glow up!