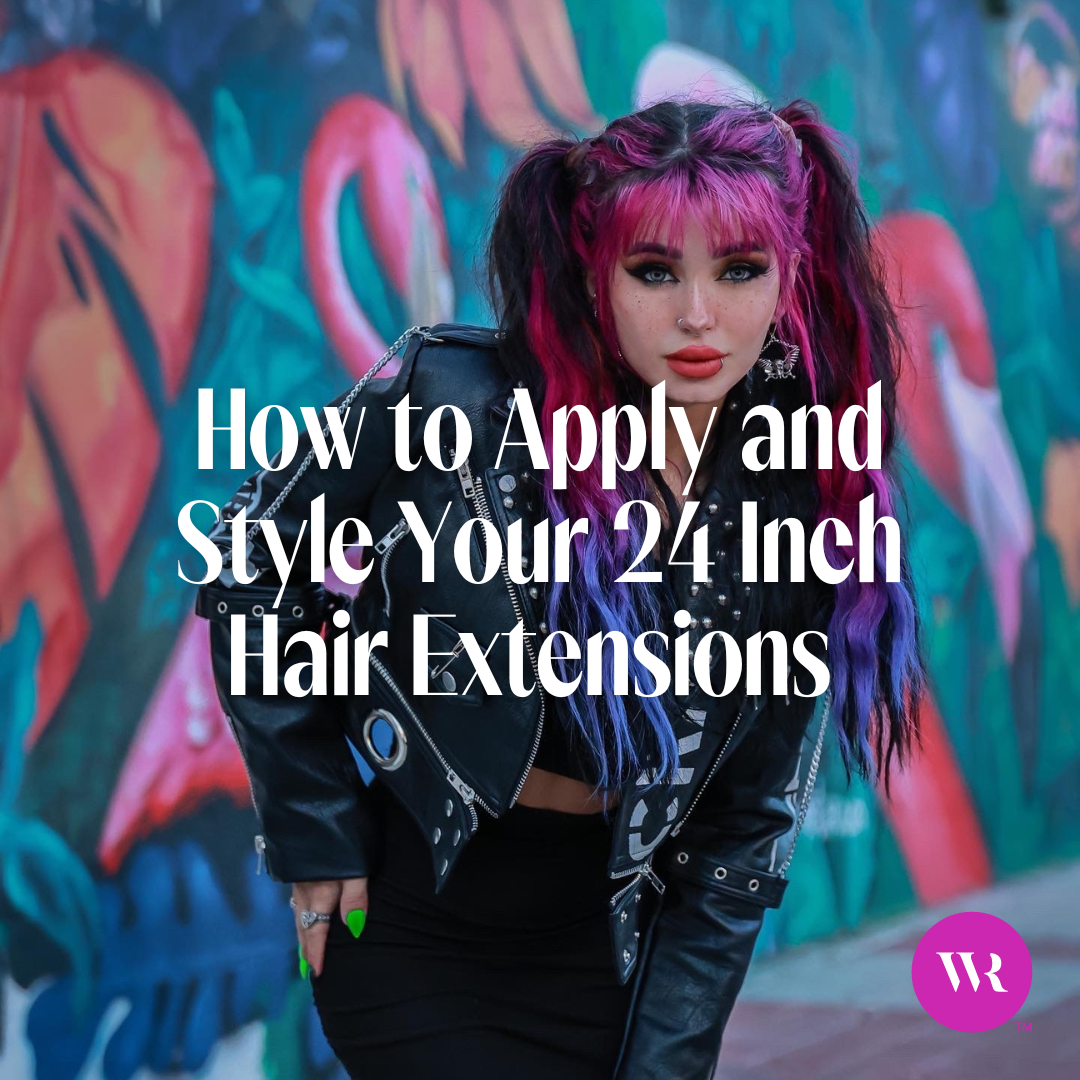 August 2nd 2023
How to Apply and Style Your 24 Inch Hair Extensions
For a stunning hair glow-up, you'll find these 24
" hair extensions

 
available exclusively in our
Tape It™
tape in extension
s. Make a statement with long locks that will bring out your inner diva! 
Long hair, don't care! If you want dramatic length with a bold new style, try our 24 inch hair extensions. How long is 24 inch hair extensions? This length will fall right around your lower back for extra-long locks. With our collection of hair extensions, 24 inches is the longest length we offer. For a stunning hair glow-up, you'll find these 24" hair extensions available exclusively in our Tape It™ tape in extensions. Make a statement with long locks that will bring out your inner diva! 
After you color-match your 24-inch tape in extensions to your natural hair, the next step is learning how to apply and style them! We'll walk you through the application process first (you'll need a stylist to apply your tape in extensions.) Then we'll go over some gorgeous styles that'll highlight your lengthy tresses.   
Applying Your Tape It™
24" Hair Extensions 
Get the flowing long locks you always dreamed of with 24 inch hair extensions. Unlike our other hair extension options, Clip It™ and Band It™, you'll have to make an appointment with a professional stylist to apply your Tape It™ extensions. This way, you'll ensure long-lasting and seamlessly blended strands that look flawless! 
Never had tape in extensions before? When you head to the salon to have your Tape It™ 24 inch hair extensions, here's what to expect. 
Your stylist will start by brushing and

detangling

your natural hair and extensions to ensure a smooth application free from tangles or matting.  
Once you're ready for the application, the stylist will clip the topmost part of your hair, section it, and then gently tape extensions onto your remaining layers (typically double-siding or layering the pieces).   

They will then repeat the process until your entire head is evenly covered with your

24 inch hair extensions

. 
Once you're fresh from the salon and ready to show off your new length, you'll want to know how to style your hair and achieve your hair goals!  
Styling Your 24 Inch
Tape In Extension
s 
Now for the fun part—styling your tresses with length for days! Having the added length from the 24-inch tape in extensions gives you endless possibilities for head-turning styles. So how will you enhance your new look? Try these easy and cute styles to strut your strands.  
Lengthy High Ponytail 
If you're looking for drama, darling, the high pony is a power move! Think slicked-back hair with a high-flying pony that pulls out all the stops. You can use this look for work or on a night out to feel powerful and sexy. Extra-long 24 inch hair extensions take this classic look to new heights.   
Get the look: 
Brush your hair back and into a ponytail at the crown of your head. 
Secure with a hair tie.  

Use hairspray or gel to slick back your hair and set the ponytail. 

 
Long Wavy Locks 
You'll have your full-on wind in your hair movie moment with these long wavy locks. Make your added length look bouncy and voluminous with loose waves. The added texture will give your strands a fun and flirty vibe that looks amazing with super lengthy 24" hair extensions. 
Get the look:  
Brush and detangle your hair to get any knots out. 
Spray your hair all over with a heat-protectant spray. 
Use a curling iron at its lowest setting, never exceeding 350°F. 
Divide your hair into 1–2-inch sections and curl each individual section about two inches below your roots. 
As you curl your entire head, ensure each section of curls is evenly distributed. 
After curling, run your fingers through your hair to separate the curls to loosen them into waves.  
To give your waves added texture, spray your strands with a sea salt spray. 

Finish off the look with an all-over spritz of hairspray to set the style and keep your waves flowing. 

 
Stunning Straight Strands 
What better way to appreciate your 24 inch hair extensions than with a sleek straight look that shows off your ultra-long length? Whether you're heading out for a night with friends or on a date, you'll love this classic look! Now grab your straightener and get ready for shiny and smooth straight strands.    
Get the look: 
Start with freshly washed hair for this style (straight hair tends to show oil and build up) 
Smooth your hair out by brushing out any tangles or knots. 
Spray heat-protectant throughout your strands before you start heat styling.  
Set your straightener on the lowest setting to avoid damaging your hair extensions.  
Divide your hair into sections as you go along, and clip them up once done. 
Straighten from as close to the root as possible and in one downward movement. 
Continue this process along your entire head from your bottom layers to the top.  
Finish the style by straightening your hairline, and bangs last.  
Spray hairspray all over to set the style and smooth out any frizz.  
We hope you LOVE these styles with your new 24 inch hair extensions by Wicked Roots Hair™. Make sure you keep up with all the latest hair tips and tricks on our Instagram @wickedrootshair, we'll see you there!