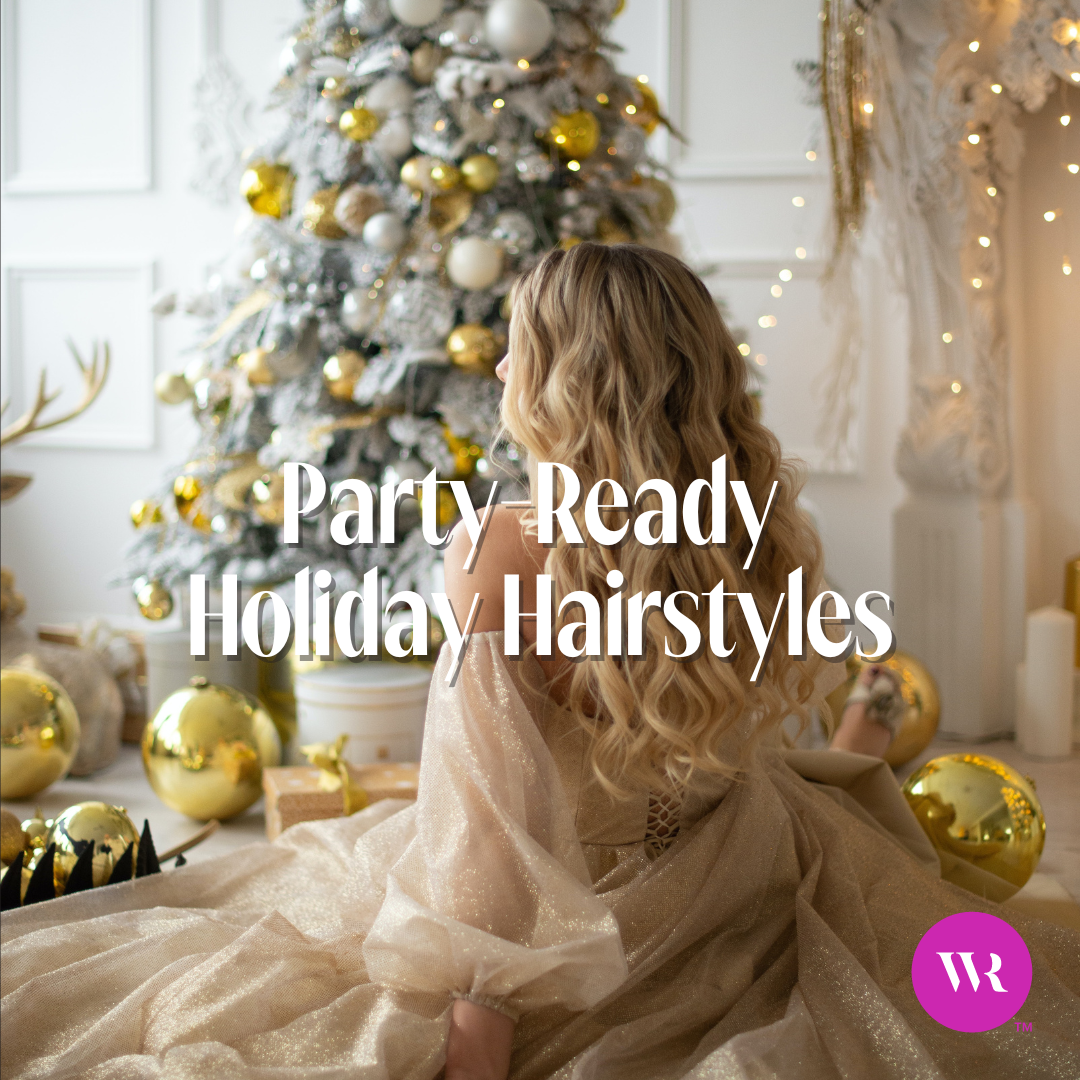 //wickedrootshair.com/cdn/shop/users/avatar_250x250_crop_center_f0ad1dc6-4182-4412-8f45-052bf7447aa9_200x200.png?v=1685998438
November 7th 2022
Party-Ready Holiday Hairstyles
The Holidays are here and we've got you covered on 
quick and easy holiday hairstyles 
to pull together for those FAB festive outfits.
Oh, the weather outside is frightful, but our cute holiday hairstyles are so delightful. And since you've got places to go, these hairstyles for holiday party season will let it glow, let it glow, let it glow! If you're getting ready for those office parties, friend get-togethers, gift exchanges, family dinners, or whatever the occasion, we've got quick and easy holiday hairstyles to pull together your festive outfits.
Best
Hairstyles for Holiday
Festivities
No matter what holiday you're celebrating this year, add some seasonal cheer to your strands. We're not trying to be super fancy or complicated here! It's all about simple techniques that look magical without spending hours getting ready with these hairstyles for holiday parties. 
Here are some of our fave holiday hairstyles 2022 party looks: 
Ribbon Tied Ponytail
After all of that gift-wrapping, you probably have some ribbon left over. Use them to create this fun holiday twist on a bubble ponytail. Go with seasonal hues like bright red, dark green, gold, and silver—or whatever best goes with your holiday outfit!
Get the Look:
Prep your hair with a styling mousse for added texture, then blow dry it. 
Gather your hair into a ponytail, secure it with a hair tie, and spray with a light hairspray. 
Use small hair elastics to divide your ponytail into several sections.
Tie the holiday ribbons around each hair elastic for that festive flair. 
Elegant Rope Braid
This braid works best with long flowy locks to get that enchanting Rapunzel-inspired style. Go for a chic side-swept rope braid for your next holiday party. Add small sparkly clips throughout the braid to bling out this style. 
Get the Look:
Start with clean, dry, and brushed-out hair into a deep side part.
Grab a small section of hair at the top of your part and divide it into two pieces.
Twist the two pieces in the same direction toward the front of your face. 
Cross the pieces over each other in the opposite direction of the twist.
Add small sections of hair to both sides of the twist as you work your way down your hair.
Secure the braid with a hair elastic and spray with hairspray to hold it in place. 
Hollywood Glam Waves
As we celebrate this holiday season with tradition, why not stick with a classic style that has stood the test of time? These refined, sleek waves give your hair a voluminous and full look with added bounce. This hairstyle pairs well with a vintage-inspired outfit to channel those retro vibes.
Get the Look:
Prep your hair with a heat protectant and let it dry fully. 
Use a one-inch curling iron and curl your hair in the same direction throughout your entire head. 
Allow the curls to cool down, then take a boar bristle brush and brush out the curls.
Add hairspray to finish, so those waves last for the holiday celebrations.  
Criss Cross Chignon
This look is perfect for the holiday season with a polished yet fun style that uses a zig-zag part with a low bun. The overlapping pattern in your part adds that playful touch to a classic style. A chic chignon is an upscale look with effortless elegance. 
Get the Look:
Spray a heat protectant on your hair and use a straightener on your roots to your ends. 
Grab a

rat tail comb

to create a large zig-zag part in your hair from your forehead to your crown. 
Pull all of your hair down to the name of your neck and secure it into a bun.
Set this style with hairspray and add a festive clip to finish off this style.  
Add Extensions to
Hairstyles for Holiday
Parties 
We hope these quick and easy holiday hairstyles warm your heart and make you feel merry and bright this festive season. If you want to add a little hair magic to your tresses, hair extensions will take these styles up a notch! Extra length and volume go a long way to make your hairstyles for holiday party celebrations that much more special.
Take your cute holiday hairstyles to the next level with Wicked Roots Hair extensions. Our hair extension collection has temporary (Clip It and Band It) and semi-permanent (Tape It) options, so you can rock your hair on your own terms. And the best part? They're made with 100% Remy human hair, so you know you're getting quality strands to blend with your natural locks. 

Trying out some of these hairstyles for holiday festivities this year? Make sure to tag us in your cute holiday hairstyles wearing Wicked Roots Hair extensions with the hashtag #WickedRootsFam. We can't wait to see your gorgeous holiday hair!