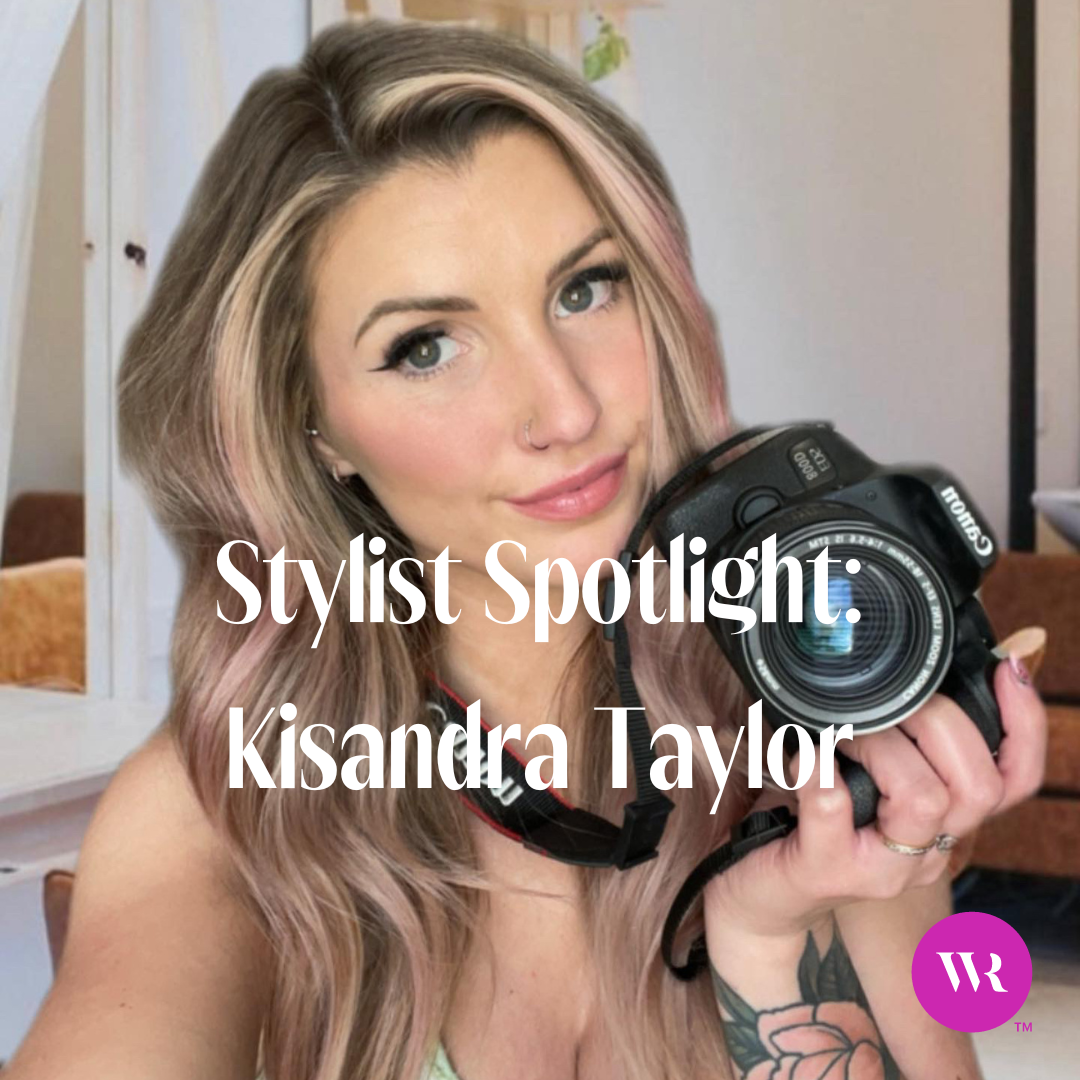 May 10th 2023
Stylist Spotlight: Kisandra Taylor
Meet Kisandra Taylor (@kissysbombshellbeauties)—she's a hairstylist that also offers fashion color extensions for hair services with the help of Wicked Roots Hair™! 
If you're wondering, can you color extensions? Absolutely! As long as you have high-quality hair extensions, you can color extensions. While you can color your own hair extensions, it's best left to the professional stylists that have experience with color extensions for hair. Cutting hair extensions is another service stylists provide if you're looking for added customization. 
Learn more about Kisandra and her Wicked Roots Hair™ collab: 
Tell us a bit about yourself.  
Hi, I'm Kisandra Taylor. I've been doing hair for 15 years. I'm a hairstylist, wife, and mother. I have two boys, 12 and 10. A wonderful husband that supports me in my passions. And two fur babies. I'm an educator and platform artist. I've worked with Guy Tang Mydentity and K18. I specialize in vivid hair and global lighting. I'm also a PMS artist, and I'm a tattoo apprentice. I love making people feel beautiful! 
What are some of your hobbies and passions? 
This won't come as a surprise, but I love everything in the creative industry. I love doing fantasy photo shoots and all the hair and costuming for them. I like to draw and paint. I also love to work out and hike anything in nature.  
What does a day in your life look like?  
Wake up, then coffee. Coffee is a must. Get my oldest off to school. Do some fun hair all day. Get off work and go to the gym with my hubby. Cook dinner, watch TV, or play games with kids.  
How did you decide you wanted to become a stylist? 
I've known since I was a little girl. I loved everything beauty. I cut my dolls' hair, and when I got a little bit older, I was allowed to cut and style my siblings' hair. My mom and dad always encouraged my creative side. My dad is an artist, and that also inspired me. My aunt did hair, and I knew that's what I wanted to do when I grew up. I used to do glamour shots with my siblings. It was so much fun! I'm sure I have the pictures somewhere.  
How long have you been in the hair industry? 
15 years. 
What's the best part about being a stylist? 
Putting a smile on people's faces. And the lifelong friendships you make. 
 What makes Wicked Roots Hair™ better than the rest? 
I have used a lot of color extensions in the past, and the best thing about Wicked Roots Hair™ to me is the consistency when I custom color them. Other brands I have used in the past don't color well and end up splotchy. Wicked Roots Hair™, I've never had an issue with. The quality is amazing and affordable! 
What does your hair routine look like? 
I wash my hair once a week. I usually wear it straight the first day, then curl it the second and wear it curly for a couple of days. Wash day, it's always up. If I have my hair up, you know I have a lot of dry shampoo in there! 
What makes you feel wickedly beautiful? 
Long gorgeous hair. I love my Band It™ extensions. I can wear them on special occasions and just feel wickedly beautiful. 
Who do you look up to when you want hair inspiration? 
Guy Tang has been and always will be my inspiration! 
What's your favorite look or hairstyle when styling your clients? 
Beachy waves will always be my favorite with straight ends—don't come for me! I know the blowout is so popular right now, but a good beach wave will always get me. 
How did Wicked Roots Hair™ change your views on hair extensions? 
I used to not order color extensions for hair because of the inconsistencies and the price. Wicked Roots Hair™ changed my views with their incredible quality and affordability. 
Does Wicked Roots Hair™ make it easier for you to use extensions as a stylist? 
Yes, it makes my job so much easier when using good-quality hair! 
If you could give one piece of hair advice, what would it be? 
Heat protectant is your best friend—never go without!  
 Join The Stylist Collective by Wicked Roots Hair™  
We love our stylists, so that's why we created The Stylist Collective by Wicked Root Hair™.   
Our program offers exclusive discounts and perks for you and your clients: 
No fee to join (or hidden costs, ever!) 

Save 25% on all of our products 

Make a 10% commission when your clients purchase

Wicked Roots Hair™ products

 

Your clients get 15% off their purchase when they use your unique code  
Ready to get started? Submit your application, and we'll be in touch! If you need help or have questions, contact us at info@wickedrootshair.com. We can't wait for you to join the Wicked Stylist fam!