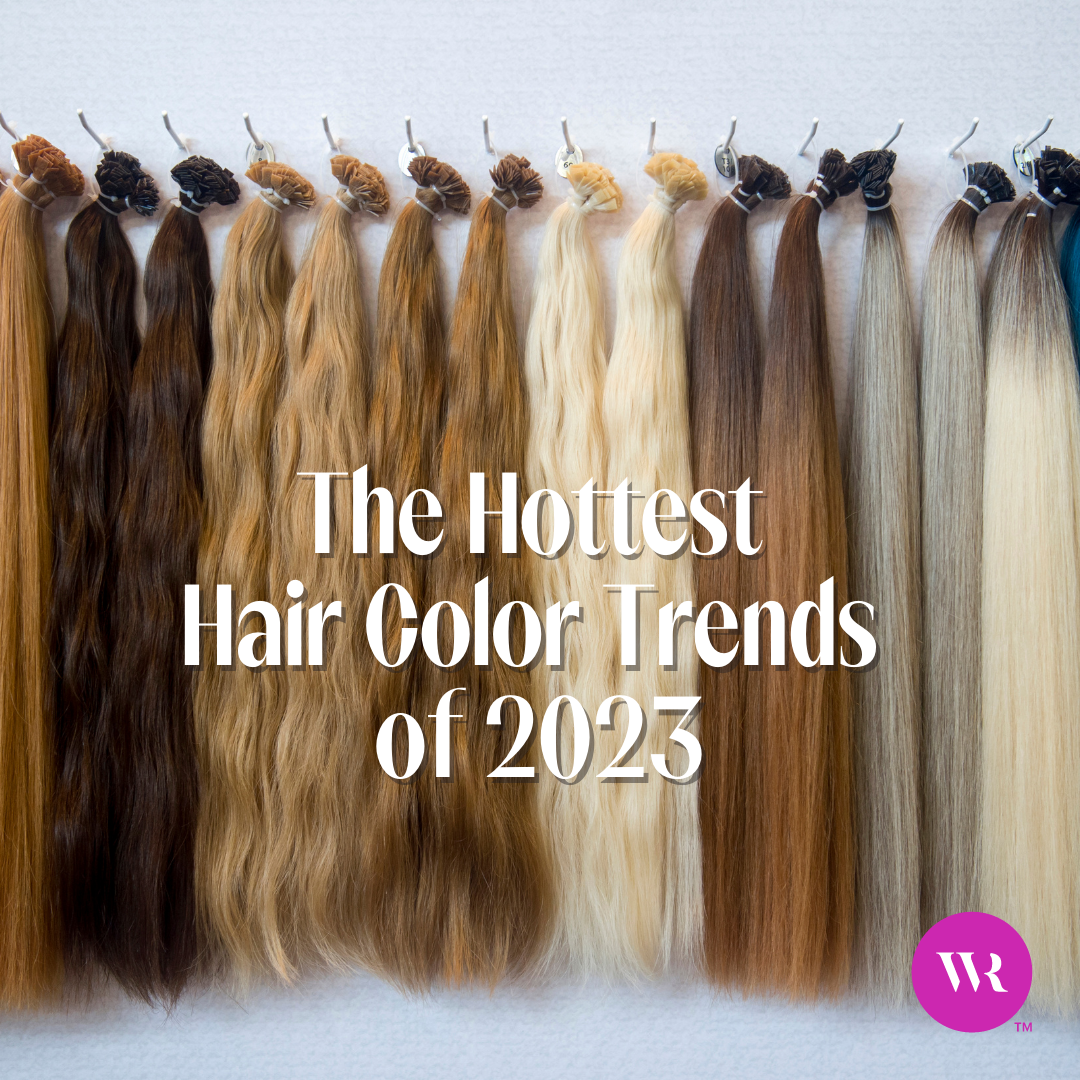 //wickedrootshair.com/cdn/shop/users/avatar_250x250_crop_center_f0ad1dc6-4182-4412-8f45-052bf7447aa9_200x200.png?v=1685998438
January 6th 2023
The Hottest Hair Colors of 2023
We're ready to try the latest
2023 hair color trends
 to start the new year off right. So let's kick the year off with some color! Read this blog to find out the hottest hair color trends for 2023!
New year, new hair! As we ring in the new year and set our resolutions, let's add 2023 hair trends to our list. It's always so much fun to reinvent yourself for the new year, and keeping up with the hottest hair trends right now is a creative way to change up your look. If you're looking for new 2023 hair color trends, with all of the hair trends 2023 has to offer, you're sure to find something that speaks to you!
Our Favorite 2023 Hair Color Trends
We're ready to try the latest 2023 hair color trends to start the new year off right. The overall theme for 2023 hair trends is dying your hair a new color to brighten up your year. Take notes, you'll want to try out these colors for a new you in 2023. Cheers to new beginnings!
Check out the hottest hair colors for the new year:
Champagne Blonde
Let's celebrate the new year with bottle-popping-worthy 2023 hair color trends. We're raising a toast to the warm-toned and natural-looking blonde for the new year. Taylor Swift rocks this color, and 2023 will see her massive world tour and plenty of Swiftie energy with our hair inspo! This sparkling champagne blonde is a mixture of warm and cool tones throughout the hair. Add a gloss to this color for all-over shine and pearl-like hues.
Copper Red
Have you been considering going full-on red for a while? The time is now! Copper reds have been trending for the last few years and show no signs of stopping. This color is super flattering on a wide range of skin tones. Lock in your ravishing red color with a gloss to tone your hair and add some serious shine.
Golden Brown Balayage
For those of you looking for a balayage that brings your brunette locks to life, try these glowing highlights to brighten up your strands. This allows you to lighten up your hair without going too drastic. Warm tones like chestnut and honey give this style a richness that equals hair perfection!
Buttery Balayage
It's no secret how wildly popular balayage color themes have been over the last few years. For 2023 hair color trends, this is no different! A bright and warm balayage gives life to darker bases by creating a rich contrast for highlighted strands. This shade is ideal for those looking for a color that doesn't involve a lot of upkeep and can grow out naturally over time.
Chocolate Cherry
We're all about this retro shade (think the 90s!) that infuses red tones into brown hues. If you've always wanted to dabble with red hair color, this is a great place to start! It's subtle enough not to feel like a huge change but adventurous enough to make you feel modern and fun while keeping your brunette locks.
Bold Blue
If you want to make a drastic change in 2023, why not go for a fun and flirty blue shade? Deep blue hues pair well if you already have darker hair, like brown or black. If you're rocking lighter strands, go for a lighter blue to blend the colors flawlessly. If you don't want to commit to blue locks on your natural hair, why not dye your hair extensions? This way, you can easily apply or remove the pops of color as you desire!
How to Prepare for a New Hair Color
Before making your salon appointment to change your look this year, take some time to decide what would suit your hair best. Do you want something subtle? Or are you planning to totally go the "new year, new you" route? Consider the 2023 hair color trends that you like and discuss your options with a stylist in a consultation to find out the best plan for changing your color.
Once you choose your new shade, make sure your hair is healthy and ready to take on a new color. If you've had a recent deep conditioning or Keratin treatment, it's best to wait it out for at least two weeks before dying your hair to avoid damaging your strands. When you're ready for your appointment, arrive with hair that hasn't been washed in a couple of days. This allows your hair oils to build up, which means less irritation on your scalp from the hair dye.
These 2023 hair trends are worth celebrating! Upgrade your new year look with hair extensions for long lengths and unmatched volume. Wicked Roots hair extensions will help you achieve the hottest hair trends right now.
Let us know which looks you plan to try in the new year. Tag us on Instagram with #WickedRootsFam with your 2023 hair trends!