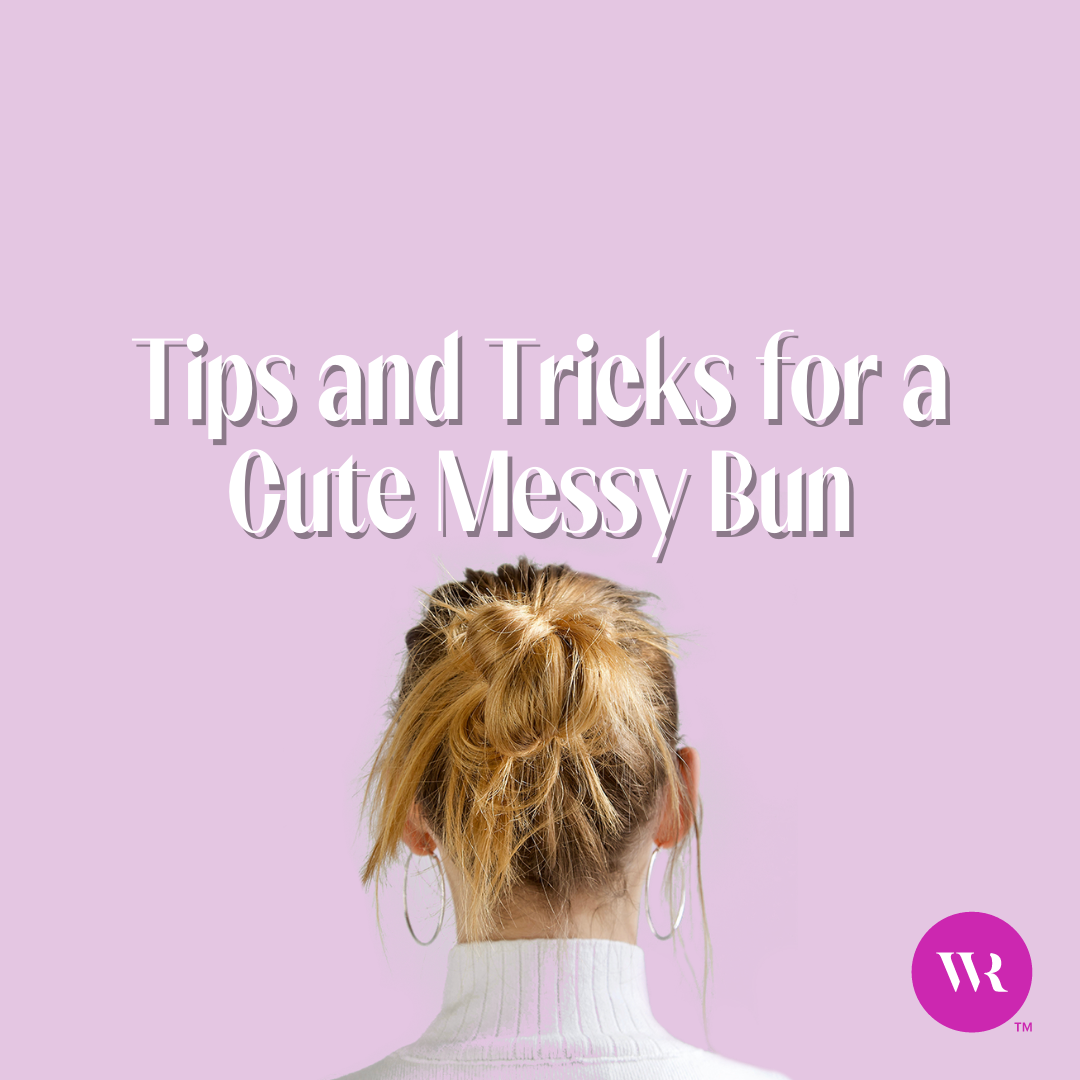 //wickedrootshair.com/cdn/shop/users/avatar_250x250_crop_center_f0ad1dc6-4182-4412-8f45-052bf7447aa9_200x200.png?v=1685998438
January 12th 2023
Tips and Tricks for a Cute Messy Bun
Whether you're headed to run some errands or grab lunch with friends, our
cute messy bun tutorial
 with expert tips and tricks will help you achieve the ultimate
messy bun hairstyle!
For days when you don't have the extra time to spend on your hair or you haven't washed your hair, the messy bun hairstyle is the perfect compromise! It still looks cute AND you're getting your hair up and out of your face so you can take on the day. A messy bun says, "I tried," without too much effort, and if loose strands fall out of the bun throughout the day, it'll add to the messy look! 
Whether you're headed to run some errands or grab lunch with friends, our cute messy bun tutorial with expert tips and tricks will help you achieve the ultimate messy bun hairstyle! 
Easy and Cute Messy Bun Tutorial 
Before you get started, make sure you have a few hair supplies and products on hand. It's best to use hair ties that are non-damaging to your strands (like silk scrunchies!) If you have fine hair, try using a dry shampoo or texturizing spray before styling to get a fuller look with your messy bun. 
The best time to try a messy bun hairstyle is when you haven't washed your hair in one or two days (here are some ways to freshen your hair in between washes.) This way, you get the added bonus of keeping your natural oils intact for shiny and healthy hair, and you're also able to create a messy bun with just your fingers and your hair tie (no brush required here!)
Now that you've prepped your hair, onto the cute messy bun tutorial:
Step 1: Put Your Hair in a Ponytail
A ponytail will work as the foundation of your messy bun, that way, you have a base to form your bun around! Sometimes it might take a few tries to get your messy bun hairstyle just right, so it makes it easier to start again when it's already in a ponytail. 
Gather your hair at the back of your head (or at the top of your crown if you want a high messy bun) by running your fingers through your hair. Secure your hair with a hair tie or scrunchie. It's okay if there are some bumps—a messy bun isn't meant to be sleek or free of imperfections!
If you have shorter hair, you'll have to keep the bun a bit lower on your head than if you have longer hair. Ensure the hair tie isn't too loose or too tight. If it's too loose, your messy bun could unravel. If it's too tight, it'll be hard to pull out loose strands for the messy look. 
Step 2: Wrap Your Hair Around the Ponytail
There are two main ways to do this for your messy bun hairstyle: the twist method or the loop method. The faster and easier option is the twisting technique. Place your index finger at the base of your ponytail near your hair tie. Gently swirl your index finger in a circular motion until your ponytail is in one large twist. Then wrap it around your hair tie using it as a base and tuck the tip of your hair under the hair tie. 
If you want a wispier messy bun, you can use the loop method as a part of your ponytail. When you're about to tighten up your ponytail, don't pull your hair all the way through and create a large loop of hair. Pull and tug at the loop to make it larger or wider for the final messy bun look. If you have shorter hair, go for the loop method for a fuller look. If you have longer hair, stick with the twist method, as the loop bun will droop down with more weight. 
Step 3: Finish the
Messy Bun
Look with Loose Hair Strands
After you've created your bun, now it's time to have fun with it! Start by pulling at some of the strands from your hair tie. Try accenting your shorter hair strands and use some to frame your face. It'll take some trial and error to get your messy bun hairstyle to look just right, so it's okay if it's not perfect the first time you try it! You can also loosely tuck strands that are too long back into your hair tie for that final touch. 
Add Volume to Messy Bun Hairstyles with Extensions
That was easy, right? A cute and simple messy bun is so versatile and super convenient! If your bun needs a bit more oomph, hair extensions can help you thicken and lengthen your locks for a fuller style. Our Wicked Roots hair extension collection comes in 42 different shades and three different extension styles with various lengths to find your perfect hair match. 
If you have any questions about our extensions or
cute messy bun tutorial,
leave a comment below or email us at
info@wickedrootshair.com
. We can help you find the right hair extensions to pump up the volume on your
messy bun hairstyle!