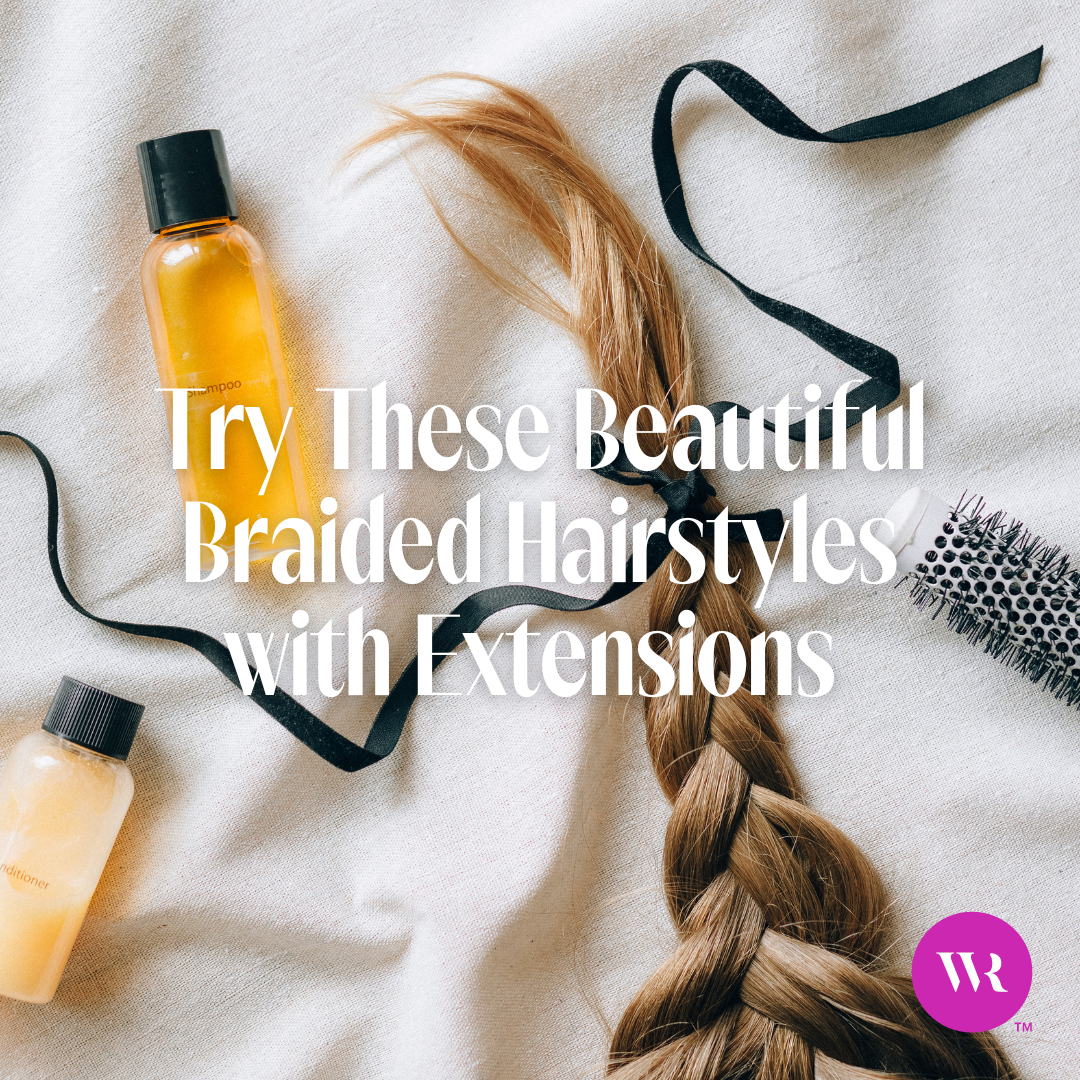 September 27th 2023
Try These Beautiful Braided Hairstyles with Extensions
Braids can be a fun look while you run errands, but they can also work just as well for a fancy dinner. Whatever the occasion, make your style brilliantly bold with

 
braided hairstyles with extensions
! 
Braided baddies, we've got a bountiful lineup of beautiful braided styles for you! If you want to take your braided hairstyles up a notch, you need to try hair extensions with them (trust us, it's a game changer!) Braided hairstyles with extensions will give your braids a thicker and longer look, so Rapunzel, watch out! 
When it comes to extensions hairstyles, braids are among the simplest yet most impactful styles you can wear. You can show off your added length and volume with cute braided hairstyles with extensions. Braids can be a fun look while you run errands, but they can also work just as well for a fancy dinner. Whatever the occasion, make your style brilliantly bold with braided hairstyles with extensions! 
Try these cute braided hairstyles with extensions for carefree vibes with a touch of chic elegance:  
Side Braid 
You can't go wrong with a classic side braid! Even the least experienced in braid skills can pull together a sweet side braid. Side braids pair perfectly with bangs (especially side bangs!) for a gorgeous complete style. You can do a side braid with the basic three-section braid or two-section twist for a quick and easy look.  
Fishtail Braid 
Don't be intimidated by an intricate and complicated-looking fishtail braid. This modern boho style is absolutely stunning, but it's not as advanced as it may seem (see our fishtail braid guide.) This look is perfect for anything from a music festival to brunch with your friends. Perfectly woven fishtail braids serve mermaid vibes (which are all the rage right now!) that are sure to impress!  
High Ponytail Braid 
 
Time to channel your inner diva! Think about it, a high ponytail braid is an absolute power move. Feel fierce with the best version of yourself in this braided hairstyle that reaches new heights. A sleek braided pony says I can do anything with an air of confidence. Achieve absolute perfection with a long-braided ponytail that's anything but ordinary.  
French Braid 
Feeling sophisticated? French braids are created by weaving small sections of hair into the plait as you go along. This creates a sort of cascading look that's simply exquisite. Learning how to French braid with extensions differs from the usual braid as they start at the crown of your head rather than the nape of your neck. Wear this timeless style either as a single braid or as pigtail braids. Très magnifique!  
Dutch Braid 
If you love a French braid, meet Dutch braids! Keeping with the European theme, these braids are very similar to French braids. Think of a Dutch brand as a reversed French braid as the plaits lay on top of your head rather than woven in. These braids pop as the main event of your braided hairstyles with extensions. You can also do these as single or double braids for the ultimate versatile style.  
Halo Braid
Once you have the Dutch braid down, the halo braid is the slightly more advanced version. With this braid, you create a Dutch braid around your head to create a halo or crown look. You can customize this look based on placement on the head and how tight or loose you braid it. Add cute accessories to the braid, like flowers or gems, to take it to the next level. This is an excellent style for a wedding or other event where you want to feel extra glam! 
Braided Bun  
Why not try a bold braided bun when you want to upgrade your everyday bun? Feel fresh and breezy with all of your hair up and out of your face. This is one updo that works for literally any activity! If you're headed to the gym, you can protect your hair extensions in a braided bun. If you're going to a baby shower, this look is simple yet still dressed up.   
Upgrade Your Braids with Hair Extensions 
With any extensions hairstyles, braids will glow up your look every time! If you're searching for braided hairstyles with extensions, Wicked Roots Hair™ has salon-quality hair that we know you'll love! Our hair is made with 100% Remy human hair, which means soft, shiny, and less tangle-prone strands for your braids. Blend your extensions flawlessly into your natural hair with unmatched color options and elite styles. 
Let's transform those tresses with long and full locks that are ready to be braided! We have three different styles of hair extensions: Tape It™ tape-in hair extensions, Clip It™ clip-in hair extensions, and Band It™ band-style hair extensions. Will you choose braided hairstyles with clip in extensions, tape-in, or band-style? All will elevate your braids with a new look!