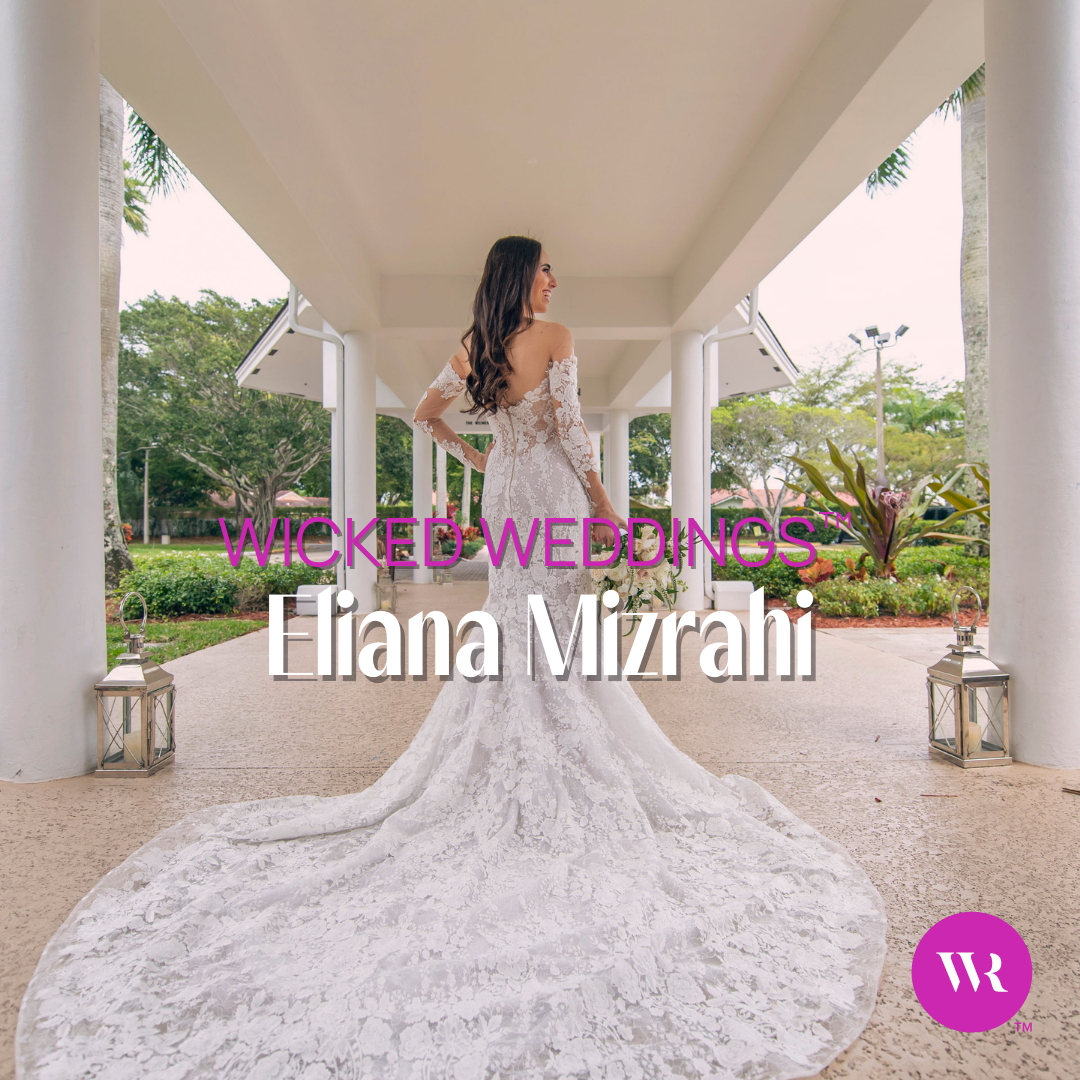 //wickedrootshair.com/cdn/shop/users/avatar_250x250_crop_center_f0ad1dc6-4182-4412-8f45-052bf7447aa9_200x200.png?v=1685998438
November 13th 2022
Wicked Weddings™: Eliana Mizrahi
Our
Wicked Weddings™
bride, Eliana Mizrahi, looked gorgeous at her elegant Boca Raton nuptials with her
wedding day hair extensions
by
Wicked Roots Hair.
 Keep reading to see 
what Eliana had to say about her wedding day celebrations
Get the hair you've always dreamed of for your big day with lengthy strands and vivacious volume with the help of wedding hair extensions. Settling on a wedding hairstyle can be a process (but also lots of fun trying different styles!) Transform your tresses with hair extensions for updos, or leave your locks down to show off those long locks.
Our Wicked Weddings™ bride, Eliana Mizrahi, looked gorgeous at her elegant Boca Raton nuptials with her wedding day hair extensions by Wicked Roots Hair. Her long flowing hair cascaded with loose curls—the perfect finishing touch to match her show-stopping gown with intricate floral details.
Here's what Eliana had to say about her wedding day celebrations: 
What was your overall wedding day vibe with your theme and colors?
The overall vibe was romantic, elegant, and garden themed. The colors were neutral, with light pinks, champagne, beiges, whites, and greenery.
What was it like shopping for your wedding dress? How did you decide what overall look you wanted?
Shopping for my wedding dress was stressful! I had a general idea of the overall look that I wanted but took inspiration from posts on Instagram and looked at photos from wedding dress designer accounts.
How did you pick your wedding hairstylist and your final hairstyle?
I knew the hairstyle I wanted. Also took inspiration from posts on Instagram. I picked my hairstylist after getting a referral from my makeup artist and completing a hair trial. I was in between two hair stylists and disliked my trial with the other stylist. 
Why did you use Wicked Roots Hair Extensions (and did you wear them at other events too?)
The quality was amazing, the color matched perfectly, and even my hairstylist was impressed with the extensions! Seeing how full and great my hair looked with the extensions in during my hair trial solidified my choice to wear them on my wedding day.
What was your favorite part about your wedding day?
The overall happiness, love, and joy that I felt the entire day.
Wedding Venue:
B'nai Torah Congregation (@bnaitorah)
Makeup & Hair:
Rocio De La Cruz (@rocidoesmakeup)
Isaac Mesa (@i.m.hair)
Photography:
Domino Arts Photography (@dominoarts)
Caterer:
Neil Wasserman (@vipcaterers)
Florist:
Dalsimer Atlas (@dalsimeratlas)
Clip It 20" Dark Chocolate Wedding Hair Extensions by Wicked Roots Hair
Ready to commit to wedding day hair extensions for your special day?
Our
Wicked Weddings
program gives you a 20% rebate on your
Wicked Roots hair extensions
and for ALL of your bridesmaids too. After your wedding day, we'll publish a recap on our blog (like Stephanie's!) with photos of your wedding day hair to show off your stunning strands. Get more information and apply now
here
!