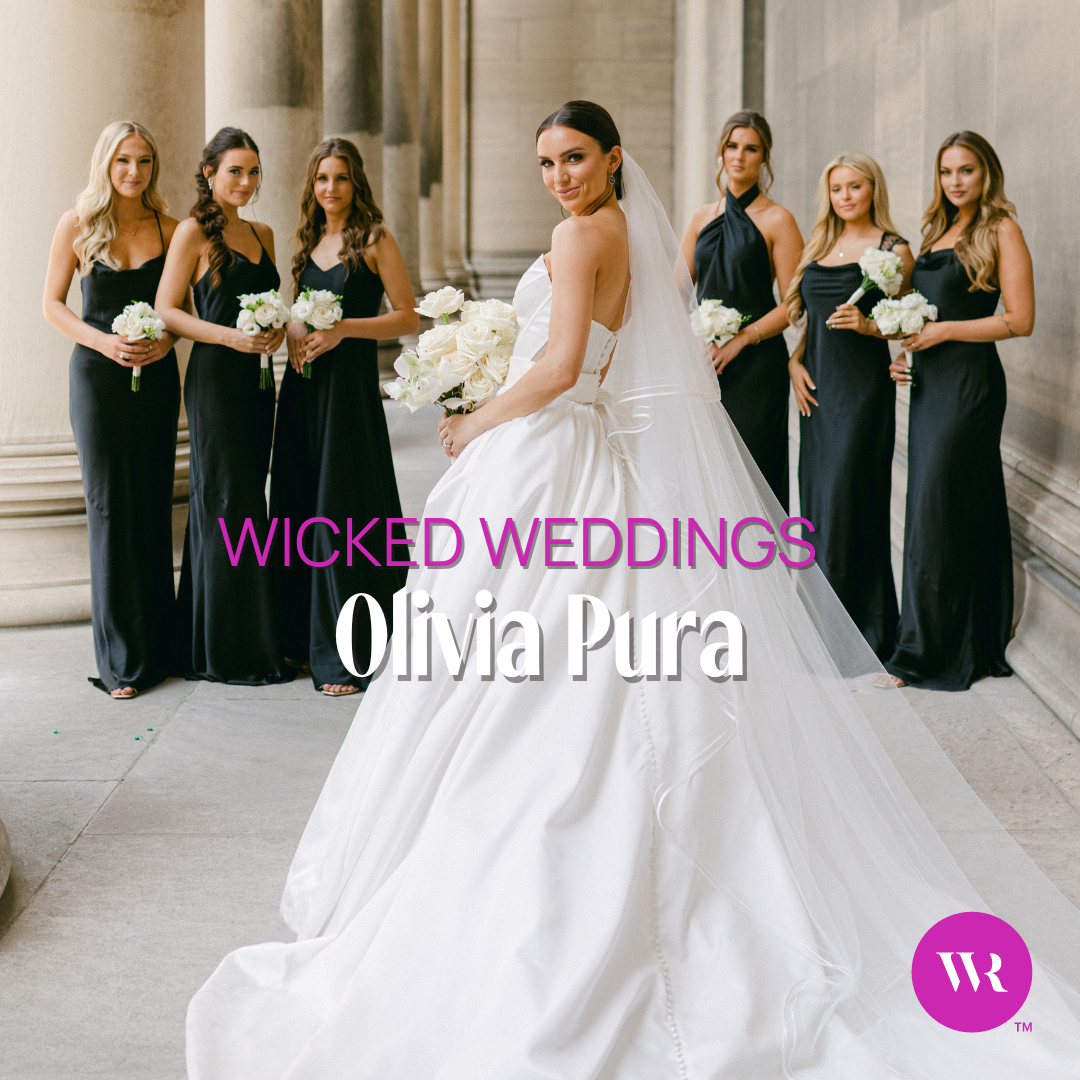 //wickedrootshair.com/cdn/shop/users/avatar_250x250_crop_center_f0ad1dc6-4182-4412-8f45-052bf7447aa9_200x200.png?v=1685998438
November 9th 2022
Wicked Weddings™ : Olivia Pura
Our

 
Wicked Weddings
 

bride Olivia Pura (
@oliviapura
), looked absolutely stunning with her

 
wedding day hair extensions

 
by

 
Wicked Roots Hair.
 Check out this blog to see how she and her bridesmaids Wicked Wedding hairstyles turned out!
On your wedding day, hair extensions for updos or long locks worn down give your hair the extra volume and length you've always imagined for your lifelong memories. Wedding hair extensions come in a variety of colors, styles, and lengths, depending on what you're going for. It's up to you to decide what type of wedding hairstyle to choose, whether it's a long hair look or updo with hair extensions that you'll wear for your big day! The most important part is having fun with it and achieving the look you've envisioned for your wedding celebrations.
Our Wicked Weddings bride Olivia Pura (@oliviapura), looked absolutely stunning with her wedding day hair extensions by Wicked Roots Hair. Her Pittsburgh sleek and elegant nuptials boasted a black and white color theme with gorgeous accents of white floral bouquets and classic black dresses for the bridesmaids.
Here's what Olivia had to say about her day of matrimony festivities: 
What was your overall wedding day vibe with your theme and colors?
When my husband and I first got engaged, we sat down and talked about the overall look we wanted for our wedding. Luckily, we were in complete alignment! Our wedding day was romantic, timeless, and regal. We were going for a "modern royal wedding" feel! The color scheme was white, gold, and black. 
What was it like shopping for your wedding dress? How did you decide what overall look you wanted?
Dress shopping was so much fun! My mom, sisters, and mother-in-law all came along, so I had the most important women in my life there the whole time. Luckily, in Chicago, there are many (maybe even too many) options for wedding dress shopping. Prior to dress shopping, I saved a few Pinterest pins of gown styles I wanted to try on. There was only one "rule" in my mind when browsing: no lace! When I eventually tried on my ceremony dress, I definitely had the "aha" moment: tears welled in my eyes even before they put a veil on.
How did you pick your wedding hairstylist and your final hairstyle?
I chose my hairstylist by browsing Instagram for Pittsburgh-based wedding hairstylists. Courtney, the stylist I ultimately chose, had such a unique background – working in NYC doing hair for a variety of clients – that was so apparent in the quality and elegance of her work. From there, picking the style was much easier. I knew for some time that I wanted a sleek, low bun. Courtney showed me a few options during our trial, and I chose my favorite!
How did you use Wicked Roots
Hair Extensions for updo
s and other styles (and did you wear them at other events too?)
I had Tape It extensions for the wedding, which was incredible for our honeymoon! I had all the extra volume without putting in or taking out the extensions daily. 
What was your favorite part about your wedding day?
It's almost impossible to pinpoint a single part to be my favorite because I was truly on cloud nine all day. That said, if I had to pick, it was reciting our vows to each other during our wedding Mass. I can't even describe what that felt like other than to say it was surreal.
Wedding Venues:
Ceremony: St. Paul's Cathedral (Pittsburgh, PA)
Reception: Carnegie Music Hall Foyer (@carnegiemuseums)
Host Hotel: The Oaklander (@theoaklanderweddings / @theoaklanderhotel)
Hair/Makeup:
Hair - Courtney Benedetti (@hairbycourtneybenedetti)
Makeup by Missy (@makeupbymissyatx)
Photography/Videography:
Meg Lee Photo (@megleephoto)
Videographer - Wiley Weddings (@wileyweddingfilms)
Wedding Planner
Tori Rippole of La Eventor (@laeventor)
Caterer:
Culinaire (@culinaireintl)
Florist:
Gidas Flowers (@gidasflowers)
Entertainment:
Band - John Parker Band (@johnparkerband)
Wedding Hair Extensions by Wicked Roots Hair
For Olivia's updo with hair extensions, she went with our Tape It tape-in hair extensions using six packs of the 16-inch length in the Dark Chocolate shade. Her hairstylist styled her hair extensions for updos into a low bun to create a luxurious feel for her elegant wedding.  For her bridal party, Hayden Brax (@haydenbrax) wore 16" Clip Its in Dimensional Blonde, Kayah Pura (@kayahpura) wore 20" Clip Its in Almond Ombre, and Adah Pura (@adahpura) wore 16" Clip Its in Almond.
Have your sights set on wedding day hair extensions for your special day? 
Our Wicked Weddings program gives you a 20% rebate on your Wicked Roots hair extensions and for ALL of your bridesmaids too. After your wedding day, we'll publish a recap on our blog (like Olivia's!) with photos of your wedding day hair to show off your stunning strands. Get more information and apply now here!