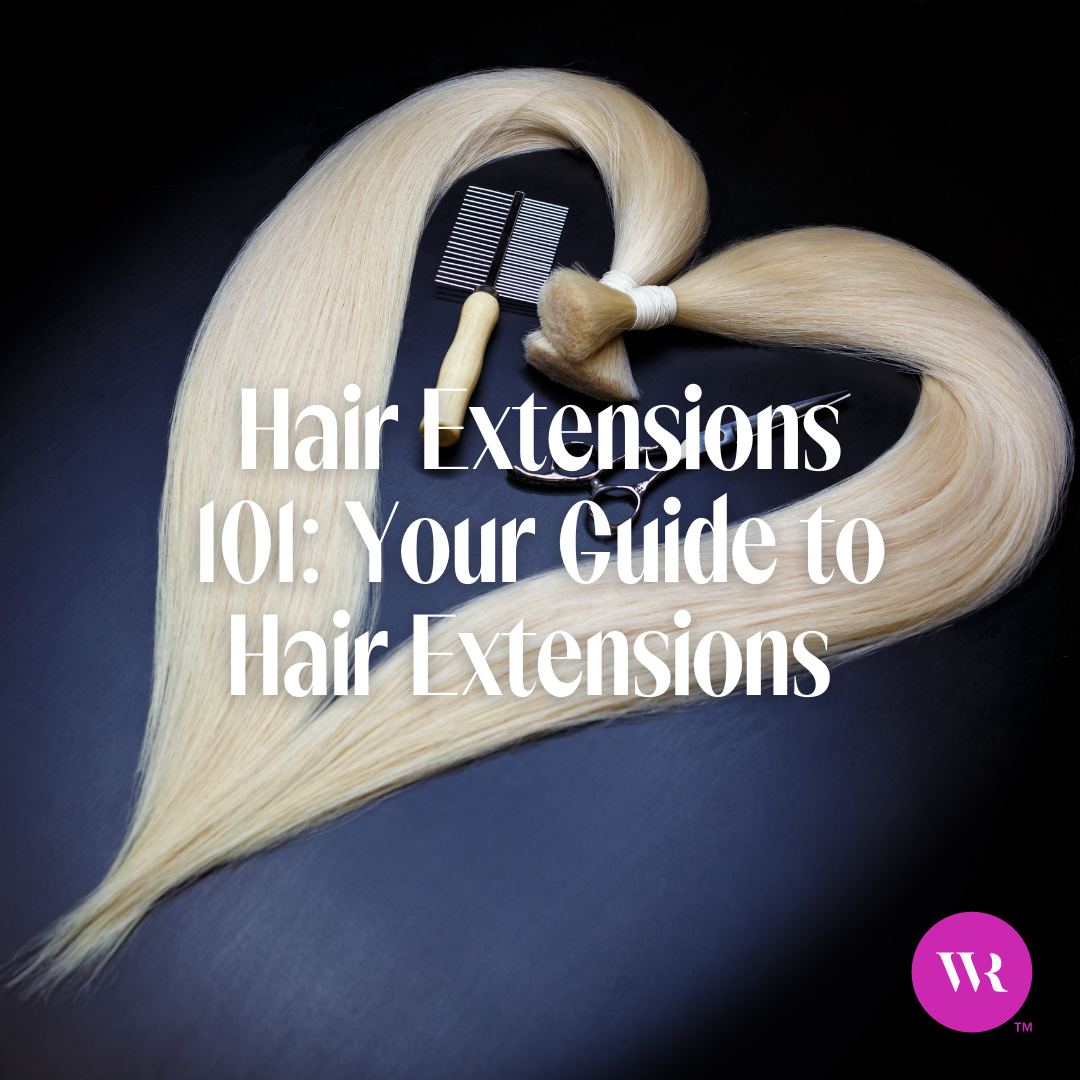 July 6th 2023
Hair Extensions 101: Your Guide to Hair Extensions
What is the best method of hair extensions? Find the answers to hair questions like this and more in our Wicked Roots Hair guide to extensions for newbies. 
If your hair has always been lacking in length, or you've always wanted extra thick volume, you might have considered hair extensions at some point. They're a versatile option to give your hair that extra oomph to see how stunning your hair can be! 
Have you thought about getting hair extensions but have no idea where to start? Don't get too overwhelmed by all of the choices and application methods! Hair extensions are so much fun—we'll help walk you through everything there's to know.  
You probably have plenty of hair questions like "what is the best method of hair extensions?" or "how many types of hair extensions are there?" We'll cover all of that and more ahead with our hair extensions tips and tricks for those of you who are new to the hair extension scene.  
Hair Extensions Tips and Tricks
 for Newbies   
Before you purchase your first-ever hair extensions (so exciting!), there are a few things you need to know before you dive into the world of extensions. There's no real definite answer to "what is the best method of hair extensions?" because it all depends on your personal hair needs and preferences. Start by deciding which type of hair extensions work best for you. 
Types of Hair Extensions 
The first important tip is to choose the type of hair extension that suits your lifestyle and preferences. Are you the one asking, "can we use hair extensions daily?" then you'll probably want to choose an option you can take out as you please instead of keeping in for weeks at a time. If you're wondering, "how many types of hair extensions are there?" we'd narrow it down to about four main categories: weft, tape in, clip in, and band/halo style. 
Here's a quick run-down of these main hair extension types: 
Weft 
If you're looking for versatility in applying your hair extensions, weft extensions can be applied in various ways, including sew-in, braided, or beaded row. You'll need to make an appointment with a stylist who knows how to apply your hair extensions with your preferred method (some even will be certified in a specific method!) You can go with either hand-tied or machine-tied wefts. Machine-tied is the better pick if you're looking to customize them, as they won't unravel like hand-tied wefts if you decide to cut your hair extensions.   
Tape In  
These extensions adhere to your natural hair with an adhesive tape. They work best with thick to medium hair types. Use them to add dimensional color, as you can mix and match shades. Use a professional stylist to apply and remove your tape-in hair extensions for best results. Our Tape It hair extensions come in four lengths (12", 16", 20", and 24"), with an average application requiring four to six packs.  
Clip In  
If you're looking for a more DIY temporary option, look no further than clip-in extensions! It couldn't be easier to clip these in for a night out and take them out before bed. No need for adhesives or tape as they clip into your hair directly. They work for various hair types, so this is a great choice if you're not ready to commit to something semi-permanent. Our Clip It hair extensions come in two lengths (16" and 20") and come with seven pieces per set.  
Band/Halo 
If you have fine or thinning hair, this type of hair extension (like our Band it!) sits on top of your head with an elastic band, so you won't have to worry about too much weight on your delicate strands. If you're more of a one-step, low-maintenance baddie, you'll love these! When first trying extensions, this is a great place to start if you're not ready to fully commit to other options.  
Styling Tips for Hair Extensions   
When it comes to hair extensions tips, styling tips for hair extensions are one of our most requested. We love easy extensions hairstyle methods that make your hair extensions shine with cute looks no matter the occasion (check out the easiest hairstyles for extensions here!) This goes hand in hand with having a styling routine that keeps your hair looking fresh and flawless.   
Here are some quick and simple styling tips for your new hair extensions: 
What not to use on hair extensions

, you ask? Steer clear of styling products with harsh ingredients such as sulfates, parabens, and alcohol. 

Never heat style your hair extensions higher than 350°F, and try to use

heatless styling techniques

as much as possible.  

Choose the right brush for your hair extensions to avoid damage. We recommend using a

sectioning comb

,

wet brush

, and

rat-tail comb

for hair extensions.  
We hope we've answered all of your hair questions (such as "what is the best method of hair extensions?"—whatever works best for you!) If you have any other questions, leave a comment below, send us a DM on Instagram @wickedrootshair or email us at info@wickedrootshair.com. We're here for all of your hair extension needs and ready to help you with your first hair extensions!