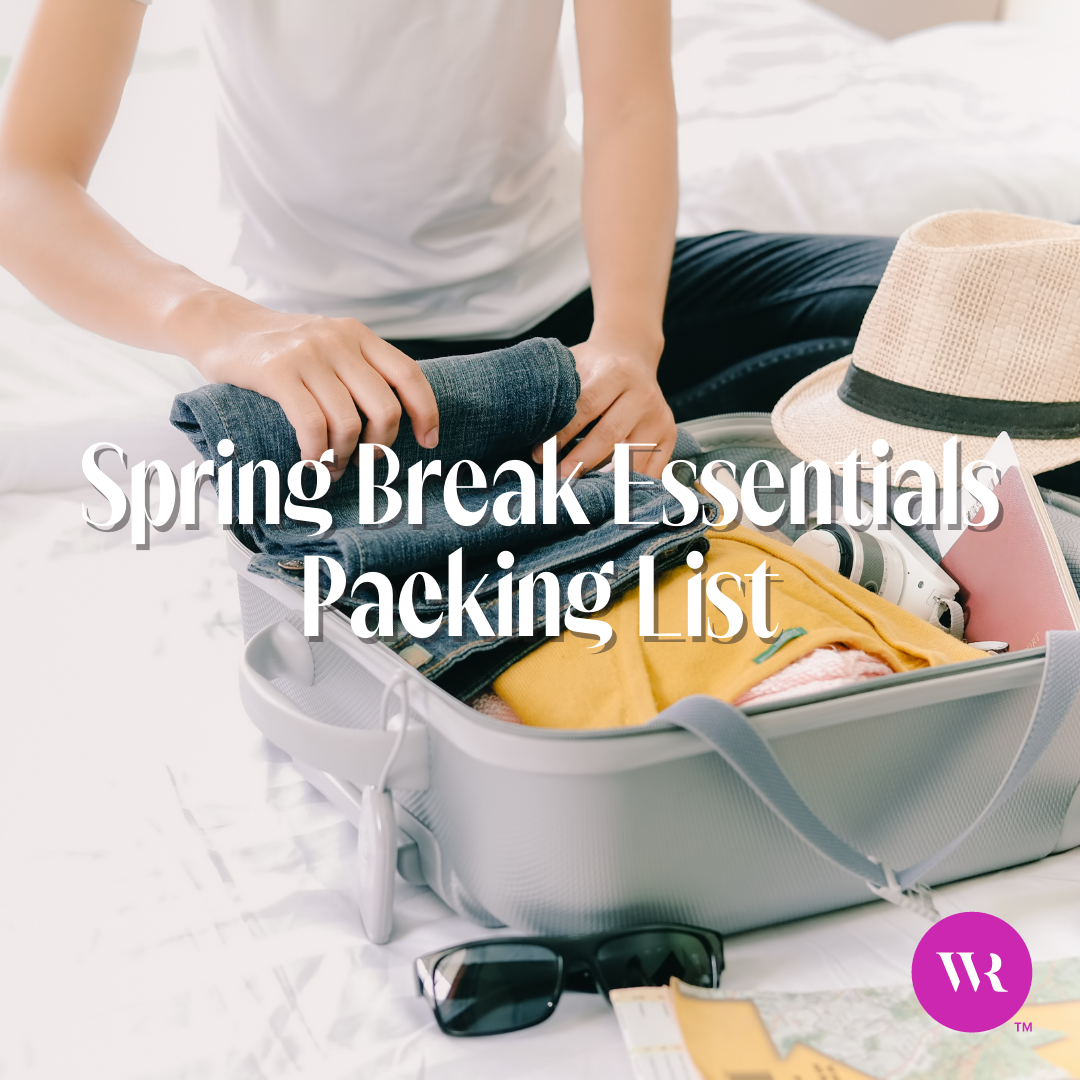 //wickedrootshair.com/cdn/shop/users/avatar_250x250_crop_center_f0ad1dc6-4182-4412-8f45-052bf7447aa9_200x200.png?v=1685998438
March 1st 2023
Pack Your Bags with These Spring Break Essentials
Wicked Roots Hair
™
has your ultimate
spring break essentials 
packing list so you can rock your cute
spring break hairstyles
and fun accessories for
beach
wear ideas. 
The sun is shining, and the beach is calling your name! Whether you're planning a spring break Florida trip or somewhere else warm, you can be sure spring break 2023 will be one to remember. Forget about your to-do list and busy schedule—vacation is on its way. The only thing you need to think about now is what to pack!
Wicked Roots Hair™ has your ultimate spring break essentials packing list so you can rock your cute spring break hairstyles and fun accessories for beach wear ideas. Make sure to bookmark this post when you start packing your bags!
Spring Break 2023 Packing List
Are you waiting until the last minute to pack? (We can totally relate!) Life gets so hectic right before you leave for vacation. Getting everything sorted at home, dropping the pets (or kids) off with a sitter, and sending those last few work emails. Out of all of the things you need to do, have this list handy so that you won't forget a thing. 
Don't leave home without these spring break essentials! Here's our list of must-haves in your suitcase:
Swimsuit 
If your itinerary is filled with beach or poolside days, don't forget to pack your swimsuit! For spring break 2023, some popular trending looks are high-leg one-pieces, bright block colors, and bold prints. The most important thing is that you feel comfortable and confident in whatever style you choose as you catch those waves. 
Leave-In Conditioner 
The elements can take a toll on your tresses! From sunny days and dips in the water, your strands need that added boost. After Party™ Leave-In Conditioning Spray will keep your hair healthy and hydrated all vacation long. If you're wearing hair extensions, avoid getting chlorine water on them, as the harsh chemicals can damage your extensions. 
Clip-In Hair Extensions
Spring break 2023 isn't complete without flirty and fun spring break hairstyles! Clip It™ hair extensions are perfect for jet-setters who want to pump up the volume and length on their trip. These clip-in hair extensions are versatile and require zero commitment. Plus, they come in a super cute iridescent storage tote that you can easily pack into your suitcase. Grab and go with salon-quality hair for your next trip with hair that's full and flawless.
What makes these the perfect addition to your spring break hairstyles?
Each pack contains seven easy-to-apply pieces of various wefts for a natural look.
These are safe for everyday wear or those moments when you want to feel extra glam.
They're made with super lightweight wefts with three layers of salon-quality

Remy human hair

.
They'll stay in place no matter what you're doing on vacay with silicone matte coated clips that ensure a secure fit.
Their durable, flexible weft is sealed at the root and securely attached to a mesh base for ultimate comfort.
Sun Hat
Keep your spring break hairstyles protected from harsh UV/UVB rays with a cute and protective sun hat! The perfect accessory for beach wear ideas also has the added bonus of keeping your strands safely shaded. There are so many options to choose from with colors, textures, and styles—see what works best with the swimsuits and outfits you plan to bring with you!
Extension Wet Brush
If you're enjoying a dip in the pool or catching waves at the beach, chances are your hair is going to be getting wet on this trip! Get rid of any knots in your spring break 2023 vacation plans with an extension wet brush to keep tangles at bay. Wet brushes help to detangle your hair without pulling or tugging at your strands to minimize damage. You can also use wet brushes to evenly distribute product in your hair and smooth out frizz. This tool is a necessity to rock your spring break hairstyles all trip long!
Sunscreen 
Shield your skin from the sun with sunscreen of 30 SPF or higher to avoid having a sunburn put a damper on your trip! Not only does it help prevent sunburn, but it also protects against skin cancer and signs of premature aging. Remember to apply sunscreen at least 15 minutes before you head out and reapply after swimming for healthy and glowing skin. 
Vacation Ready Spring Break Hairstyles with Wicked Roots Hair™
No matter where you're headed for spring break 2023, we hope you get the rest and relaxation you need! Now that you have your spring break essentials, you can focus on planning your beach wear ideas and spring break hairstyles with the help of Wicked Roots Hair™ extensions. Make sure to follow us on Instagram and tag us with #WickedRootsFam to show off your spring break looks!