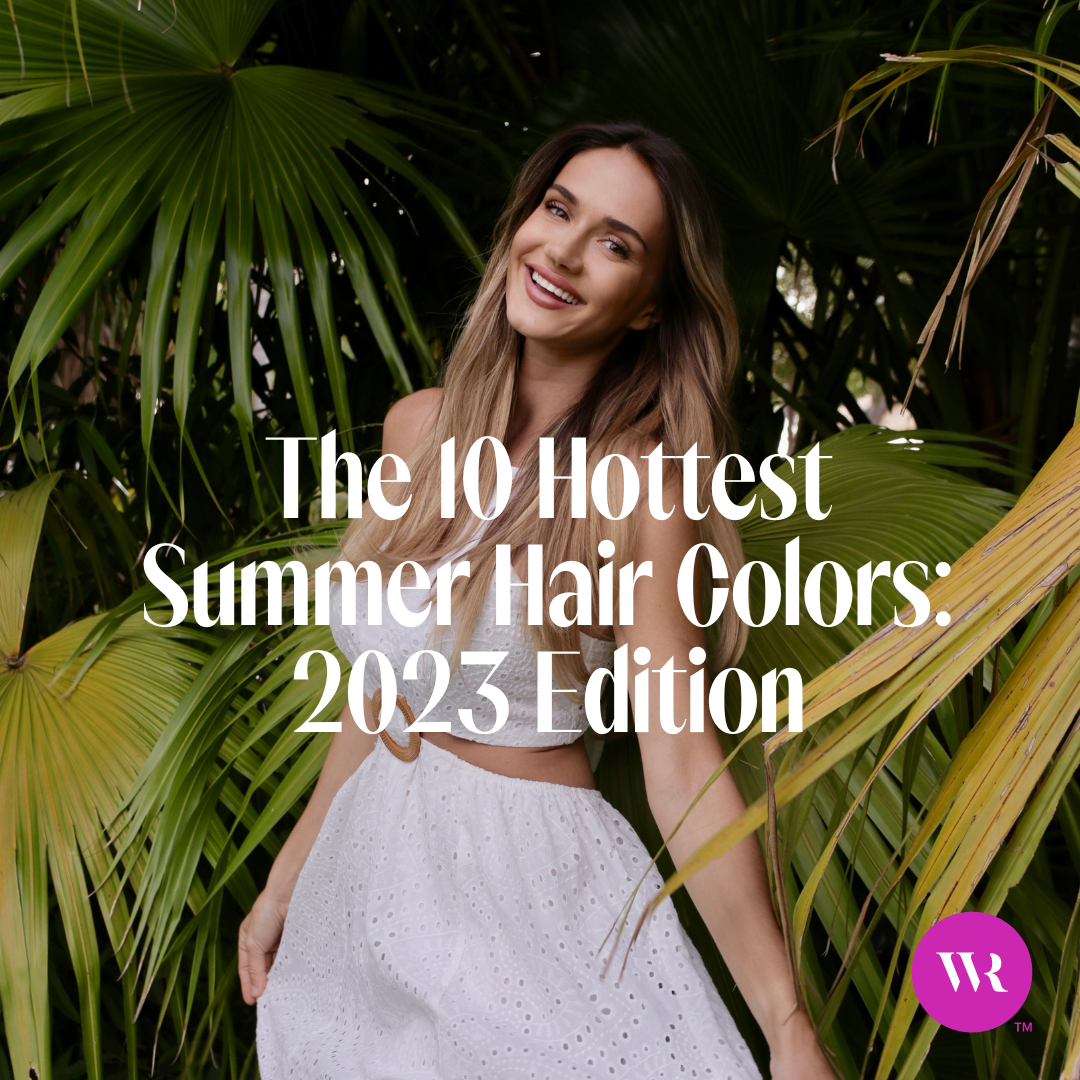 June 12th 2023
The 10 Hottest Summer Hair Colors: 2023 Edition
Vacations are being planned, and beach days are happening. It's time to look for inspo for 
summer hair color ideas
 to refresh your look for all of your exciting plans ahead with Wicked Roots Hair™! 
This season is all about expressing yourself with fun hair colors for the summer! Vacations are being planned, and beach days are happening. It's time to look for inspo for summer hair color ideas to refresh your look for all of your exciting plans ahead. When it comes to summer hair colors, 2023 is about having fresh hues that express your inner sun goddess.  
Which hue will you choose? We have the ultimate list of the trending colors to rock this summer! Cheers to new memories and new shades that last (hair color shades, that is!) 
Summer 2023 Hair Color Trends
It's getting hot in here, but we're only getting started! We've rounded up the hottest summer hair colors 2023 has to offer for hot hair summer (we've also included the best Wicked Roots Hair™ shades to go with your new hair color when styling these summer looks with hair extensions.) Whether you're looking for warm blonde options, rich brunette shades, or fashion colors, this summer has it all. Embrace the carefree summer vibes with a hair glow-up!  
Bronde Balayage
Give yourself a more natural look this summer. This blended bronde balayage look is perfect for sunkissed vibes. Bronde gives youthful and soft summer hair colors their spotlight moment.  
Wicked Roots Hair™ Color Match: Pale Ombré, Bronde, or Bronde Ombré 
Glossy Brunette
Shine bright as a glossy brunette! This color trend creates a sleek and sophisticated style. Add this hue to your list of summer hair color ideas to give new life to your brown locks.  
Wicked Roots Hair™ Color Match: Dark Chocolate, Chocolate, or Dark Brown 
Low Maintenance Blonde
Embrace the laidback lifestyle with this style! This blonde look lets you grow out your hair with soft summer hair colors. Give your roots their moment and create pops of blonde throughout your strands.  
Wicked Roots Hair™ Color Match: Dimensional Blonde, Dirty Blonde, or Ash Blonde 
Bold Fashion Colors
Be boldly you this summer! Fashion colors are all the rage right now. The best part about it is being able to choose your favorite hues to play around with.  
Wicked Roots Hair™ Color Match: L.A. Blonde (custom color to whatever fashion shades you want!)  
Warm Blondes
You're so golden! Feel the warm sun on your strands with soft summer hair colors. Feel radiant with warm blonde hues that brighten up your summer.  
Wicked Roots Hair™ Color Match: Goldie Blonde + Almond Root, Golden Ombré, or Butter Ombré 
Light Copper Red
Thinking about going red this summer? This style is a great transition color from blonde to a lighter reddish shade. This warm hue is subtle and not too dramatic but still lets you try something new and fun.  
Wicked Roots Hair™ Color Match: Red Head, Strawberry, or Honey Blonde  
Barbie Blonde
Come on Barbie, let's go party! This summer, let's celebrate beach days and beach blondes. Keep the same depth of bright blonde throughout the roots, lengths, and ends of your hair.   
Wicked Roots Hair™ Color Match: Pale Blonde, Butter Blonde, or Goldie Blonde  
Contrasting Hues
@sheflieshigh + @davedscissorhands 
It's Gemini season, which means it's all about showing the contrasting sides of your personality. Choose light and dark hues to add that dramatic effect. Experiment with different shades to see what suits you best! 
Wicked Roots Hair™ Color Match: Silver + Black (or whatever color contrast you choose!)  
Warm Brunette
As the temperatures rise, find a warm brown hue to match! These shades have that warm undertone that looks stunning in natural light. Catch some rays with your rich brunette locks.  
Wicked Roots Hair™ Color Match: Rich Chocolate Ombré, Almond, or Chestnut 
Bleach Blonde
Go full-blonde this summer with the classic platinum style. Summer 2023 hair color trends lean toward more of a silvery bleached blonde rather than a yellow-based tone. Choose your favorite beach-ready blonde!  
Wicked Roots Hair™ Color Match: Platinum Blonde, L.A. Blonde, or Beach Blonde 
Enhance Your
Hair Colors for the Summer
with Extensions
Did you find your summer soulmate shade? No matter the hue you choose for your summer hair colors 2023 era, adding hair extensions will take your strands to the next level. Wicked Roots Hair™ carries 42 different shades in our hair extensions so you can find your perfect blend!  
Not sure which color to choose? Take our color match quiz to see which shade best matches your natural hair color. Then you can order three swatches to compare your closest shades at home before ordering your new set of extensions. You can also order swatch samples for different colors to test out if you want to try something new. 
If you need extra help deciding on a hair extension color combo, email us at info@wickedrootshair.com. Let's make this the best hair summer ever!