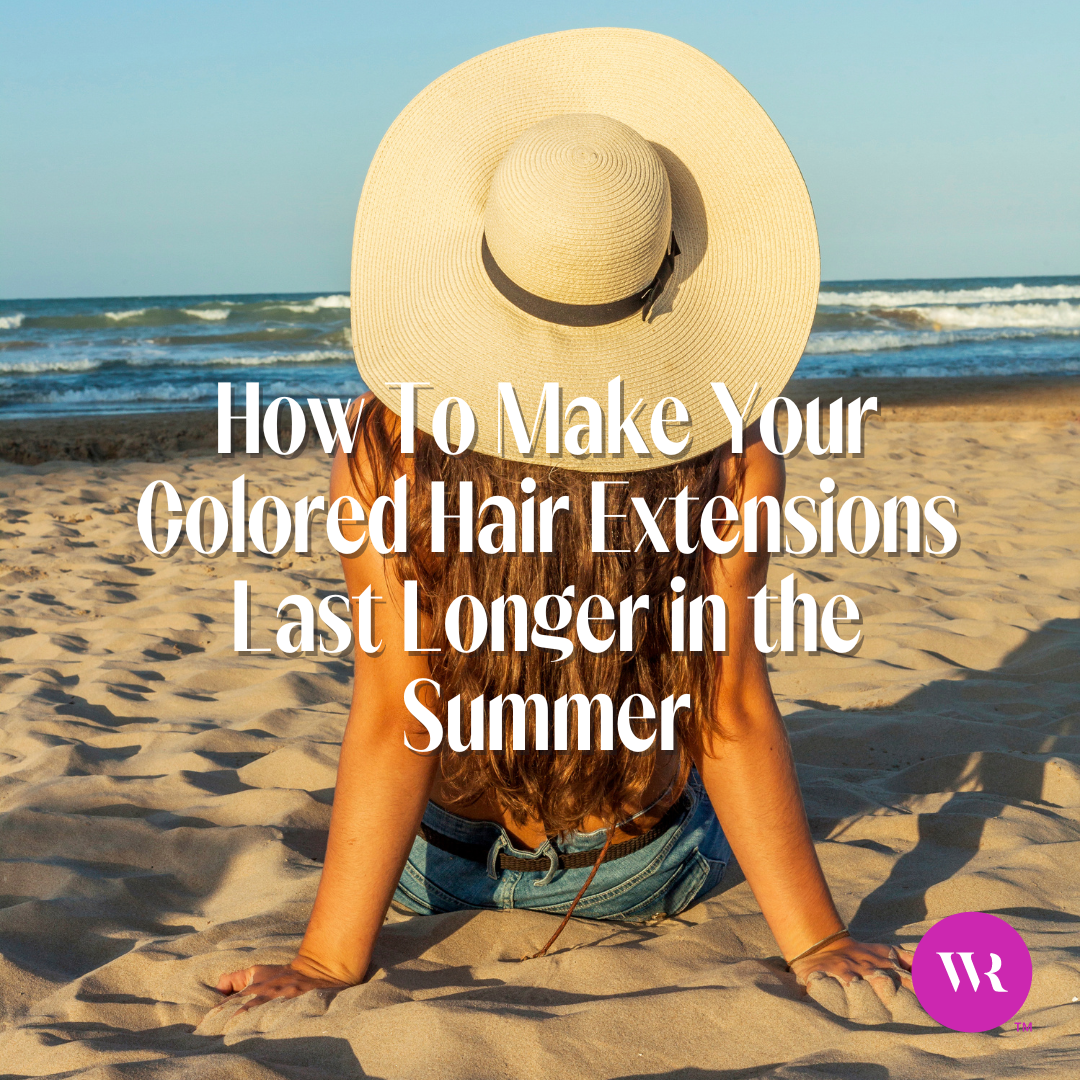 April 3rd 2023
How To Make Your Colored Hair Extensions Last Longer in the Summer
When you're feeling yourself with

 
colored hair extensions
, you'll want to make sure you know

 
how to care for hair extensions

 
during the summer! Warmer temps and waterside activities require some extra

 
extension care

 
for

 
long lasting extensions
 

and gorgeous
 

summer hair. 
We've all been looking forward to enjoying warm weather and good vibes this summer. There's something carefree about the summertime that just hits different. When you're feeling yourself with colored hair extensions, you'll want to make sure you know how to care for hair extensions during the summer! Warmer temps and waterside activities require some extra extension care for long lasting extensions and gorgeous summer hair. 
 Our hair experts at Wicked Roots Hair™ have your top summer hair extensions care tips for non-stop fun with long lasting extensions to match!  
How to Care for Hair Extensions
this Summer  
Picture this: soft sand beaches, crystal blue waters, a drink in hand, and voluminous colored hair extensions. Your long summer hair extensions will make you feel like a mermaid with flowing locks seaside. Summer is calling your name—keeping your summer hair healthy and strong as the temperatures rise is essential. 
 Use these extension care tips for long lasting extensions:  
Wear Your Hair Up
  
If you want long lasting extensions, always brush and detangle your strands to keep them looking their best. Avoid tangles from wind-blown hair by wearing your hair in a bun or a braid. This is also useful when you're doing outdoor activities like beach volleyball or going for a bike ride. That way, when you get home after a day out, your hair won't be matted or a total nest of knots (which can damage your colored hair extensions!) 
Avoid Getting Your Hair Wet 
Keep your colored hair extensions high and dry as you enjoy the pool or beach this summer. Saltwater and chlorine can be harsh on your delicate strands. Damage can occur along with dryness and discoloration, so it's best to wear your hair up and out of the water. If you absolutely can't avoid getting your hair extensions wet, rinse them in cold water in the shower first before getting into the ocean or pool. Dry hair will absorb more saltwater and chlorine, so having already wet hair will help to minimize the effects of taking a dip with your extensions.   
Don't Wash Your Hair Everyday 
You probably already practice this habit with your natural hair, but it's even more important for your colored hair extensions, especially during the summer. Hair extensions don't have the natural oils your hair does to keep them moisturized. Overwashing your hair extensions can lead to dull, brittle, and dry strands. It's best to wash your extensions 2-3 times per week with cold water to keep them fresh but also not overwash them.  
Keep Your Hair Hydrated 
 
In the hot summer months, drinking lots of water and staying hydrated is important—the same goes for your colored hair extensions! Keep them hydrated with moisturizing conditioners, deep-conditioning hair masks, and leave-in conditioners. Use a moisturizing conditioner each time you wash your hair extensions. Deep-conditioning hair masks can be used once a week. Use a leave-in conditioner when you know you'll be outside in the heat most of the day (or whenever you feel dryness in your hair and need a boost!)  
Limit Heat Styling  
Let's be real, summer is hot enough without adding heated tools to the mix! Try to limit your heat styling as much as possible for your colored hair extensions. It's all about keeping them moisturized for healthy summer hair. Using heated tools excessively on your extensions can dry them out, leading to breakage and damage. When you use heat styling on your extensions, always use a heat protectant spray and use the lowest heat setting (never exceed 350°F!) Try alternative heatless styling techniques instead, so you'll have long lasting extensions.  
Apply Sunscreen Away from Hair 
This is an important tip for those of you using tape-in extensions. Any sort of lotion or sunscreen that gets on your colored hair extensions near the tape attachment points can damage the adhesive.  The last thing you want this summer is to get sunscreen on your extensions and have to make a last-minute appointment at the salon to get them reapplied. Be extra careful when applying your sunscreen, wash your hands afterward, and you'll be good to go!   
Healthy
Summer Hair
Extensions with Wicked Roots Hair
™ 
 If you stick to our expert extension care tips, you'll be sure to have stunning summer hair! Plan your summer vacays and make those plans with friends for beach days, backyard BBQs, and poolside parties. When you know how to care for hair extensions, you'll have colored hair extensions that'll last all summer long and beyond.  
 Looking for colored hair extensions to wear this summer? For high-quality 100% Remy Human hair extensions, look no further than Wicked Roots Hair™ extensions! Our collection of long lasting extensions has 42 shades to choose from in three different styles, so you'll be able to find a look you love. Here's to making summer memories with long and voluminous hair to match!