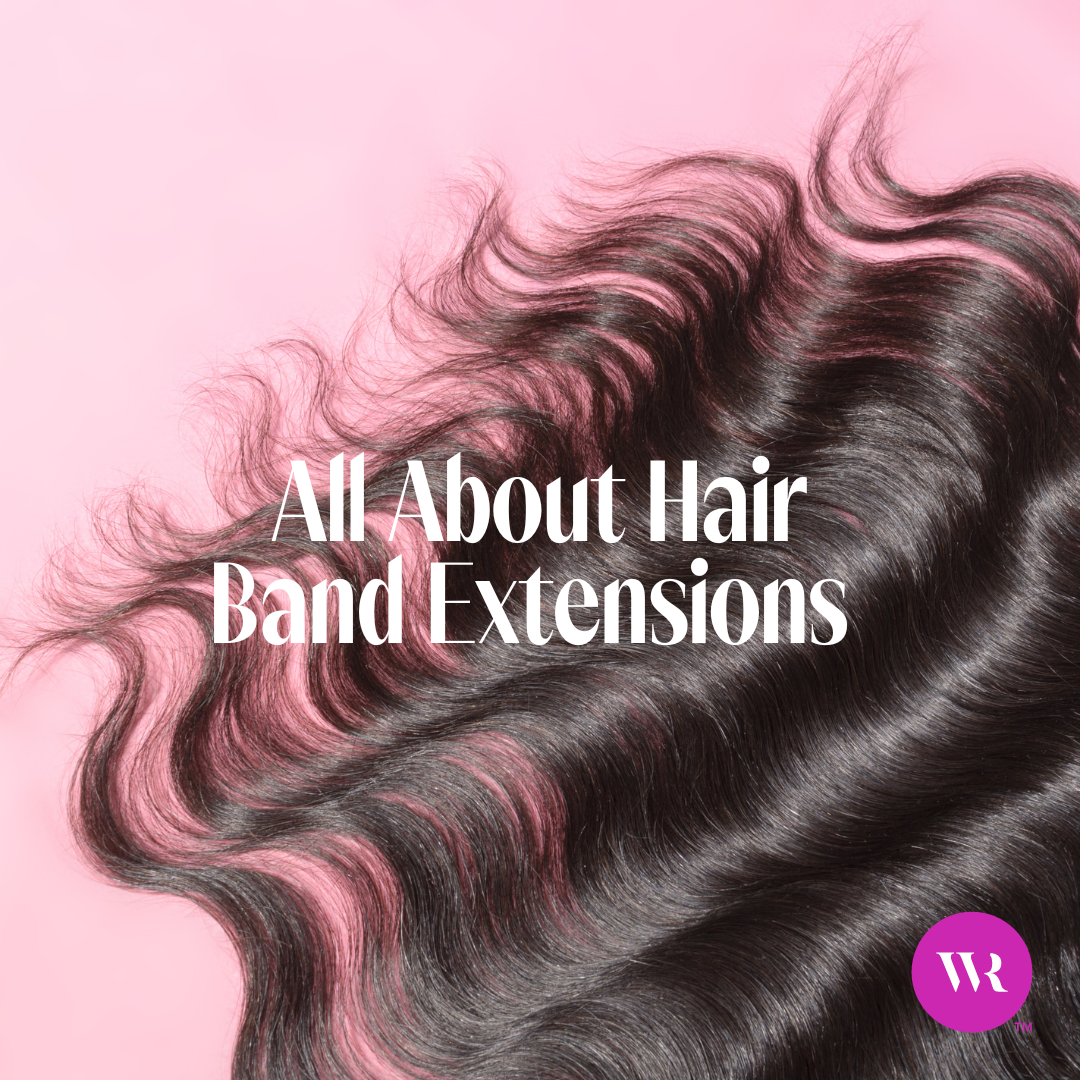 June 19th 2023
All About Hair Band Extensions
If you want that perfect fit, you'll find it with 
Band It
™
. 
It has adjustable elastic connectors that ensure a secure fit without any weird side bulkiness (which is a major issue with other brands!)
If you're shopping for hair extensions, there are various types of styles you have to choose from. The one you decide on should best suit your lifestyle and hair goals. Are you looking for temporary or semi-permanent extensions? Do you want a style that you can do at home or have applied at the salon? When you're looking for a temporary one-piece hair extension set that's great for DIY baddies, hair band extensions are the way to go! 
Keep it simple with an uncomplicated hair glow-up using hair band extensions, also often referred to as halo hair extensions. We'll cover everything you need to know about these extensions to add volume and length to your locks. 
What are
Hair Band Extensions
?
Hair band extensions, aka halo extensions, feature multiple layers of hair attached to a weft band. Rather than attaching to individual strands of hair, the single band rests tightly against your scalp. Hair band extensions are worn on your head similar to a headband (or like a halo when thinking of halo hair extensions.)  
These hair extensions have a clear, thin, fishing line hair extension band that sits on the crown of your head. Then to firmly hold the extensions in place, there are clips on the wefts to secure them into your hair. The hair extension band is hidden under your natural hair to blend the hair band extensions flawlessly.  
Still not sure if hair band extensions are for you? There are some factors you'll want to know about before deciding!  
Are
Hair Band Extensions
Right for Me?
Hair band extensions work best for anyone who wants a budget-friendly low-maintenance option compared to other styles you can get at a salon. These hair extensions don't cause damage to your hair, so they're great for anyone concerned about their natural hair getting affected in the process. If you want a versatile hair extension option that you can apply at home, hair band extensions will be your perfect match. It's a huge plus if you have layered hair—if you do, these will blend into your natural hair seamlessly. 
If you want to know how to wear halo hair extensions, we'll walk you through it next! 
How Do You Apply
Hair Band Extensions
?
The best part about hair band extensions is how easy they are to apply yourself at home. Whether you're heading out with friends or on date night, hair band extensions fit into your busy schedule for a quick hair makeover whenever you want! No need to make a salon appointment or any commitments with these easy on-and-off extensions.  
Here's how to apply hair band extensions at home: 
Prep Your Hair:

Gently brush your natural hair and the extensions to

detangle your strands

. It's essential to use a brush that won't damage your hair extensions (check out our list of the

best hair brushes for extensions

!) Using the proper brush helps prevent hair breakage and keeps your

hair band extensions

tangle-free.

 

 
Section Your Hair:

Section off your hair at the crown of your head and tie it up into a bun at the top of your head. Leave out one-inch front piece sections of hair to frame your face.

 
Apply the Hair Extensions:

Stretch the

hair extension band

over the bun so that the band is about one inch behind your hairline. Use the clips on the weft on either side of your head. Let your hair down over the

hair band extensions

and brush out to blend.

 
Once you apply your hair band extensions, you'll wonder why you didn't try them sooner! For best results, find the best quality extensions you can find. That will make all the difference in how well your hair turns out. We've got a feeling our hair band extensions won't disappoint! 
Band It
™
Hair Band Extensions
by Wicked Roots Hair
™
If you're convinced hair band extensions are right for you, meet Band It™! Experience five layers of salon-quality 100% Remy human hair hand-tied to a super comfortable stretchy lace weft. Once you try it—there's no going back to other hair band extensions. They're crafted with an elastic lace mesh attached to the hair wefts for ultimate breathability when wearing them. Our hidden hair extension band stretches for maximum durability and maneuverability when applying your hair band extensions. 
If you want that perfect fit, you'll find it with Band It™. It has adjustable elastic connectors that ensure a secure fit without any weird side bulkiness (which is a major issue with other brands!) 
Our hair band extensions are designed to lie flat on your head for a natural look whenever you wear them. Choose from two different lengths (16-inch and 20-inch) with one piece per pack with two clips coated in silicone for a secure attachment. 
See the flawless results with mega volume and lengthy locks for yourself. Shop Band It™ for hair band extensions that are built to last with the highest-quality hair you can find!