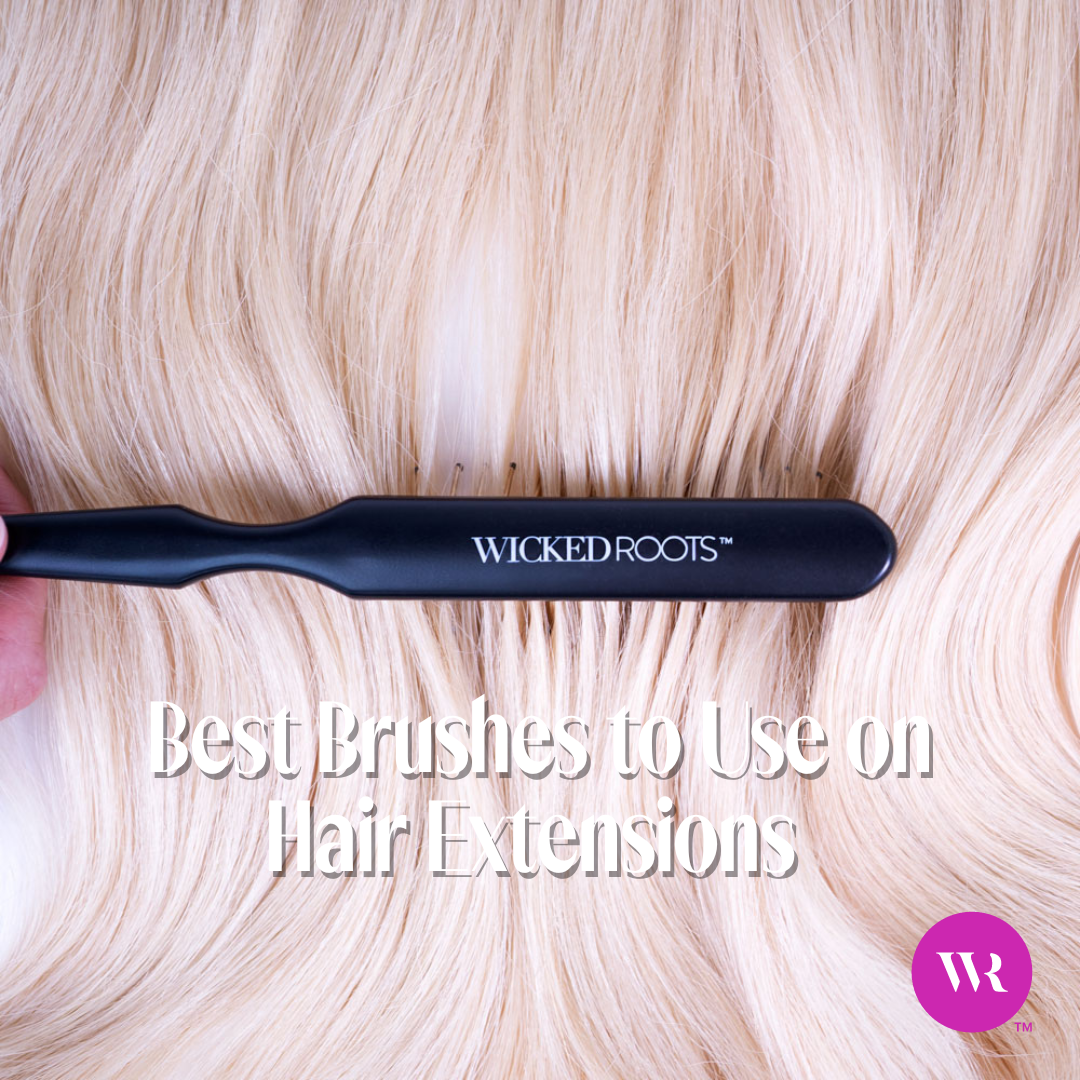 March 27th 2023
Best Brushes to Use on Hair Extensions
Keeping your hair extensions looking fresh and flawless comes down to a proper maintenance routine! Brushing your hair is a daily step to rock gorgeous strands that are long-lasting and healthy. But do you need a special brush for hair extensions? And if so, how do you know what brush to use for hair extensions? 
We've got the ultimate list of the best brushes, including boar bristle brushes and other popular hair extension brushes, along with why it's essential to use them instead of regular brushes. Now let's get into brushes with benefits relationship where the feeling is mutual (and you might just fall in love with the perfect brush!) 
Why You Need a
Special Brush for Hair Extensions  
"But why can't I just use my regular comb or paddle brush on my extensions?" we hear you asking. Well, because they aren't gentle enough for your hair extensions! You've invested in your hair extensions—now it's time to take proper care of them to avoid damaging your delicate strands.  
Here are a few reasons why you need a special brush for hair extensions: 
They're gentle and smoothly glide through your hair  

Extension brushes are designed to deal with a larger volume of hair 

They help to

detangle your extensions

without snagging or pulling 

Other brushes can tug at your roots, which can cause damage 

They won't get caught in the hair extension bonds 

The bristles reduce pressure on extensions to prevent breakage 

 
Even if you brush carefully with your regular brush, it exerts too much pressure on the hair (especially when wet), which can cause cuticle damage and breakage of the extension bonds. A paddle brush can stretch and pull on your locks, leading to hair shedding, meaning less volume and length for your extensions (and we don't have to remind you this hair doesn't grow back!)   
What Brush to Use for Hair Extensions   
Extend the life of your hair extensions by finding a quality hair extension brush like a boar bristle brush. Using a detangling comb for extensions will help to remove tangles without causing damage. 
Here are some of our top picks for hair extension brushes and combs:  
Evercare
Boar Bristle Brush 
The Boar Bristle Brush by Everlong Hair is one of the best brushes for hair extensions. Boar bristle brushes help to distribute natural oils throughout your natural hair to your extensions for healthy and resilient locks. The most important feature is the soft bristles that are super gentle on your hair extensions.  
Wicked Roots Hair Extension Wet Brush 
Did you know hair is at its weakest when wet? This wet brush is essential for those moments you need to gently detangle your strands. This brush is easy on your hair to get rid of knots and prevent your hair extensions from matting.   
Acca Kappa Extension Brush  
The Acca Kappa Extension Brush is made with boar & nylon bristles specifically designed for hair extensions. Soft bristles detangle the hair with even pressure distribution during brushing. This brush has extra-long bristles to remove tangles and knots without damaging your extensions. 
Wicked Roots Hair Sectioning Comb
This hair-sectioning comb helps to apply your hair extensions and detangle them too! It has a tapered end which makes this the perfect tool to section your hair when putting in your hair extensions. This comb is soft on the hair and scalp for styling comfort.   
The Hair Shop Black Loop Brush 
When styling and maintaining your hair extensions, your secret weapon will be this loop brush! This looped brush allows the bristles to glide through your hair from roots to ends with ease. Knots will become a thing of the past with nylon looped bristles that never snag your hair. 
Wicked Roots Hair Extension Rat Tail Comb
There's a good reason why this two-in-one comb is the top choice for salon professionals and stylists. This rat-tail comb is perfect for applying and removing your hair extensions. Use this comb to create precise parts and sections of your hair with a comb on one end and a sectioning tool on the other.  
Brush Your Hair Extensions with Care 
Now that you know what brush to use for hair extensions, it's important to brush your hair extensions with the proper technique.  
Always hold your hair extension hair firmly at the top when brushing. Be careful not to brush or tug at the hair too much so that the attachment points stay intact. When brushing out tangles, start at the bottom of your hair, brushing in a downward motion and moving upwards in sections. Avoid breakage by brushing gently and slowly.  
And there you have it! Using a special brush for hair extensions is a crucial part of your haircare routine to keep your Wicked Roots Hair extensions looking and feeling fabulous.  
Make sure to follow us on Instagram @wickedrootshair for more haircare tips and inspo!