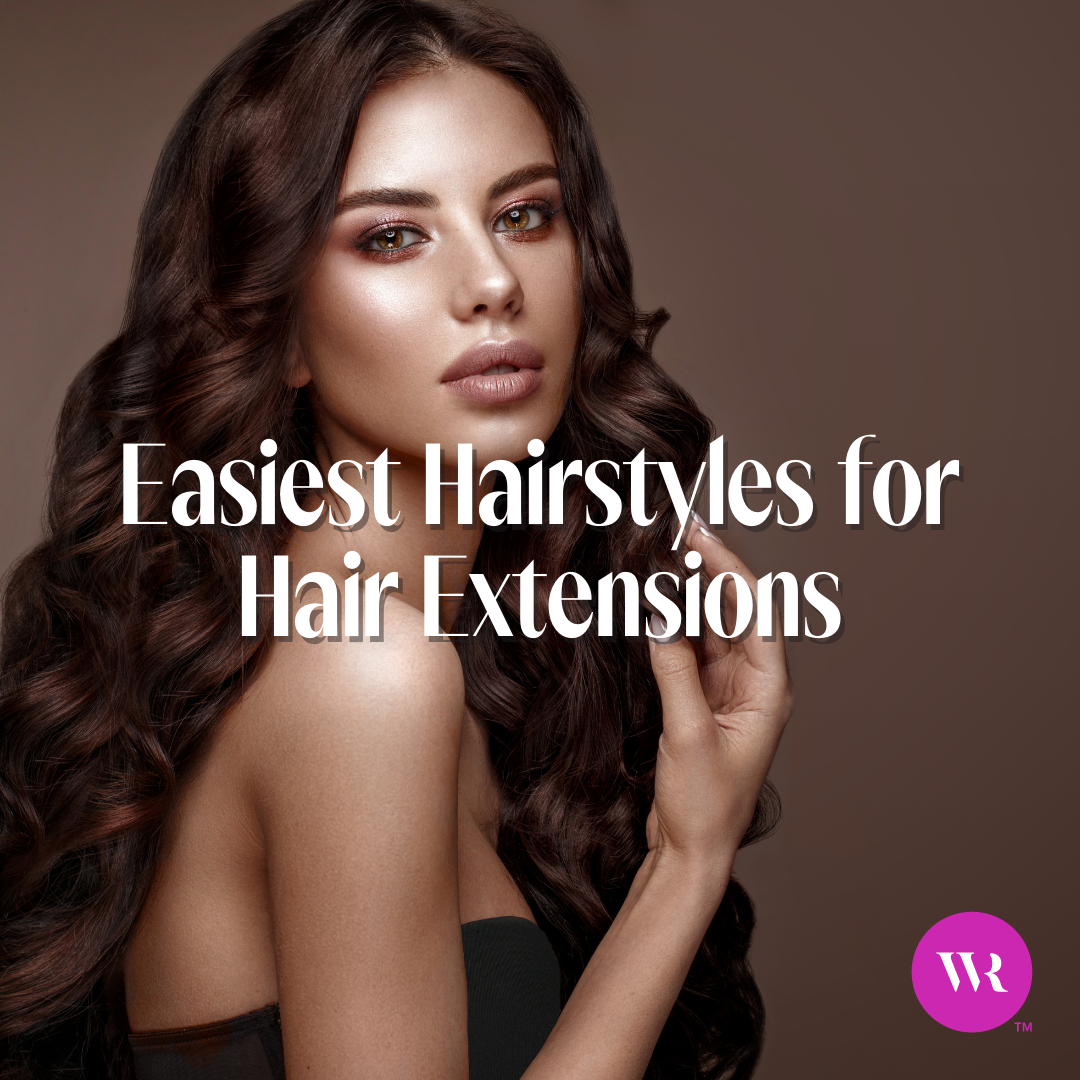 //wickedrootshair.com/cdn/shop/users/avatar_250x250_crop_center_f0ad1dc6-4182-4412-8f45-052bf7447aa9_200x200.png?v=1685998438
February 15th 2023
Easiest Hairstyles for Hair Extensions
There are so many easy hairstyles with extensions to make your locks look effortlessly put together. We've put together our favorite go-to 
hairstyles for hair with extensions 
that you can easily do yourself at home.
Have you upgraded your tresses with hair extensions? So exciting! Now the fun part is playing around with hairstyles for extensions that are cute and simple to pull off.  There are so many easy hairstyles with extensions to make your locks look effortlessly put together. 
 At Wicked Roots Hair, we know hair extensions! We've put together our favorite go-to hairstyles for hair with extensions that you can easily do yourself at home. Now grab your styling products and tools to get ready with these hairstyles with extensions! 
Low Ponytail
Wear this versatile, low ponytail hairstyle for hair extensions for literally anything you're planning to do! Head to work, run some errands, meet up with friends—it works for all places and activities. It's the quickest and easiest way to get your hair out of your face (and look cute doing it!)  
Get the look: 
This style works best on unwashed hair—if it's freshly washed, use a bit of texturizing spray. 

 



Pull your hair down to the nape of your neck and secure it with a hair tie. Leave some pieces out on both sides of your face.

 



Grab the pieces you left out and wrap them around the top of your hair tie to cover it with your hair, and use bobby pins to hold it in place. 

 



Allow your hair to look as messy or clean as you like, this look works well both ways!

 



Leave a few wispy face-framing strands on either side of your face and set this style with hairspray. 

 
Mermaid Waves 
Flowy and free, let all your cares wash away with these super trendy waves. This hairstyle for hair extensions looks amazing with super long lengths—the longer, the better!  Channel your inner under-the-sea princess with the hair you've always dreamed of.  
Get the look: 
To get this look, you'll need either a crimper with small barrels or a flat iron 

 

(never exceed 350°F when heat styling your hair extensions!)


Start by applying a heat protectant spray to your strands and allow it to dry.  



Use the small barrel crimper starting a few inches from your roots and working your way down. Repeat this as you work in sections.

 



If you're using a flat iron, start making bends in your hair a few inches from the top of your head. The bends should go in alternating directions, and remove the flat iron from your hair before starting in a new direction. 

 



Finish the look with a texturing spray to keep everything in place. 

 
Half-Up Half-Down 
 
When it comes to ways to wear your hair with extensions, this style is for when you can't decide if you want to wear your hair up or down. With this hairstyle, you don't have to choose! Wear this look with laidback curls or waves to give this style extra texture and volume.  
Get the look:  
Brush your hair

and make sure you

get out any tangles

and knots. 

 



Divide the top and bottom halves equally with a

sectioning comb

. 

 



At the crown of your head, section the top half of your hair into a ponytail and secure it with a hair tie.

 



Pin back your bangs or loose hair with bobby pins or clips. 

 



Set everything in place with a good layer of hairspray! 

 
Loose Waves 
A go-to classic for ways to style your extensions when you want to elevate your look. There's something about soft wavy hairstyles with extensions that just hit different (hello long hair, don't care vibes.) 
Get the look: 
Use a curling iron that's about one inch in diameter for natural-looking waves.

 



Spray your strands with a heat protectant and allow them to dry fully before curling. 

 



Start curling your hair halfway down and curl it away from your face.

 



Curl each second quickly, about 10 seconds, to maintain the loose wave look. 

 



Gently run your fingers through your curls to soften them, and finish off with an all-over spritz of hairspray. 

 
We hope you find some inspo you love with these easy hairstyles with extensions! You don't have to master any complicated hairstyles for hair with extensions to have stunning strands. When you have hair extensions made of 100% Remy Human hair (like Wicked Roots Hair extensions!), you'll be able to style them just like your natural hair.  
Which one of these styles is your favorite? Make sure to tag us with #WickedRootsFam when you try out these hairstyles for extensions!