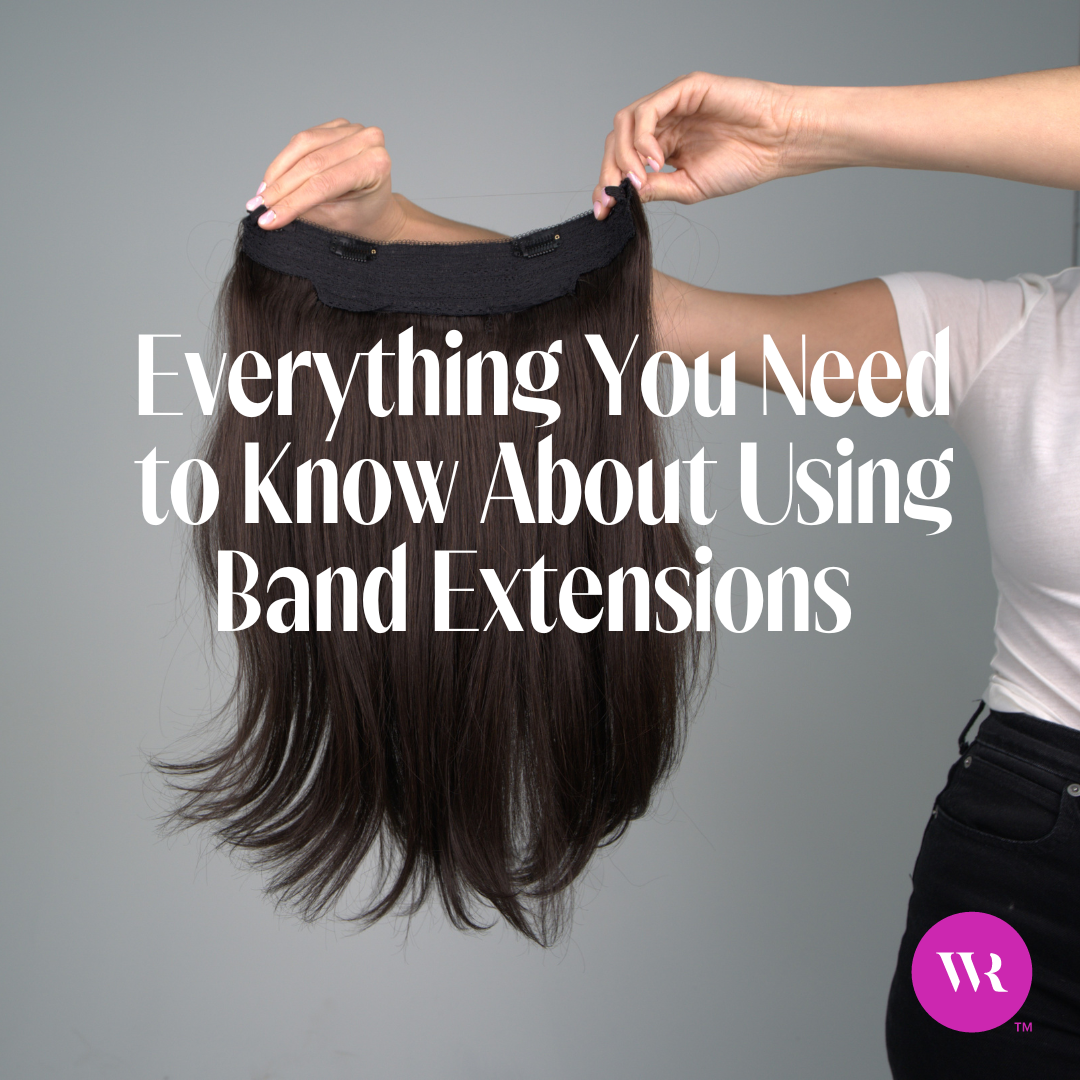 July 21st 2023
Everything You Need to Know About Using Band Extensions
Looking for a hair fix that instantly gives you added length and volume? Enter the one-step
hair band extensions
. Band extensions (also called halo extensions) are a popular choice for baddies who are brand new to the hair extension world!
Looking for a hair fix that instantly gives you added length and volume? Enter the one-step hair band extensions. Wear these hair extensions like a headband with an easy DIY application at home. Band extensions (also called halo extensions) are a popular choice for baddies who are brand new to the hair extension world.  
So how do headband extensions work? At Wicked Roots Hair, we've got all of the details about band extensions hair —we have our very own hair band extensions called Band It, so we know a thing or two about these extensions! 
What are
Hair Band Extensions
?
Band extensions are made with either synthetic or human hair on a flexible weft and band that forms a circle (like a crown or halo) around the head. The hair extensions drape along the back of the head, and the flexible band sits at the top of your head like a headband (hence why they're also referred to as headband extensions.) There are clips on the weft to clip onto the back of the head to secure the extensions. 
How Do
Headband Extensions
Work?
Hair band extensions come as a one-piece hair extension set. The wefts are attached to a flexible band that sits at the top of your head. Band extensions from various brands are designed slightly differently, but with the same concept for how you wear the extensions. 
Here's how to apply our Band It hair band extensions: 
Brush your hair and the extensions to

get rid of any tangles

. Use a brush that's gentle on your strands but effective at detangling, like our

sectioning comb

. 

 

Divide your hair into two sections horizontally across the back of your head (use a

rat-tail comb

to

part your hair

)

 

Tie the section of hair up into a bun on the top of your head and leave 1-inch sections of hair to frame your face.

 

Stretch the elastic band over the bun so that it's about 1-inch behind your hairline

 

Use the two clips on each side of your head to secure the wefts in place.

 

Take your hair out of the bun over the

band extensions hair

and brush to blend. 

 
Benefits of
Band Extensions 
If you're wondering why you should choose headband extensions over other hair extension methods, here's the lowdown!  
Achieve instantly thicker and longer hair in a matter of minutes

No commitment is required with a DIY application at home

 

Save a trip to the salon vs semi-permanent options, which require a stylist to apply

 

Continue to grow and maintain your hair without damaging your natural strands

 

Comfort and versatility with easy

band extensions hair

styles

 

Lower costs compared to extensions with similar benefits

 
Long-lasting with proper care and styling 

 
The benefits of hair band extensions are clear! This a perfect option for hair extension newbies who want to try an easy and temporary hair extension option. It works just as well for hair extension veterans that want to switch up their look whenever the mood strikes. As far as the quality and fit for band extensions, this will vary depending on which brand you go with. 
Here's what our Wicked Roots Hair baddies love about our Band It hair band extensions:  
Two lengths to choose from: 16-inch and 20-inch

 

One piece per pack ready to apply in minutes

 

Two clips coated in silicone that keep your hair in place

 

Five layers of soft and shiny salon-quality

Remy human hair

 

Ultimate comfort with the stretchy lace weft

 

The super breathable elastic lace mesh material

 

Adjustable elastic connectors for a custom fit

 

Lasts for one to two years with proper care 

 
Choose High-Quality
Hair Band Extensions
If you want the best possible experience with headband extensions, always opt for high-quality options. Investing in band extensions made with top-of-the-line hair and materials will keep you and your hair happy for longer! Speaking of quality, Wicked Roots Hair only uses the best of the best when it comes to our extensions.  
We source the highest quality 100% cuticle on Remy hair for shiny and healthy hair that blends flawlessly with your natural strands. Our hair is different because we keep the cuticle intact and facing the same direction, meaning less chance of tangles and matting. If you're ready to try hair band extensions, our Band It won't disappoint! 
If you have any questions about our headband extensions or any of our other products, email us at info@wickedrootshair.com, we'll be happy to help you with anything from color matching to choosing the right hair extensions for you!