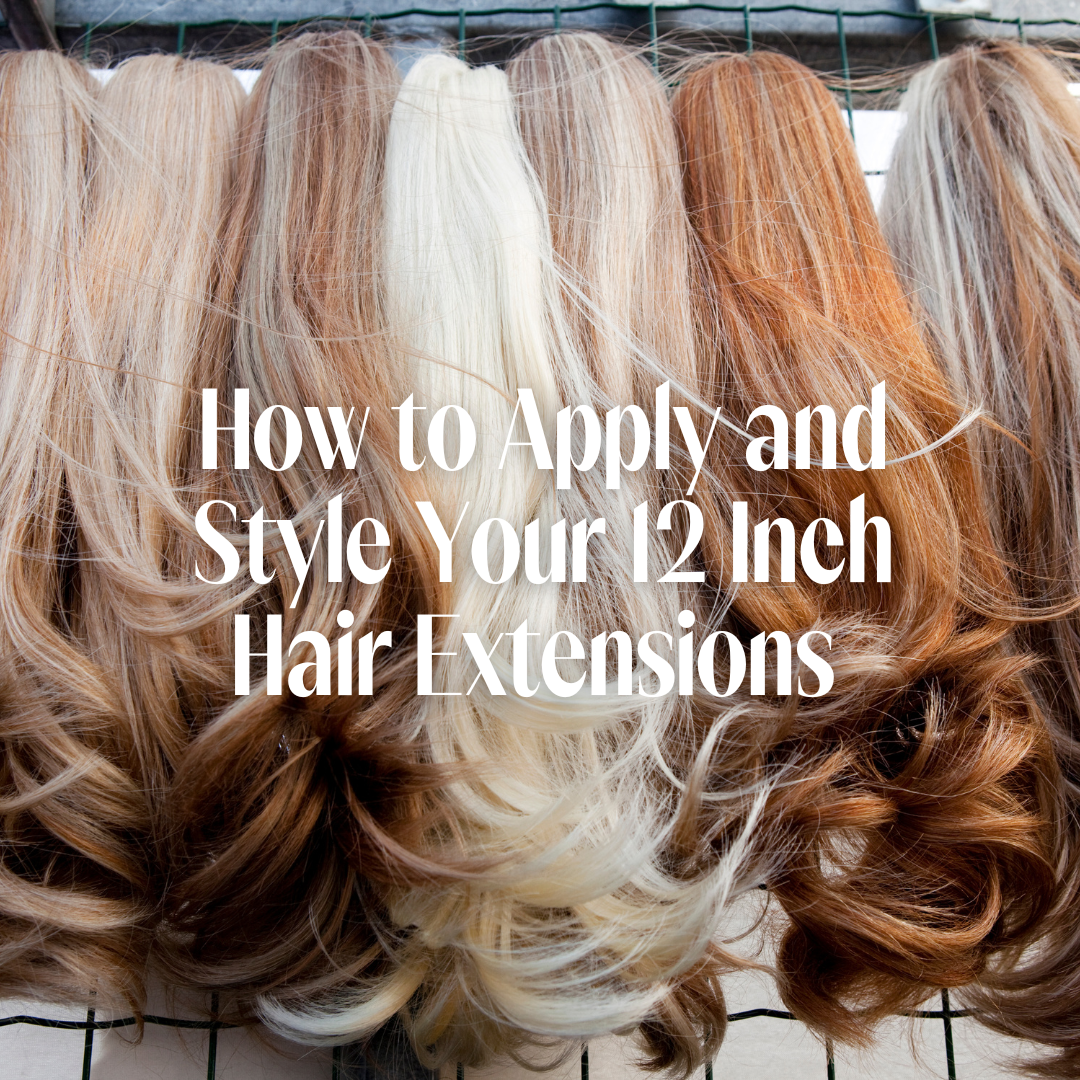 August 30th 2023
How to Apply and Style Your 12 Inch Hair Extensions
We'll go over everything you need to know to have stunning

 
12 inch hair extensions
. Get ready for the hair moment you've been waiting for!  
If you're new to the world of hair extensions, 12 inch tape in hair extensions are the perfect way to start! First off, they're the shortest length available, so you won't feel like you have too much of a dramatic difference. And second, tape-in extensions are easily applied by your stylist and last up to four to six weeks before reapplying. No prior hair extension knowledge or experience is required on your end with our Tape It™ 12 inch hair extensions! 
Before you order your 12 inch tape in hair extensions, you'll need to find the best color match to blend into your natural hair. Once you've found your perfect match, the next steps are application and styling. We'll go over everything you need to know to have stunning 12 inch hair extensions. Get ready for the hair moment you've been waiting for!  
Applying Your Tape It™
Hair Extensions 12 Inch  
Glam glow-ups are easy with 12 inch tape in hair extensions by Wicked Roots Hair™! Keep in mind that you'll need to make an appointment with a professional stylist to apply your Tape It™ extensions (our other hair extensions, Clip It™ and Band It™, are DIY options and available in 16-inch and 20-inch.) Your stylist will ensure they evenly and accurately apply your Tape It™  
12 inch hair extensions for a flawless finish!  
When you go to your hair extension appointment, here's what to expect:  
Your stylist will start by brushing and

detangling

your natural hair and extensions to ensure a smooth application free from tangles or matting.  


Once you're ready for the application, the stylist will clip the topmost part of your hair, section it, and then gently tape extensions onto your remaining layers (typically double-siding or layering the pieces).   



They will then repeat the process until your entire head is evenly covered with your

12 inch hair extensions

. 

 
After you've transformed your tresses at the salon, it's time to style it! Now that you've got a little extra length and ultra-volume, the possibilities are endless.  
Styling Your
12 Inch Hair Extensions 
Whether you're headed out for date night or catching up with friends, you'll want to style your new 12 inch tape in hair extensions to impress! Time to debut your new look and feel a renewed sense of confidence. The best part? No one will know you're wearing 12 inch hair extensions since they blend in perfectly with your natural hair for a subtle and sweet look.    
Try out these super cute styles with your new 12 inch tape in hair extensions:  
Side Braid  
Elevate your style with a voluminous side braid that gives soft and feminine vibes. 
Start by brushing your hair to smooth it out. 
Gather all of your hair to one side (on the side farthest from your part.) 
Divide your hair into three even sections. 
Braid your hair by taking one of the outer sections and crossing it over to the middle. 
Then take the outer section on the opposite side and pull it across the new middle. 
Repeat by alternating sides and going through all three strands. 

 
Stop braiding when you have about an inch of length left at the end of your hair. 
Secure the end of the braid with an elastic band. 
Tug at your braid a bit to loosen it as you desire, and set it with hair spray.  
Mermaid Waves 
Be a part of her world when you try out these trendy waves with your 12 inch hair extensions. 
Use a crimper with small barrels to get this look (never exceed 350°F!) 
Apply a heat protectant spray to your strands and wait for them to dry. 
 Start a few inches from your roots with the crimper and work your way down. 
Repeat this as you work in sections.  
Finish the look with a texturing spray.    
Bubble Ponytail 
Change up your usual pony with a creative twist on a classic look that's fun and flirty.   
Gather all of your hair at the crown of your hair and secure it with a scrunchie or hair tie (depending on what look you want!) 

 
Evenly place hair elastics one to two inches down the length of the ponytail. 

 
Gently tug at the sides as you go to add extra volume.  

 
Repeat this process down the length of your ponytail until you reach the end. 
Spray with hairspray to smooth out any flyways and keep everything in place. 
Which style will you choose for your new 12 inch tape in hair extensions? Our Wicked Roots Hair™ extensions are made with 100% Remy human hair, so you know you're getting the highest quality 12 inch hair extensions. Shop Tape It™ and our other hair extension collections to give your hair the glow-up it deserves!