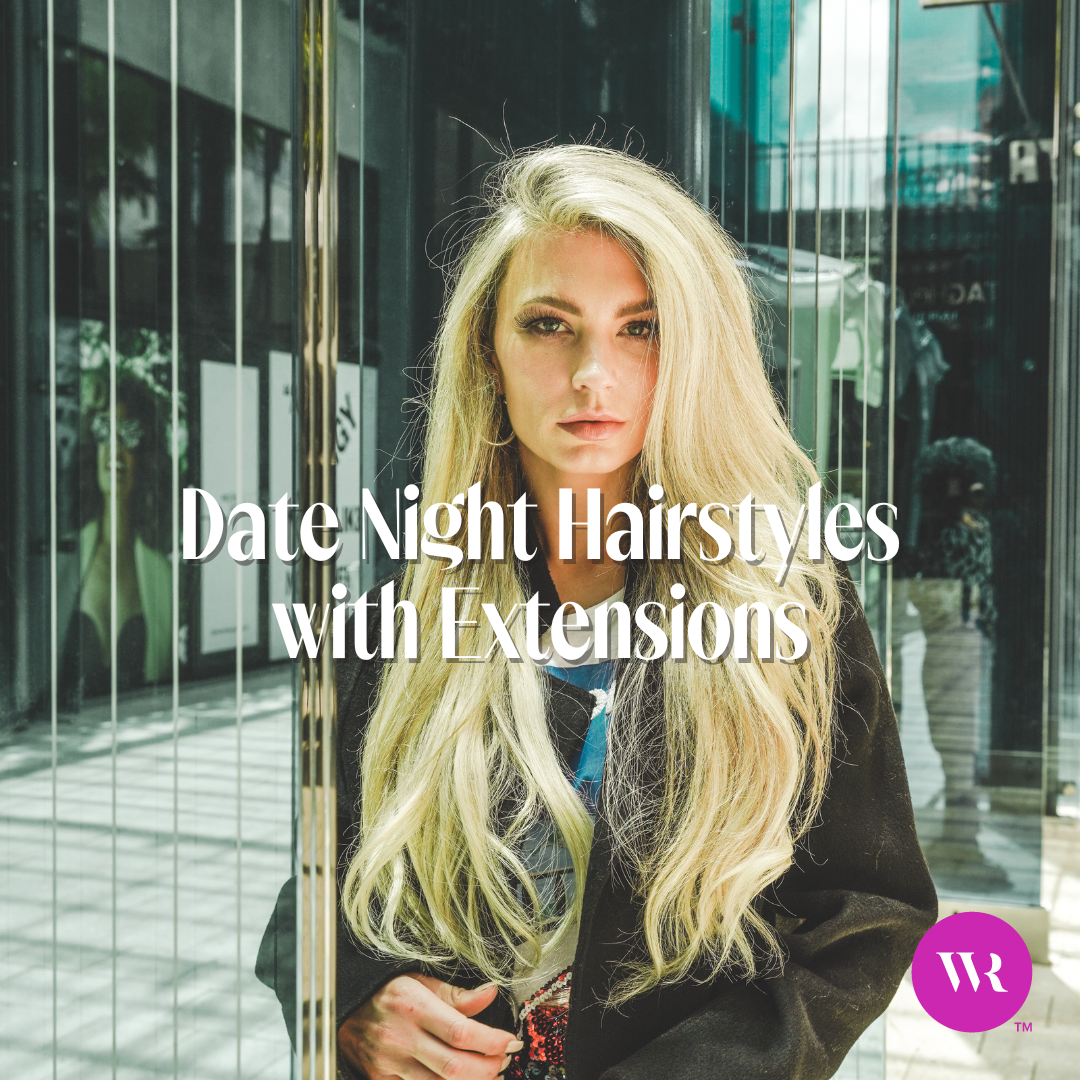 May 5th 2023
Date Night Hairstyles with Extensions
It's always so much fun getting all dolled up for date night! What will you wear? Where will you go? And equally as important, which date night hairstyles will you try out with your new Wicked Roots Hair™ extensions? When you want to go all out, extension hairstyles give you the extra volume and length to create cute hairstyles for date night.  
Whether you have a date with your bae or your BFF, get all glammed up with these date hairstyles with Wicked Roots Hair™ extensions:  
Tousled Curls 
Hair By: @davedscissorhands + @wickedrootshair 
Sexy and fierce, let your hair down with tousled curls to complete your show-stopping style. The key to achieving the tousled curls look is allowing it to be a bit rough around the edges. To take hairstyles for date night up a notch, add long extensions for that dramatic effect and a night you both won't forget! 
Get the look:  
Use a curling iron about one inch in diameter to get that tousled wave look.  
 PRO TIP: Never exceed 350°F when heat styling your hair extensions. 
     2. Spray your strands with a heat protectant and allow them to dry fully before curling.  
     3. Start curling your hair in small sections and curl away from your face.
     4. Curl each section for about 10 seconds and then release. 
     5. Gently run your fingers through your curls to add that messy feel, and finish off with an all-over spritz of hairspray.   
Half Up Half Down Pigtails 
Hair By: @davedscissorhands + @wickedrootshair 
Cute and sweet, add a touch of playfulness to your look with half up half down pigtails. Date hairstyles are the best when they're easy and fun! Add some hair extensions and textured waves to your pigtails for a custom style that's uniquely you.  
Get the look:  
Brush your hair

 to

remove any tangles

or knots.
  

Divide the top and bottom halves of your hair with a

sectioning comb

. 



At the crown of your head, part your hair down the middle into two sections with a 

rat tail comb

. 


Using your brush, gather your hair on the left side into a high-side pony. 


Repeat the same for your right side and secure both with elastics. 


Use your curling iron (or a three-barrel curling iron) to create textured waves on each pigtail. 



Set with hairspray to keep your style long-lasting for your date!  
Flowing High Pony 
Hair By: @davedscissorhands + @wickedrootshair  
Romantic and classic, create a long and flowing high pony with a touch of elegance. Hairstyles with hair extensions really shine with a sleek high pony. You can show off that added volume and length on your next date night! 
Get the look: 
Brush all of your hair away from your forehead and into a ponytail at the crown of your head.


Secure with a hair tie, then add hairspray to smooth your hair.  


Wrap small pieces of hair around your hair tie to add an extra flair, and secure it with bobby pins.


Spray hairspray over the top of your hair, and enjoy your date night! 
Soft Waves  
Hair By: @kaaydaddy + @wickedrootshair 
Flirty and fun, when choosing hairstyles for date night, this should be your go-to! Soft waves are the perfect complement to any date night outfit. Your date won't be able to take their eyes off of you the entire night! 
Get the look:  
Brush out your hair to get it smooth and ready to style. 


Spray your hair with a heat-protectant spray before curling.


Use a curling iron about an inch in diameter for soft waves.


Start curling your hair halfway down, avoiding the ends of your hair.


Curl each section for a few seconds to create a softer look. 


Run your fingers through your hair to loosen up the curls.


Spray a layer of hairspray to set your final style. 
Super Sleek Straight 
Hair By: @isabelledelceaa + @wickedrootshair 
Stunning and timeless, you can't go wrong with long, straight hairstyles with hair extensions. This look creates a sleek and sexy vibe for date hairstyles paired with ultra-long hair extensions. Style this look with freshly washed hair since straight hair doesn't hide oil or build up well.  
Get the look:  
Brush your hair to smooth it out before

heat styling

. 


Evenly distribute a heat-protectant product throughout your strands.


Divide your hair into sections and clip them up as you straighten.


Start as close to the root as possible and straighten in one downward movement.


Repeat this process from the bottom layers of hair to the top.


Straighten your hairline and bangs last.


Finish off the style by applying hairspray to

smooth out frizz

. 

 
We hope you love these date night hairstyles. Show us your Wicked Roots Hair™ extension hairstyles by tagging us on Instagram with #WickedRootsFam. We can't wait to see your gorgeous locks!