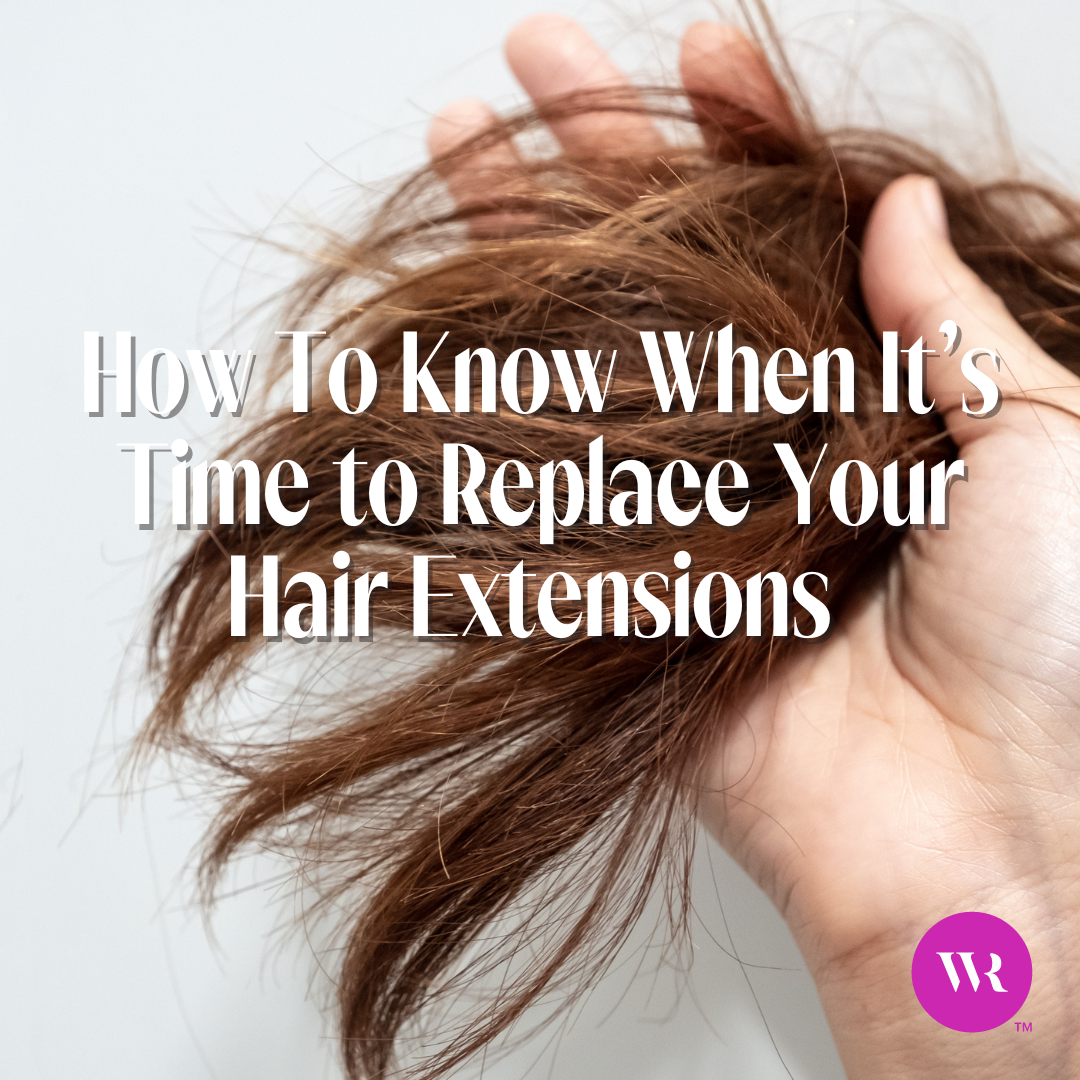 March 23rd 2023
How To Know When It's Time to Replace Your Hair Extensions
How often do hair extensions need to be replaced? This depends on a few factors. Here's what to look out for when it's time for new hair extensions! 
Think back to the day you first got your new hair extensions. They were soft, shiny, and healthy— fresh from the package, and you were feeling yourself! Maybe it's been a while since then, and your hair extensions aren't looking so hot. Don't stress—it happens! Even if you take the best care of them, over time, with exposure to the elements, washing, drying, and styling, it's an inevitable fate to have to replace your hair extensions eventually.  
 If you're Googling "hair extension how long does it last?" and you want to know how often should you change your hair extensions, this depends on a few different factors. If you're unsure what signs to look for when it's time to retire your current set of extensions, we've got answers for you! 
How Often Do Hair Extensions Need to Be Replaced? 
Let's face it, if your hair extensions are starting to look dull, tangled, and brittle, you're probably wondering how often should you change your hair extensions. It's totally understandable to want to wear your hair extensions for as long as possible, but when they start to show signs of wear, it's best to start shopping for a new set.  
 If you've invested in quality hair extensions made of 100% Remy Human hair (like Wicked Roots hair extensions!), they will last for months and up to a year with the proper care. With hair extensions that are synthetic or made of lower-quality hair, you're not going to get a lot of wear time out of them and have to replace them more often. The answer to "will hair extensions damage my hair?" all depends on how they're applied and how you take care of them (and matted hair is definitely not a good look!) 
 Have your extensions passed the point of no return? Here are the signs to look out for: 
Dryness and Frizz 
These two words = your hair extension's worst enemy. Dry hair extensions can be caused by excessive heat styling and not properly conditioning your strands. Frizz can happen over time from your hair being exposed to the sun, extreme temperatures, and weather. Sometimes it's unavoidable, and a deep condition can only do so much.   
Tangling and Matting 
Hair extensions that have seen better days tend to struggle with excessive tangles leading to unmanageable hair matting. Detangling your hair extensions with a detangling comb or using a wet brush can only go so far. There are ways to help your matted hair extensions, but when your head starts to resemble a bird's nest, accept the fact that you need new hair extensions.  
Split Ends and Shedding
With regular use, hair extensions will eventually show signs of breakage in the form of hair shedding and split ends. When this happens to your natural hair, it's time for a trim at the salon and some conditioning treatments. Once hair extensions get split ends and start to shed, there's no way you can remedy this completely. They're more noticeable on hair extensions than your natural hair, so at this point, your best bet is to replace them.  
Dull and Sticky  
When you notice your hair extensions feeling weighed down and full of product, this is a sign of product buildup. This will make washing and styling your hair a challenge when residue just won't budge out of your extensions. Layers and layers of styling products will accumulate over time, and at a certain point, washing them doesn't help return your hair to its former glory. Consider getting new hair extensions when you simply can't get rid of the build-up, and you're left with dull and sticky strands. 
Invest in Your Hair Extensions with Care and Quality 
If you want your hair extensions to last as long as possible, having the best quality hair with proper care is your surefire way to get longevity out of your locks.  
 Now that you know the answer to "how often do hair extensions need to be replaced?" Have you noticed any of the signs listed in our guide? If so, Wicked Roots Hair can help you find your next set of hair extensions to fall in love with! 
 Not only do we have valuable resources in our blog on how to properly care for your hair extensions, but we've also got the highest-quality hair to keep your strands looking fab on the regular. Shop Wicked Roots Hair extensions and take our color match quiz to find your perfect hair match!