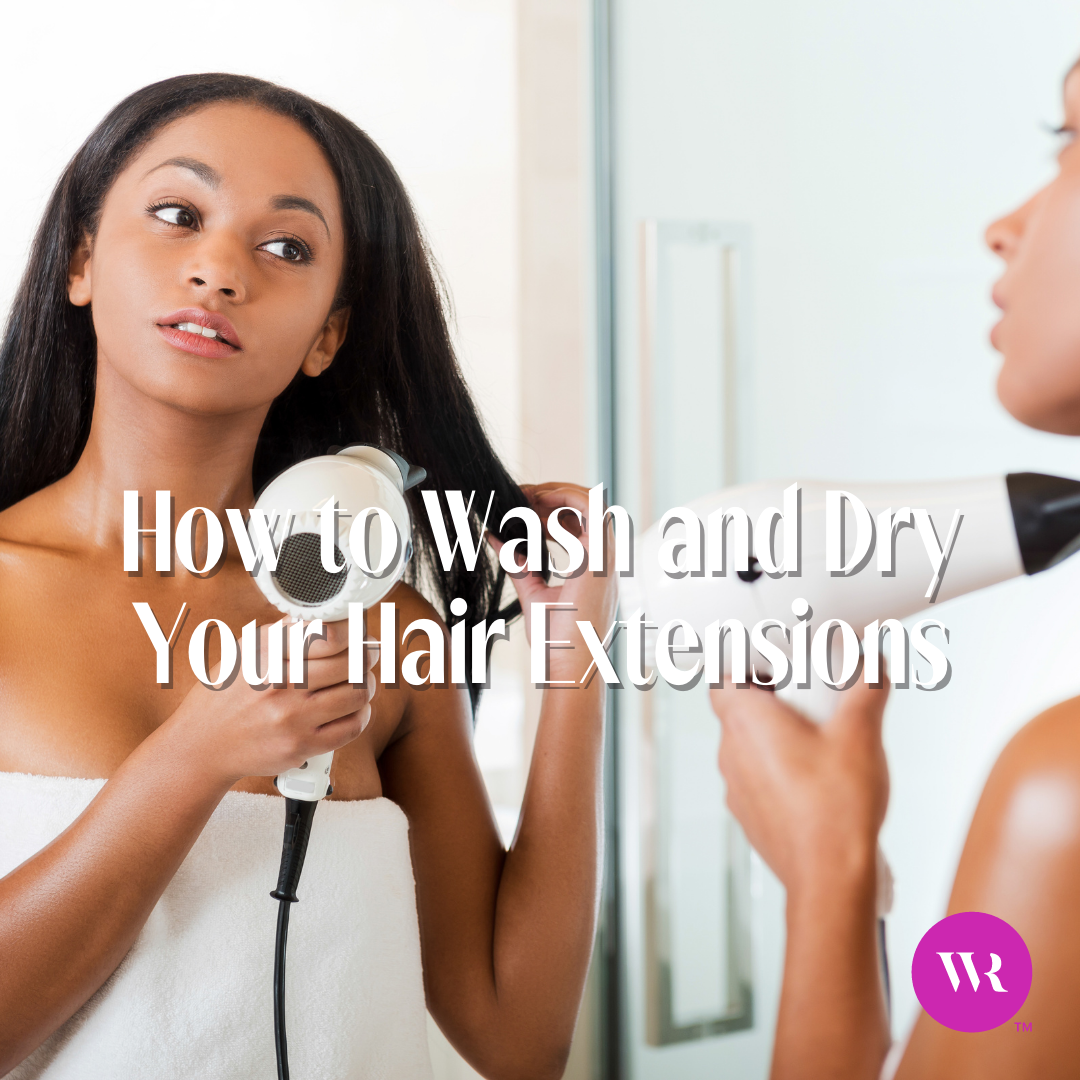 //wickedrootshair.com/cdn/shop/users/avatar_250x250_crop_center_f0ad1dc6-4182-4412-8f45-052bf7447aa9_200x200.png?v=1685998438
February 20th 2023
How to Wash and Dry Your Hair Extensions
If you aren't sure how to wash and dry your extensions properly, follow our expert tips for washing and drying without damage. Healthy and strong strands ahead!
There's nothing better than a new set of hair extensions! But when you wear them for a while, you might wonder, "can you wash hair extensions?" Yes! You can and should wash hair extensions to keep them fresh and long-lasting. Since Wicked Roots Hair™ extensions are made of 100% Remy human hair, you can wash and dry them like you would your natural hair, but with added steps to ensure they stay looking their best. 
If you aren't sure how to wash and dry your extensions properly, follow our expert tips for washing and drying without damage. Healthy and strong strands ahead!
How to Wash Hair Extensions 
Having a proper haircare routine for your hair extensions is essential! As a general rule, if you have Clip It™ or Band It™ extensions, depending on how often you wear them, you really only need to wash them when you start to notice build-up from product, sweat, or dirt. If you have Tape It™ extensions, you can wash them along with your natural hair, ideally once a week.
Keep these tips in mind when you wash hair extensions:
For semi-permanent hair extensions like tape-ins (

Tape It™

extensions), be careful not to tug too hard. 
Use

shampoo for hair extensions

that don't contain any harsh or drying ingredients such as sulfates or parabens (like our

Lather Jacket Cleansing Shampoo

!)
When shampooing and rinsing, be gentle on your hair extensions, especially near the clips or attachment points. 
Rinse your hair and apply conditioner (like our

High Maintenance Hydrating Conditioner

) from the middle to the ends of the hair. Be careful not to get any conditioner near tape in adhesives if you have these extensions. 
Leave the conditioner on for at least 5 minutes and rinse thoroughly.  
If your hair needs some extra hydration, go for a conditioning hair mask one to two times per month.
Next up is learning the best way to dry hair extensions to keep them looking their best!
How to Dry Hair Extensions
You have two options when drying your hair extensions: air drying and blow drying. It comes down to if you need your hair to dry quickly or not. Like if you're getting ready to go out with your friends or you're headed to sleep and need your tape-in extensions to be fully dry (NEVER go to bed with wet extensions to avoid damage!) If you're blowdrying your hair, it's important to use the proper technique to keep it smooth and shiny.
Use these tips to dry hair extensions like a pro:
After washing your hair, ring out any excess water with a towel and let your hair extensions air dry. 
Lay your clip-in or band-style hair extensions on a flat surface and pat dry—you want to make sure you're gentle on the wefts. 
Allow your extensions to partially air dry to cut down on blow drying time.
Set your blow dryer on the lowest heat setting

(never exceeding 350

°F).
Start at the roots of your hair extensions when blow drying and work your way down to the ends. 
Blowdry your hair in a downward motion to help prevent frizz and smooth your strands.
Avoid brushing your hair until it's almost completely dry.
And that's it! Easy right? Just follow these tips when you dry hair extensions to keep your hair looking fab. 
Enjoy Long-Lasting Hair Extensions with Proper Care
When you have a routine in place for maintaining your hair extensions, you'll be able to extend the life of your hair extensions for only good hair days ahead! Now that you know how to properly wash hair extensions and dry hair extensions, you need the best haircare products for healthy and strong locks. 
Our specially formulated trio of shampoo for hair extensions, conditioner, and leave-in conditioning spray will keep your hair looking fresh for the ultimate haircare routine for your extensions. Shop the haircare bundle and learn more about our hair extensions to reach all of your hair goals!