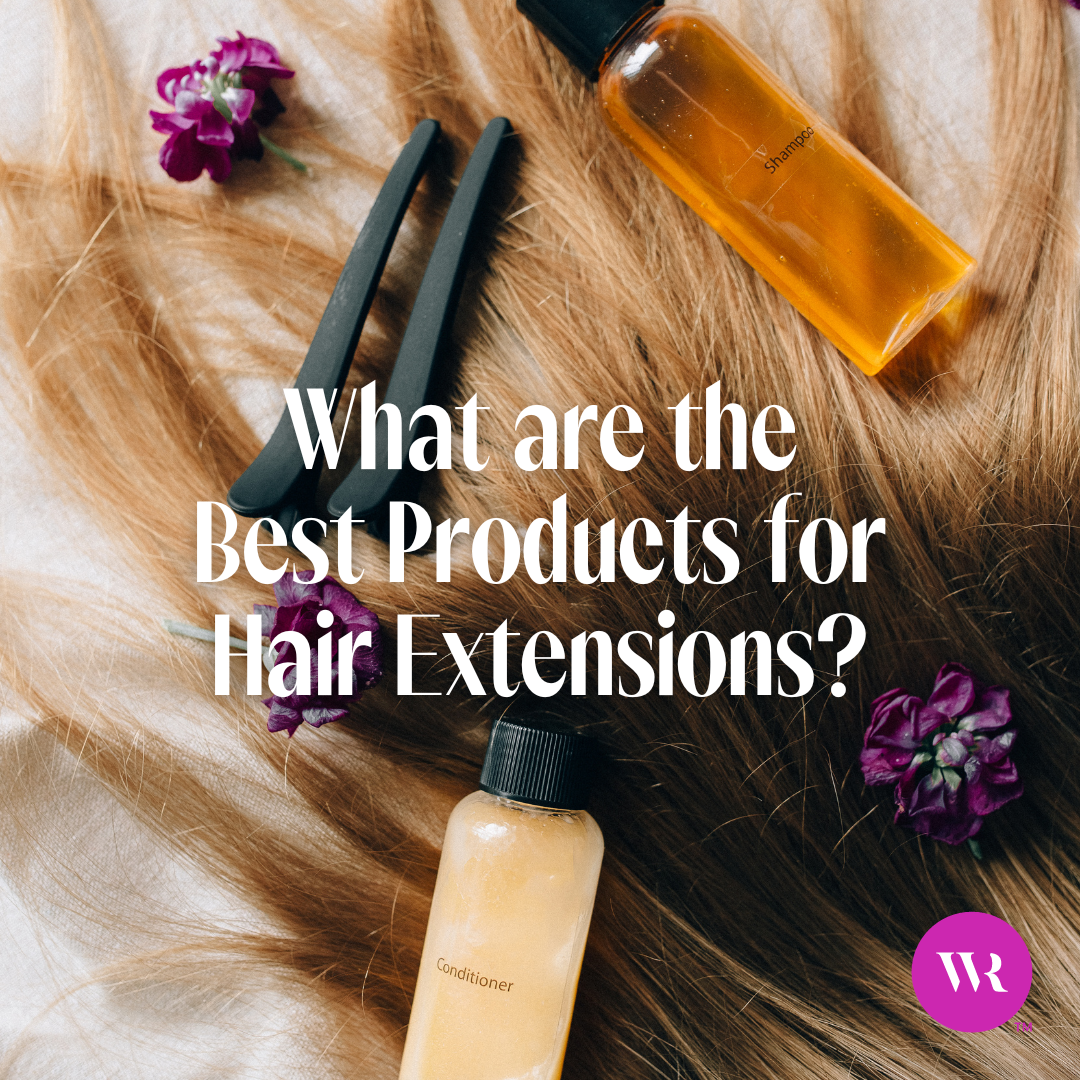 September 20th 2023
What are the Best Products for Hair Extensions?
There's nothing like the feeling of new hair extensions! Fresh and shiny with gorgeous strands that match perfectly with your natural hair. How do you keep them looking fab for as long as possible? It's essential to take proper care of your strands with the best products for hair extensions.   
Whether you've just got your new set of hair extensions or you're a stylist that needs hair extension products for your clients—this guide is for you! We're covering all the essentials, from shampoo and conditioner to brushes and combs. And for you stylists working with tape-in extensions (like our Tape It™), we've got adhesives and removers for your hair extension clients.  
Ready to get started? Wicked Roots Hair™ not only has high-quality hair extensions, but we also have the best hair products for extensions. Check out everything we have to offer for long-lasting and stunning hair extensions!  
Hair Extension Care Products 
Add the best products to use on human hair extensions to your hair extension routine for healthy and strong locks.  
Shampoo 
Just like you wash your natural hair, the same goes for your extensions! Use a cleansing shampoo like Lather Jacket to wash all the gunk out of your strands from dirt, oil, and product build-up.   
Conditioner 
The secret to long-lasting hair extensions? Keep those locks hydrated! Use a moisturizing conditioner like High Maintenance for soft and silky strands.   
Leave-In Conditioner  
When your hair is in desperate need of moisture, a leave-in conditioner works wonders! Nourish your tresses with After Party to prevent brittle and dry strands. 



Demineralizing Treatment 
If you've been having a little too much fun this summer, getting sunscreen in your hair extensions can cause brassiness. Use a demineralizing treatment like Cancelled Plans to get rid of discoloration.   
Tape-In Hair Extension Products 
Calling all hair extension stylists! Keep these products in stock for your clients coming in for tape-in extensions.   
Hair Extension Removing Solvent 
What goes on your hair must come off! When your clients are ready to remove their tape-in hair extensions, you'll need a reliable remover solution. An alcohol-based remover like Break Up Spray quickly releases tape strips with zero residue.   
Liquid Adhesive 
When you need a little bit extra stick, liquid adhesive can help! Liquid Fix gives extra support to tape-in extensions and single-strand hair extension applications.  
Double Sided Tape 
Have double the fun with Stuck on You hair extension tape! These double-sided replacement tape tabs pair perfectly with tape-in extensions like our Tape It™.   
Single Sided Tape 
Need something a bit lighter for your client? Staying Single single-sided replacement tab tabs are ideal for anyone with fine hair for less weight on their strands.   
Brushes and Combs for Hair Extensions 
Keep your hair extensions knot and tangle-free for super smooth strands with no matting!   
Detangling and Hair Sectioning Comb 
Say goodbye to tangles with the Sectioning Comb that's also great for applying and styling your hair extensions.   
Wet Brush 
This Extension Wet Brush is soft on your hair extensions and tough on knots. Keep your hair looking flawless with this brush!  
Rat Tail Comb 
Create the perfect part and sections with our Extension Rat Tail Comb. This tool is perfect for applying tape-in extensions!  
Accessories 
Whether you're on the go or lounging at home, these accessories are super cute with your new hair extensions.   
Scrunchie 
Pull your hair up with this trendy Black Silk Scrunchie that not only looks great but is gentle on your strands.   
Storage Tote 
This Iridescent Zip Tote will keep your hair extensions safe and sound when you take them out for storage (and it looks super chic too!)  
Unmatched Hair Extension Quality by Wicked Roots Hair™ 
You can't have the best products for human hair extensions without hair extensions, right? These aren't just any hair extensions. These are 100% Remy human hair extensions by Wicked Roots Hair™! Our extensions come in three different styles: Tape It™ tape-in hair extensions, Clip It™ clip-in hair extensions, and Band It™ band-style hair extensions. Our tape-in extensions are perfect for stylists to offer to their clients, with clip-in and band-style being DIY options.  
Once you decide which type of hair extension to go with, we also have various sizes to choose from, including 12-inch and 24-inch (only in Tape It™) and 16-inch and 20-inch (available in all three styles!) After you get your ideal length, choose from one of our 42 shades of hair extensions. From brown to blonde and everything in between, we've got a color to match your hair flawlessly. Take out the color match quiz to find your perfect match!  
Shop all of our hair extensions and the best products for hair extensions on our website at Wicked Roots Hair™.