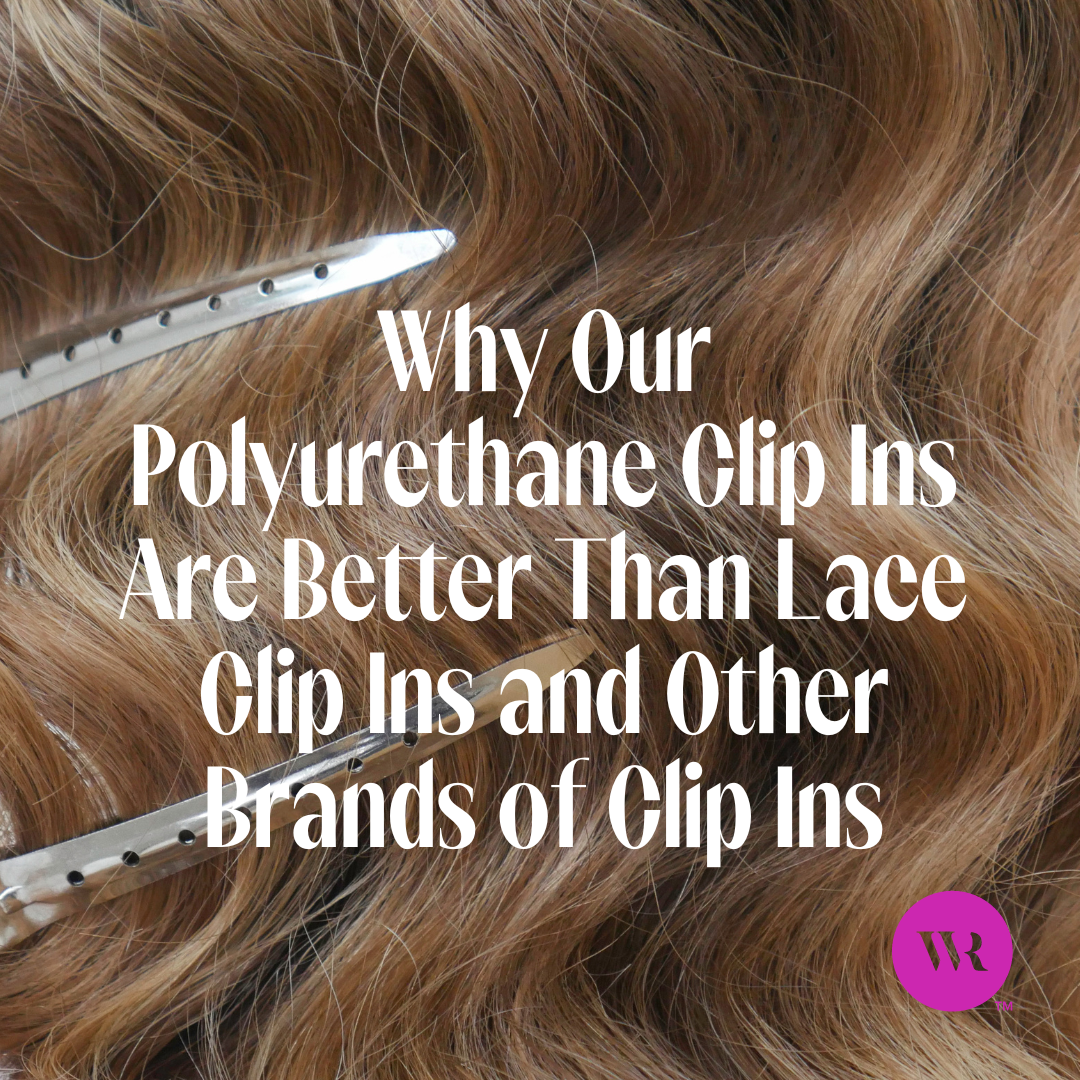 //wickedrootshair.com/cdn/shop/users/avatar_250x250_crop_center_f0ad1dc6-4182-4412-8f45-052bf7447aa9_200x200.png?v=1685998438
February 8th 2023
Why Our Polyurethane Weft Clip Ins Are Better Than Lace Clip Ins and Other Brands of Clip Ins
If you're looking for a temporary and easy-to-install option for hair extensions, you'll love our 
clip ins
! These hair extensions are quick to apply for a night out and clip out when you're done dancing the night away.
Why Our Polyurethane Weft
Clip Ins
Are Better Than
Lace Clip
Ins and Other Brands of
Clip Ins
If you're looking for a temporary and easy-to-install option for hair extensions, you'll love our clip ins! These hair extensions are quick to apply for a night out and clip out when you're done dancing the night away.
There's something extra special about our Clip It—the wefts are made out of polyurethane polyurethane (PU), each containing 3 layers of hair, with small clips that attach to your hair. Not only are these better than hair extensions with lace wefts or clips attached to glue, but our PU clip in hair extensions are also less damaging to your strands, more flexible, longer lasting, and more discreet!
Read on for all you need to know about our clip ins and why they're a clip above the rest. And if you're curious how polyurethane is made or which polyurethane to use for  hair extension wefts, we'll cover that too!
What are Clip Ins?
Clip ins are hair extensions where the wefts of the extensions clip into your hair with small pressure-sensitive clips. They're a DIY method for longer voluminous strands without commitment or damage to your hair. Our Clip It is a 100% Remy Human Hair clip in extension set that comes with seven pieces per set. Each set contains different-sized wefts of hair with two to three clips on each weft as follows:
8" Weft has 3 Clips (1 Piece) 

7" Weft has 3 Clips (1 Piece) 

6" Weft has 3 Clips (1 Piece) 

3" Weft has 2 Clips (4 Pieces)
Why Our Clip Ins Stand Out From The Rest
Time to upgrade your lackluster locks to the hair of your dreams. If you're considering getting clip ins, look no further! We know you'll be obsessed with our Wicked Roots Hair clips ins, here's why:
High-Quality Remy Human Hair
Our hair extensions, including our clip ins, are made with Remy Human Hair. Why does this matter? It all comes down to the cuticle. We use only 100% cuticle on Remy hair, ensuring all cuticles are intact and facing the same direction. This reduces matting and tangling of your hair extensions when wearing and styling like you would your natural hair.
For a unique hair experience, our factory has developed a proprietary process to color our hair, which other factories cannot replicate. Enjoy salon-quality hair extensions that are long-lasting and natural looking! 
Quick and Easy to Apply
Clip ins are super convenient when you want to quickly transform your tresses in minutes. Try to apply them on the days you haven't washed your hair (if you have, use a bit of dry shampoo for the same effect!) Section the top half of your hair and put it up in a clip, leaving a horizontal part across your head. This is where you'll apply the clip ins. Press gently on the clips to open them and place them as close to the roots as possible. Start with closing the middle clip, then the right and left clips. Continue this process for the rest of your extensions.
For more detailed instructions, check out our How To Apply Clip It guide or watch the tutorial video to get your perfect strands!
Lightweight and Flexible Polyurethane Wefts 
Another way our clip ins are superior is how we've crafted the wefts attached to our clips. We use polyurethane wefts on our clip ins for a few reasons. They're longer lasting than other clips like lace clip ins, and they are more flexible and comfortable than clip ins that are supported with glue. The PU wefts also have a matte finish for the most discreet blend possible.
Curious how polyurethane is made? PU is molded into flexible products that consist of a resin base, curative, and dye or pigment. When it comes to which polyurethane to use for PU clip in hair extensions, we opt for a matte polyurethane texture which does not reflect light. This ensures that you have the most seamless blend possible for your clip ins.
Choose Quality Wicked Roots Hair Clip Ins 
Clip in, show up and show out! Making over your hair has never been easier. We've laid out the second-to-none features. Now it's time to give it a try and see for yourself! Make sure to find your perfect shade with our color match quiz before ordering your Clip It extensions. 
We want to see all of your cute clip ins styled up! Tag us on Instagram with #WickedRootsFam to spotlight your fierce hair.