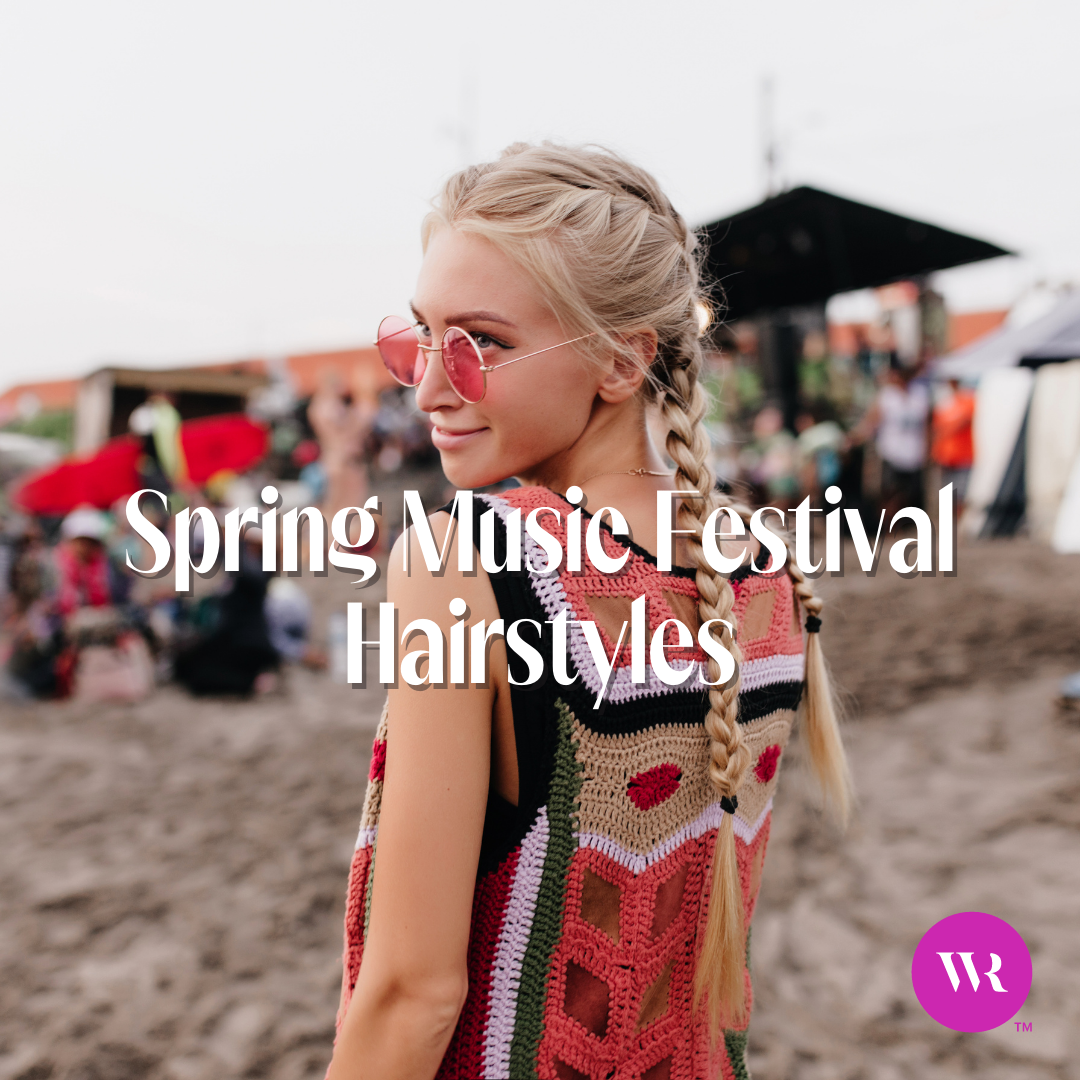 //wickedrootshair.com/cdn/shop/users/avatar_250x250_crop_center_f0ad1dc6-4182-4412-8f45-052bf7447aa9_200x200.png?v=1685998438
March 6th 2023
Music Festival Hairstyles to Try Out This Spring
Pump up the volume of the music and your hair with trending music festival hair ideas! Spring festival styles are fun, flirty, and freeing while you vibe to the music with your friends. It's always exciting to plan out outfits and music festival hairstyles to step out of your usual fashion comfort zone. This is the time when you can totally be yourself and let your creativity shine!
Whether you're headed to Ultra Music Festival in Miami or Tortuga Music Festival in Fort Lauderdale, you'll want to rock these super fun hairstyles for a weekend to remember! 
Easy and Fun Music Festival Hair Ideas 
When heading to a spring music festival in Miami (or Florida in general), the weather usually feels like summer—maybe with a cool breeze! Dressing appropriately is essential so you'll feel cool and breezy all weekend long. Choose festival styles and hair accessories that let you enjoy the music and feel comfortable wearing them all day. 
You'll be feelin' the music and your hair with these cute music festival hairstyles:
Flowy Waves
Let your hair down with long, wavy, full-volume locks you'll feel wild and free in. This classic look is soft and simple, allowing you to experience the festival in style. With a bit of extra hairspray, keep your waves in place as you hop from stage to stage. We love adding hair extensions to this style for dramatic length and volume.
Get the look:
Detangle your hair

and brush it out before you start curling your hair. 

Grab your curling iron (if you're

curling extensions

, don't exceed 350°F.)

Apply a heat protectant spray to your hair before heat styling.

If you're using clip-in or band-style extensions, curl those first before applying them to your natural hair.

Separate your hair into 1–2-inch sections and curl each individual section roughly two inches below your roots.

Ensure your curls are distributed evenly throughout as you go along. 

Use a wide-tooth comb to gently separate the curls for a more natural look.

Spritz your hair with sea salt spray for texture, and finish it with hairspray to keep your waves intact.

Add a cute flower crown to make this look boho chic for the quintessential festival hairstyle. 
Half Up Half Down 
If you can't decide whether you want your hair up or down, try this look! Pull half of your hair up in a cute knot bun and leave the rest down as you vibe to the music. Hair extensions will give you the added length and volume to elevate this style. 
Get the look:
Brush out your hair, being sure to eliminate any knots or tangles. 

Start by straightening your hair for extra sleek strands. 

Add a heat protectant spray before straightening, and remember to keep it at 350°F or less if heat-styling hair extensions. 

Gather a small section of hair at the back of your head and secure it with a scrunchie or hair tie. 

At this point, you can either loop it into a loose bun or keep it as a half-up half-down ponytail—whatever you're feeling for your festival look. 

Finish off this look with hairspray to set the style. 

Add some

fashion clips

or gems throughout your hair that's left down to add a unique twist to this look. 
Textured Pigtails
This youthful style got an upgrade with extra-long length, added color dimension, and mermaid waves. You can rock this look even if you don't have bright-colored hair extensions! It'll look just as fab with hair extensions that match your natural color paired with super cute pigtails and the perfect textured waves.
Get the look:
Brush your hair to create smooth strands before putting your hair into pigtails.

Divide your hair into two sections with a

rat tail comb

.

Using your brush, gather your hair on the left side into a high-side pony.

Repeat the same for your right side and secure both pigtails with elastics.

Use your curling iron (or a three-barrel curling iron if you have one) to create textured mermaid waves on each pigtail.

Always use a heat protectant before heat styling, then set it with hairspray when you're done. 

Add cute scrunchies to your pigtails for that extra flair and pop of color. 
Upgrade Your Music Festival Hairstyles with Hair Extensions
You've booked your tickets and hotel for your spring music festival in Miami trip—now you need to plan your outfits and music festival hair ideas! No matter what festival styles you go with, there's one thing you're missing to take your music festival hairstyles up a notch.
Take your festival hair to new lengths with Wicked Roots Hair extensions and bring your hair to its fullest potential. Our collection of hair extensions comes in three different styles and 42 shades, so you can choose what works best for you. Which will you choose for your festival looks? 
When you're heading out with your music festival hairstyles, don't forget to tag us on Instagram in your cute festival looks with #WickedRootsFam! And for more festival hairstyles, check out these styles with hair extensions.