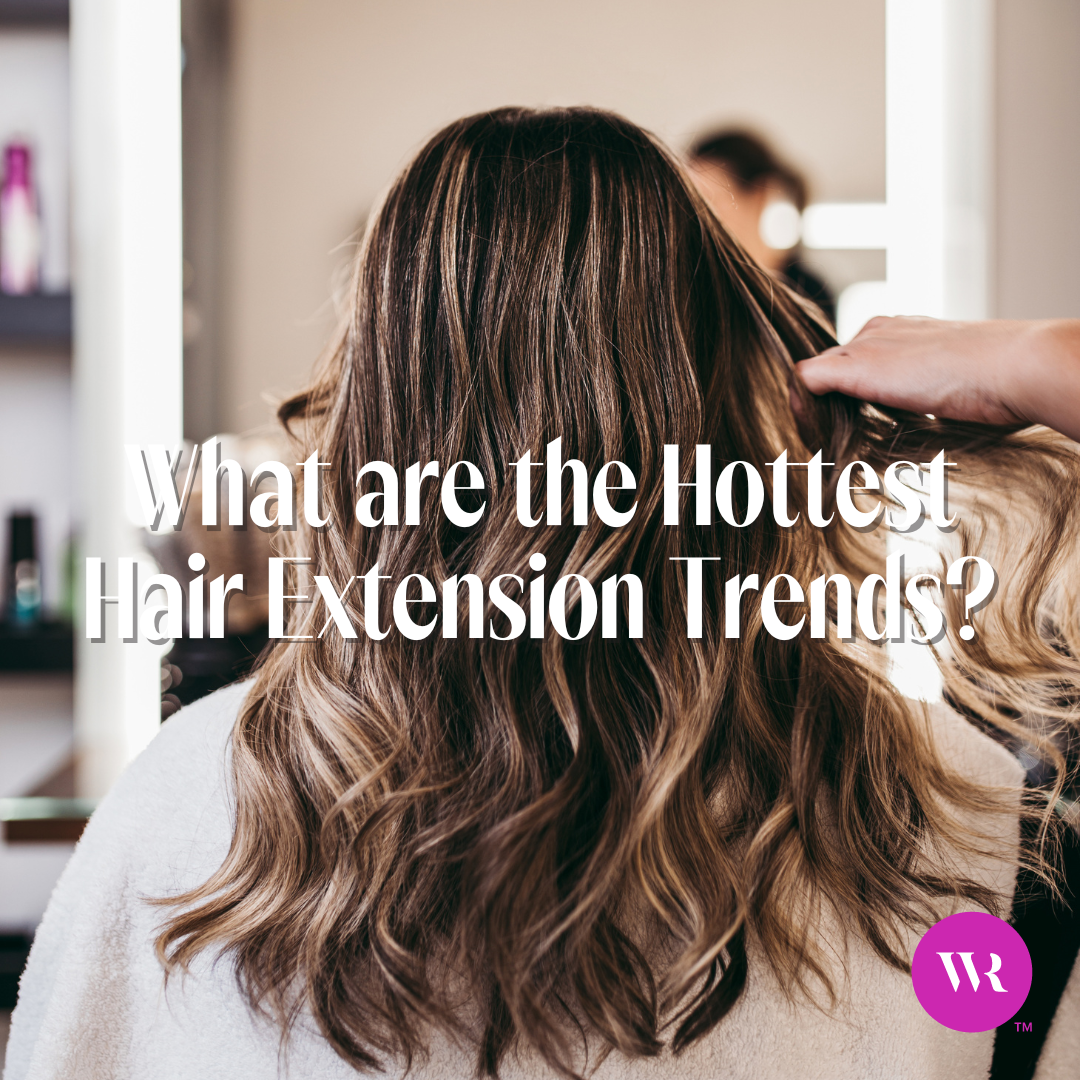 September 19th 2022
What Are the Hottest Hair Extension Trends?
You know
we've always got you covered
with all the
hair extension trends
and
hair extension tips and tricks.
But keep reading for the hottest hair trends happening right now!
Hair trends and the hottest colors and styles come and go, but one thing's certain: Long voluminous hair is here to stay! 
But we aren't all blessed by the hair gods in that department. Some of us need a bit of help from hair extensions – Wicked Roots to the rescue, baddie! There's an array of hair extension techniques to choose from (depending on what works best for your hair needs) if you want to follow the latest trends in hair extensions. 
You know we've always got you covered with all the hair extension trends and hair extension tips and tricks. But keep reading for the hottest hair trends happening right now!
Latest Trends in Hair Extensions
What's all the rage on the hair extensions scene? Here's the scoop on the hottest colors and styles so you can rock the latest trends in hair extensions!
Hottest Color
s for Hair Extensions
Changing your hair color lets your creativity run wild! You can play around with shades and give yourself a whole new look. The only hard part is deciding which of the hottest colors to rock. Here's what's trending.
Ombré Blend
First up is the ombré look! Everyone loved this look when it debuted about a decade ago. But now we're enjoying the grown-out roots with a more subtle blend and natural style. We have 12 different ombré shades to choose from – find your color match!
Rich Brunettes
The au naturel trend continues! Rich brunette colors are fierce and flattering, and multi-dimensional shades of brown give you that sun-kissed look and add shine to deep brown hues. We love colors like chestnut, chocolate, and almond. (Anyone else craving chocolate hair?!)
Bright Blonde
Yep, that's right. The 90s are back! And so are that decade's bright blonde strands. It's all about eternal summer and evoking beachy LA vibes with your golden locks. The hottest colors range from platinum to buttery goodness.
Deep Red
These sultry red shades round out our list of the hottest colors featuring in latest trends in hair extensions. Hues like auburn, cabernet, and pinot noir add an extra level of flair and uniqueness to the rich brunette trends we're seeing. Grab a glass of red and enjoy your new hair!
Hottest Styles for Hair Extensions
Perfect color? Check. Only the hottest colors here! Finish off your look with the latest trends in hair extensions. Hint: It's all super fun and flirty styles here.
Sleek Straight
The Y2K trend keeps going! Shiny, sleek straight hair and straighteners are making a comeback! Long straight strands are one of the easiest styles showing up in the latest trends in hair extensions. Remember to always use a heat protectant or leave-in conditioner if you're heat styling your strands for this look. 
Blow Out Bounce
We're here for these fresh-from-the salon, blow-out-bouncy tresses! This style and its textured volume work well with any hair type. Just book that salon appointment and treat yourself! Or get the look at home: Put those blow-drying skills to good use so your hair is soft and frizz-free. 
Lengthy Layers
We can't get enough of the 90s and 2000s, so why not bring layers back, too? It's all about layered long-length hairstyles right now. If you want to pull off the latest trends in hair extensions and lengthy layers, go for tape-in extensions that let you play with different lengths.
Soft Waves
This look will never go out of style! Loose, natural-looking waves and flowy tresses give off a carefree vibe. Get this wavy look with the heat-free braids method or with your heated tools. Want to take this look to the next level? Hair extensions will give you plenty of length and volume. 
The
Hottest Color
s and Styles with Wicked Roots Hair
Ready to rock these hair extension trends? Try out different hair extension techniques so you know exactly what hair extension type to buy. We'll make it easy for you!
At Wicked Roots Hair, we offer three different types of hair extensions: Band It, Clip It, and Tape It. Band It and Clip It are both DIY application options; Tape It requires a salon visit. All you have to do is pick your style and choose the length that's right for you. That's it! 
Show us how you're slaying the hottest colors and styles in the latest trends in hair extensions! We want to see your Wicked Roots Hair in action! Tag us with #WickedRootsFam, and follow us on Instagram at @wickedrootshair for plenty of hair-spiration!