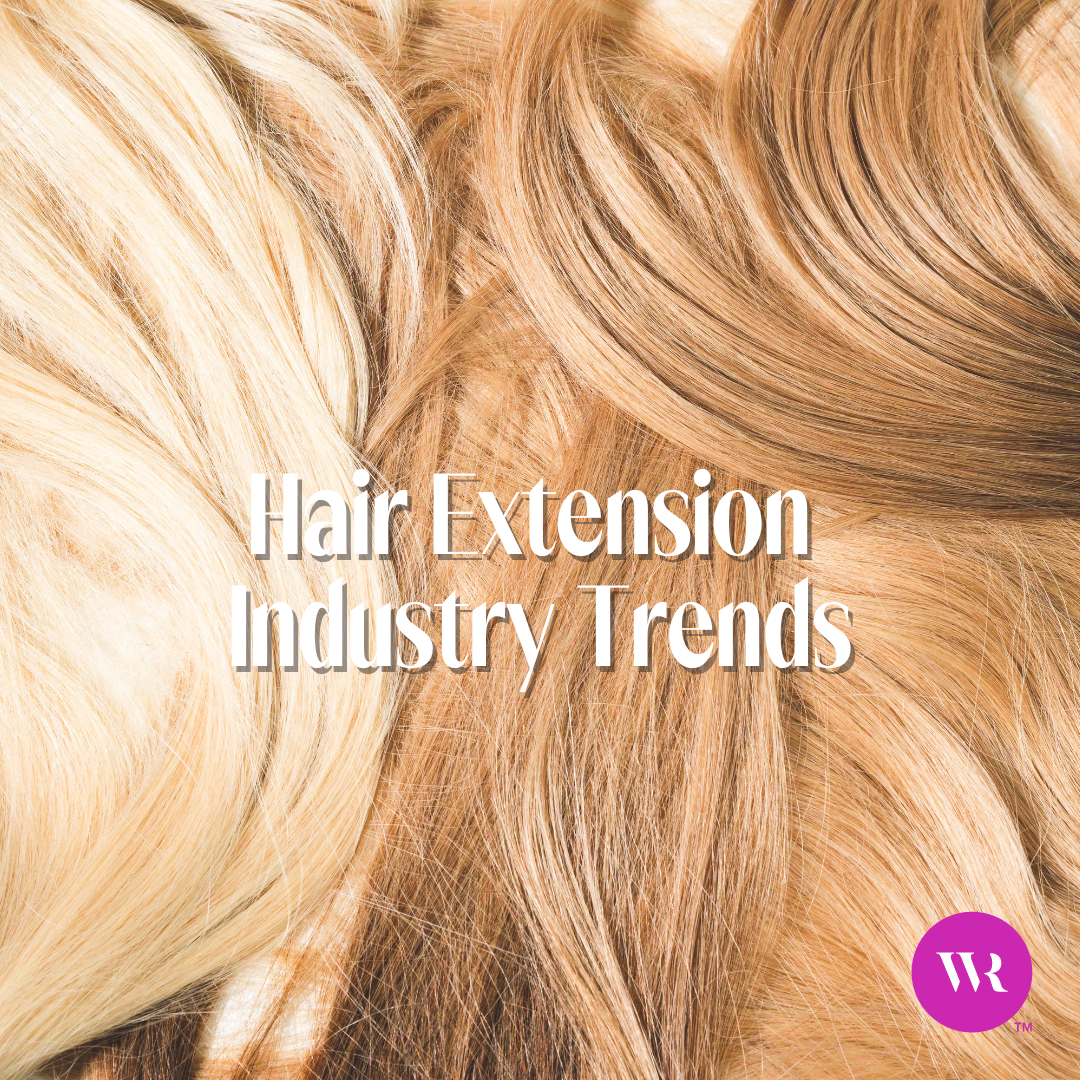 //wickedrootshair.com/cdn/shop/users/avatar_250x250_crop_center_f0ad1dc6-4182-4412-8f45-052bf7447aa9_200x200.png?v=1685998438
November 18th 2022
Hair Extension Industry Trends
Since there are so many different ways you can style your extensions, we'll narrow it down to cuts and styles with hair extensions trending in the
hair industry
to help take these looks up a notch!
The world of the hair industry is constantly changing and evolving with new techniques, styles, skills, and hair trends. The options are endless when deciding what hair extension trends to jump on, whether you're a stylist that does hair extensions or you're looking to get hair extensions yourself. Hair extension industry trends follow different categories based on colors and shades, lengths, hair types, and application methods. 
Since there are so many different ways you can style your extensions, we'll narrow it down to cuts and styles with hair extensions trending in the hair industry to help take these looks up a notch! 
Hair Trends
with Extensions
Big Bouncy Curls
It's all about the volume with these big bouncy curls, and hair extensions are just what this style asks for! The bigger, the better with hair extension trends that favor ultimate volume in this sexy and bold look. Those with naturally curly hair or not can pull off this look with their curling iron or styling tool of choice. Make sure to always use a heat protectant before heat styling your hair extensions, and never exceed 350°F (you only have to curl one set of extensions with our Band It extensions for a one-step curls upgrade!)
Baby Braided Styles
Heading to a music festival or concert? Baby braids are all the rage among celebrities and the hair industry. If you want to put together a boho look, baby braids added to the front of your hair to frame your face suit any hair length , but look best with long strands (Tape It extensions give you the versatility to use single or double-sided tape adhesives to add extensions without too much extra weight). Wear your baby braids with your hair straight and lengthy for a stand out style. 
The 90s/00s Long Layered Cuts
Remember going to the salon and asking for those ever-popular layers in the 90s and 00s?  We're sure you're well aware that the clothing, accessories, and hair trends from those decades are back in action! This look is best achieved by adding extra length to your natural hair with hair extensions for those long layers. The added thickness will also work in your favor with a nice blowout and side part to top off this nostalgic but refreshed hair extension industry trend (our Clip It will help add those layers in when you need extra length and volume in a snap!)
Beach-Ready Waves
This hair industry trend surely will never go out of style, no matter the time of year, we're always dreaming about summertime locks. Textured waves can be worn throughout the year for laidback styles that are enhanced by long wavy hair extensions. This hairstyle really pops with layers of color dimension and highlights for the perfect beach waves (our Tape It extensions can add that defined dimension!) This look isn't just for beach blondes, rock this look with beautiful brunette shades, red shades, and ombrés too. 
The 70s Rock N' Roll Vibes
We love the retro style the 70s brought us with long cuts featuring hair trends like feathery bangs and layered shags. Adding hair extensions to the sides of your head allows the hair to be parted in the middle with soft waves and thickness, complementing this look (try Clip It for fully customizable strands on the go when rocking this style!) If you're feeling extra sassy, pull together this look with a fringe cut, adding some face-framing curtain bangs that are also very on trend right now. 
Straight and Sleek Long Lengths
This is one of the hair extension trends that takes extra length to new limits! It's all about super straight and sleek strands that are as long as possible with the help of hair extensions. Your straightener is about to get much more usage with these lengthy locks. Natural hair only grows about half an inch on average per month, so hair extensions are usually the best way to achieve this hair industry trend (our Tape It extensions go all the way to 24 inches in length if you're looking for super long tresses!)
Trending
Hair Industry
Styles with Wicked Roots Hair
Which hair extension industry trends are you excited to try out? Each one has its unique style with fun elements depending on what look you want to reinvent your vibe with. Rocking different hair trends is all about trying something new that you may not have considered before.
The next question is, which of our Wicked Roots Hair extensions will you go for? Depending on which style you choose, our Tape It, Clip It, or Band It can add that extra length and volume to your shiny strands. Once you pick which type of hair extensions work best with your look and lifestyle, head over to our color match quiz to see which of our 42 shades will match your natural hair best!