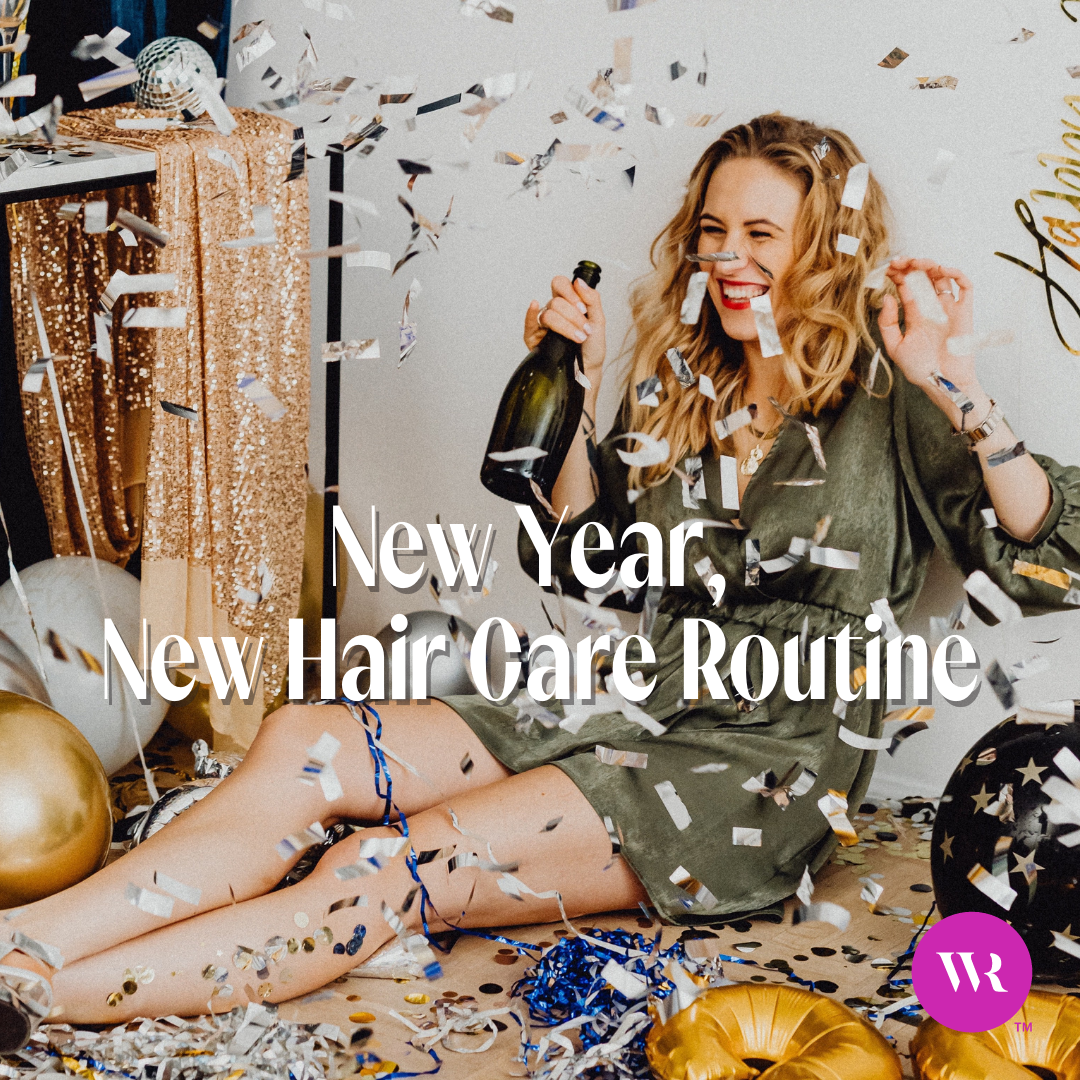 //wickedrootshair.com/cdn/shop/users/avatar_250x250_crop_center_f0ad1dc6-4182-4412-8f45-052bf7447aa9_200x200.png?v=1685998438
January 2nd 2023
New Year, New Hair Care Routine
Is your hair feeling a bit dull and drab? It sounds like your
hair care routine 
needs a refresh! This blog will cover how to start hair care routines that'll bring your strands back to life in the new year!
The start of a new year is all about making a fresh start, and that includes upgrading your hair care routine! This year it's time to implement a weekly hair routine chart that helps you stay on track with your tresses. The importance of hair care routines might get overlooked with a busy schedule, but it's vital to keep up with one for healthy hair.
You might be wondering how to start hair care routines that keeps your hair on point. We've got all the info you need (if you're looking for a hair care routine for our hair extensions, see our maintenance guides for Clip It, Band It, and Tape It.) Follow our steps for hair care routines that are super easy to incorporate into your day-to-day schedule. 
Hair Care Routine Tips  
Is your hair feeling a bit dull and drab? It sounds like your hair care routine needs a refresh! We'll keep it simple for you with three main steps: washing, conditioning, and styling. Here's how to start hair care routines that'll bring your strands back to life in the new year:
Keep It Clean
Lather it up and get those locks squeaky clean (but don't overdo it!) It's recommended to wash your hair 2 to 3 times a week for the ultimate #hairgoals results. Wash away product buildup, dirt, and oil with a gentle cleansing shampoo. Steer clear of harsh chemicals like sulfates and phthalates to keep your hair strong and damage-free. Use cold water to rinse your hair and close up your cuticles for shiny strands.
Our Lather Jacker Cleansing Shampoo will cleanse your hair of dirt and grime with our unique formula that won't be rough on your strands. Make sure to get a good lather going before rinsing. On days when you don't wash your hair, try some quick and easy ways to refresh your locks without washing them.
One of the hair care routine tips that often goes overlooked is scalp care. This is where hair follicles grow, so you want to take care of it! Use a scalp exfoliator scrub 1 to 2 times a week to remove dead skin cells and excess oil to promote hair growth (you can DIY scalp scrubs at home!) Remember, a healthy scalp = healthy hair. 
Hydrate & Nourish
If your hair starts to feel like the Sahara Desert, you're going to need some major dry hair damage control added to your hair care routine! Some culprits that dehydrate your hair are excessive heat styling (these heatless hair styling tips are a hair-saver!), overwashing, chemical treatments, and cold weather. 
Revive your locks with our High Maintenance Moisturizing Conditioner and replenish that much-needed moisture! We jam-packed this conditioner with nutrients to repair dull and dry strands. If you need a little extra hair TLC, After Party Leave-In Conditioning Spray will restore and refresh your tresses. 
To take it to the next level and seal in that moisture, use a hair mask 1-2 times per month. There are plenty of natural DIY hair mask recipes to try out and see what you like best. Depending on what your hair needs, you can tweak the ingredients to fit your hair concerns. 
Style Your Strands
No hair care routine is complete without styling your hair after washing and conditioning. As we mentioned earlier, heat styling can cause dry hair, among other issues like breakage and damage. Whether you blow dry your hair every time you wash it or use a curling iron every day, it's a good idea to take a break from heat styling when you can. Use the lowest heat setting to minimize heat damage when you do use these tools. 
When you're ready to brush and detangle your tresses, there are a few tools you should have on standby. Use a wet brush to get rid of those stubborn knots after washing your hair. If you want to get that perfect parted hair, use a rat-tail comb for added precision. And finally, use a sectioning and detangling comb to finish off your look. 
Slay Your
Hair Care Routine 
This Year
Now that you know the importance of hair care routines, you're ready to glow up your locks for the new year! Use our hair care routine tips to finetune your weekly hair routine chart and say goodbye to bad hair days for good. It's essential to take proper care of your hair with specific steps for hair care routines that keep your hair looking healthy and strong all year long. 
Looking for more haircare tips and inspo? Make sure to follow us @wickedrootshair on Instagram for all things hair!